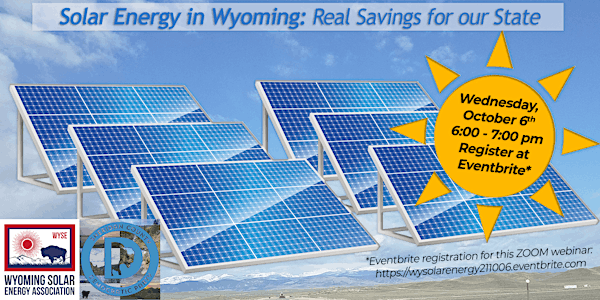 Solar Energy in Wyoming: Real Savings for our State
The first in a series of webinars on education and opportunities for using solar energy in Wyoming.
About this event
"Solar presents many opportunities for our state, at both the individual and municipal level, to save money and reduce environmental impacts. If upfront costs can be covered, using solar is a no-brainer." -Hesid Brandow, Wyoming Solar Energy Association Secretary.
The hour-long webinar will introduce solar basics, examine photo-voltaic systems in home and office use today, and consider opportunities for the future. Learn how solar works from professional installers, hear testimonials from residential and business-level users, and listen to a discussion between local elected leaders on how renewable energy can help meet our energy needs.
A Q & A session will be offered as well as references and contacts to help advance Solar's place in the Cowboy State.
The ZOOM webinar is presented by the Sheridan County Democratic Party in partnership with the Wyoming Solar Energy Association.
For more information, please go to www.sheridancountydemocrats.com or contact
Hesid Brandow, 307-217-9348, hesidb@gmail.com
Agenda
Introduction by Wy Dems - 5 mins
Intro by host (Hesid)/WYSE - 5 minutes
Video: Tom V. Solar farm - 1:33 min
Installer Andy Rose- How solar works - 5 minutes
Video: Ross Langhorne, solar as an investment - 1:25 min
Discussion of solar as an investment - Andy or another installer - 5 min
Video: Laramie Downtown clinic - 2:09 min
Panel discussion: Elected representatives from Sheridan, Lander, and Laramie -15 min
Q&A: 15 min
Video Wyoming's first shared solar - 2:17 min
Closing - 5 min
Organizer of Solar Energy in Wyoming: Real Savings for our State