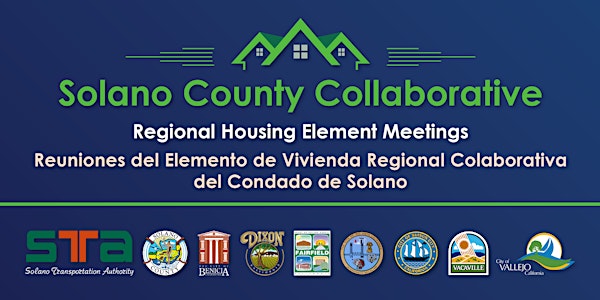 Solano County Collaborative Regional Housing Element Meeting #2
Solano County Collaborative Regional Housing Element Meeting/Reuniones del Elemento de Vivienda Regional Colaborativa del Condado de Solano
About this event
The Solano County Housing Element Collaborative, made up of the cities of Benicia, Dixon, Fairfield, Rio Vista, Suisun City, Vacaville, Vallejo, and the County of Solano, invites you to participate in a workshop to discuss the findings of the joint Housing Needs Assessment of the Regional Housing Element. Following the community meetings held on January 26th and 27th, the Collaborative conducted an analysis of demographic, economic, and housing trends in each jurisdiction. Please join us to learn more about this section of the Housing Element, provide feedback on specific needs, and share your insights on how housing opportunities can be improved locally and on a regional level. Translation will be available by request, please select this option during registration if you require translation to a language other than English.
Zoom information to access the meeting will be emailed to registered attendees prior to the event.
El Elemento Colaborativo de Vivienda del Condado de Solano, compuesto por las ciudades de Benicia, Dixon, Fairfield, Rio Vista, Suisun City, Vacaville, Vallejo y el Condado de Solano lo invita a participar en un taller para discutir los hallazgos de la Evaluación de Necesidades de Vivienda conjunta del Elemento de Vivienda Regional. Luego de las reuniones comunitarias realizadas el 26 y 27 de enero, la Colaborativa realizó un análisis de las tendencias demográficas, económicas y de vivienda en cada jurisdicción. Únase a nosotros para obtener más información sobre esta sección del elemento de vivienda, brindar comentarios sobre necesidades específicas y compartir sus ideas sobre cómo se pueden mejorar las oportunidades de vivienda a nivel local y regional. La traducción estará disponible a pedido, seleccione esta opción durante el registro si necesita traducción a un idioma que no sea inglés.
La información de Zoom para acceder a la reunión se enviará por correo electrónico antes del evento a los asistentes registrados.