Description
On Sunday, May 7th, Join us for a spectacular Professional MUA Workshop in Washington, D.C! We are in town for "The Sola Sessions". KLASS Cosmetics is an official partner and preferred brand of Sola Salon Professionals nationwide. Before our big show Monday we are planning this event specifically for makeup artists and estheticians in the DC area to connect and learn from our co-founder Nick Raehsler in a hands-on professional workshop. This class is designed to empower and grow your business with cosmetics. Topics covered; bridal, bridal contracts, airbrush (hands-on), mature clients makeup, headshots for promos, touch & feel 250 different products of ours, and much more. Join the Sola fun before the big show!
When: May, 7th 2017 - 12:30PM-2:30PM
Where: Tysons Corner Marriott 8028 Leesburg Pike, Tysons VA, 22182
What to Bring: Yourself & Makeup Brushes
Past Event Host Reviews:
"Nick certainly gave out the keys to elevate the beauty in Sola Salons NWA! He was entertaining and captured the attention of the audience. His makeup techniques were inspiring and motivating to use in the salon and every day. The Klass beauty products add a money making tool to the participants arsenal! Not only that, he was prompt, prepared, courteous and professional. -Jim and Donna Banwart"
"I'm so thankful I found Klass Cosmetics! The class was so intimate and I felt at ease while learning. He was spot on with the techniques learned for skin prep and especially makeup for mature ladies! He took his time to answer all questions. I can't wait to attend more events and see this brand grow! All of the cosmetics were very pigmented and of very good quality. I fell in love with the Klass cosmetics airbrush kit! It the best addition to my makeup kit I've had in a few years." - Jazmine Franklin (Sola Sessions Dallas)
Lead by Nick Raehsler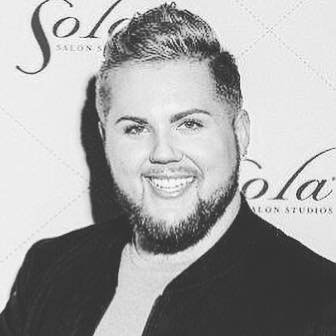 (Makeup Artist, Executive of KLASS Cosmetics, and Co-Founder of KLASS Act)
Nick Raehsler serves as our Chief Operating Officer and President of KLASS. Nick is partnered with retired airline executive Crystal Knotek who serves as the company CEO and Tim Knotek retired cosmetic dentist who also serves on our executive team. They are most proud of the KLASS Act Foundation created which empowers women giving back to women's charities. We feel everyone deserves a touch of KLASS and should experience the quality and style of a superior cosmetic or skin care product from a company that truly cares about helping people. You will appreciate the great appearance of KLASS make-up and skin care, love the results, and make a difference in your community! Overseeing operations of the company, Nick's strongest assets are makeup application education and product development, speaking and his ability to connect customers to product.