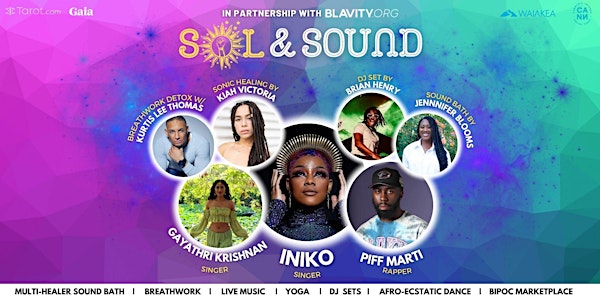 Sol & Sound Festival ft. Multi-Healer Sound Bath, BreathWork, Music & more!
Sol & Sound is a sound healing festival for the culture- ft. an immersive sound bath, yoga, ecstatic dance, music performances , and more!
When and where
Location
The Beehive 1000 E. 60th Street Los Angeles, CA 90001
About this event
Sol & Sound returns with our Season Finale! This season is brought to you in partnership with BLAVITY.org and features an indoor and outdoor sound bath experience, yoga, BreathWork Detox, live music, afro-ecstatic dance, BIPOC marketplace and so much more!
Sound healing uses aspects of music, sound waves, and high vibrational frequencies to improve spiritual, emotional and physical well-being. Breathwork aids in releasing suppressed emotions, imbalanced energy and toxins from your body to help you shed the old and embrace your highest self. This is a safe space to invest in your healing, self-care and joy. So bring your friends, a yoga mat (or small blanket) and come vibe!
LINEUP
Multi-Practitioner Sound Bath by Jennifer Bloom & Bloom Sound Healers
Vinyasa Yoga Flow by Lauren with RnBYoga
Breathwork Detox facilitated by Kurtis Lee Thomas
Live Music Performances by INIKO, Piff Marti, Kiah Victoria, and Gayathri Krishnan
DJ sets by Brian Henry
BIPOC Vendors, Massages, Reiki & Energy Readings
Vegan and Non-Vegan Food Vendors
FREE CBD Beverages by CANN (@drinkcann), Water by @waiakea & Non-alcoholic beverages by Three Spirit (@threespirit)
FREE Tarot readings + giveaways by Tarot.com (@tarotdotcom)
VIP Upgrade Includes the following:
Admission to Multi-Practitioner Multi-Sensory INDOOR sound bath which also includes a sonic performance by Kiah Victoria (VIP Only)
Premier seating for Music Performances
Back stage pass (Meet and Greet with INIKO, Piff Marti, and other artists)
Expedited Entrance into festival
1 Free drink from the wine garden (non-alcoholic options available)
First 35 VIP tickets get a complimentary Gaia.com Membership for 90 days
PLUS an EXCLUSIVE EXPERIENCE by BLAVITY.ORG- BLACK GRAVITY SPACE!
This season, Blavity.org is hosting an exclusive pre-festival ( 9AM- 1PM) workshop experience for all black women entrepreneurs. This workshop experience will guide you through alignment with your business so you can plan for and manifest future success, provide expert social media brand coaching and FREE professional headshots. Treats, giveaways, and vibes are provided- so you won't want to miss it!
Don't forget to bring a yoga mat or small blanket. We also suggest bringing a jacket in the event of cooler temperatures.
Brought to you in Partnership with Blavity.org. Sponsored by Tarot.com, Waiakea, CANN, Three Spirit, Gaia.com and Guayaki Yerba Mate.
For more information and content from previous events, check out our Instagram page @SolandSound!
FREQUENTLY ASKED QUESTIONS
How can I become a Vendor / Volunteer?
If you would like to volunteer or become a vendor, please go to www.solandsound.com, select the 'Get Involved' Tab and apply!
What do I bring with me for the sound bath?
- You will need to bring a blanket and/or yoga mat plus what ever else makes you feel comfortable. Headsets will be available for individuals who wish to remain outside during the sound bath. However, the VIP indoor experience is highly recommended.
Can children attend this event?
- Yes, children can attend this event. Children 12 and under are admitted for free. All children must be accompanied by a supervising adult throughout the duration of the event. We ask that children remain silent during the meditation and sound bath. Children will not be admitted into the VIP sound bath unless you purchase a VIP upgrade for them.
Where do I park?
Parking is available for free while spaces are available. Once the parking lot is full, street parking is available.
How do I find out about the next Sol & Sound?
Follow us on Instagram @solandsound or visit us at www.solandsound.com !