About this Event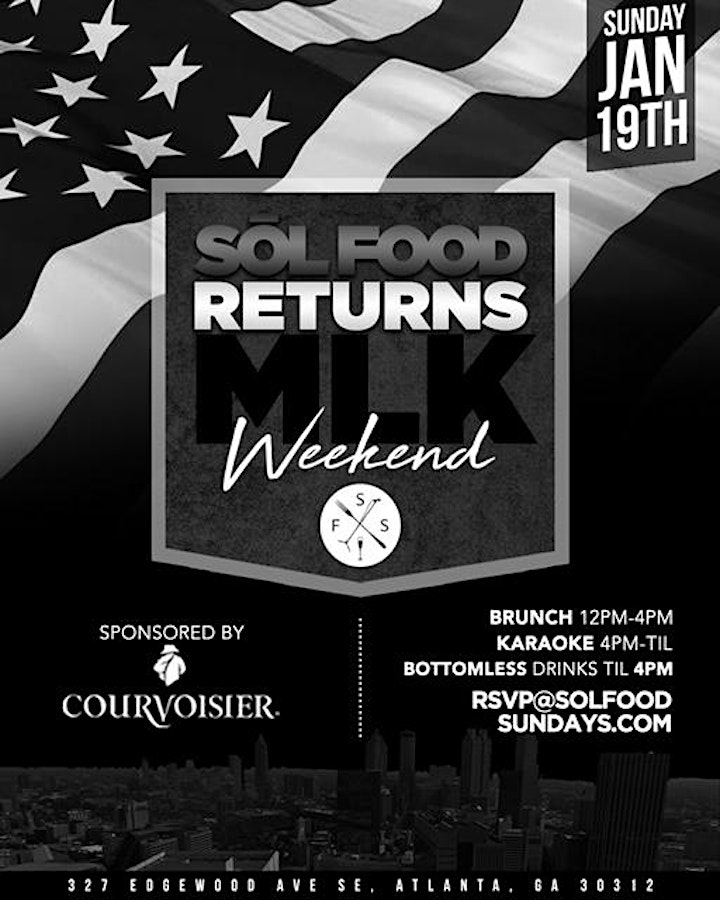 Just $15 for a BOTTOMLESS COMBINATION of mimosas AND Courvoisier Margaritas?!?
BUY ONE, GET THEM BOTH! UNLIMITED!
Sunday, January 19th, Bone Lick BBQ presents to you SOL Food Sunday!
Come enjoy the bottomless drinks and the infamous brunch dishes that put this spot on the map!
Then walk through the secret bookcase (yes, secret bookcase) into the Edgewood speakeasy to party to the live sounds of DJ Malik on the 1's and 2's AND Karaoke
This event is guaranteed to be a great time! Full bar with great drinks, lit DJ, amazing people, and guaranteed good vibes. Tell a friend to tell a friend! See you there!
A few things to note (Please read full description):
- You do not have to be seated to enjoy the Bottomless drinks! They are available throughout the restaurant and Speakeasy.. Just pay $15 (+gratuity) at the door to receive your bottomless drink wristband!
- If you wish to dine in and would like to avoid potential wait times, a table reservation is strongly encouraged. Only ONE person per table needs to reserve. The $15.00 reservation fee locks in your table for the designated time slot and includes the purchaser's bottomless drinking wristband only.
- If you reserve a time slot, you are NOT restricted to come to SŌL Food Sundays only during that period. We'd love to have you for the entire event! Come enjoy the bottomless drink fun and tunes in the Speakeasy while you wait for your party to be called!
- If you were unable to reserve a table in advanced, don't worry. We have additional tables blocked off to accommodate walk ins. If all of the tables are occupied, there is additional seating at the bar. You may also place your name on our waiting list and party with us in the speakeasy while you wait!
- For those making advanced table reservations, please ensure that the person making the reservation and at least two-thirds of the party are in attendance prior to seating. You will not be seated otherwise.
- There will be a 15 minute courtesy waiting period from the start of the reservation time for no shows before reservations are cancelled and we prepare the table for other waiting guests on the list.
- Due to the potential volume of people who may also wish to be seated to eat at tables, reservation times will not be extended.
- All reservations are final. Refunds will not be issued for reservations that were cancelled by reserver nor staff. Cancelled reservations will be redeemed in the form of event credit or towards the purchase of a bottomless drink wristband.