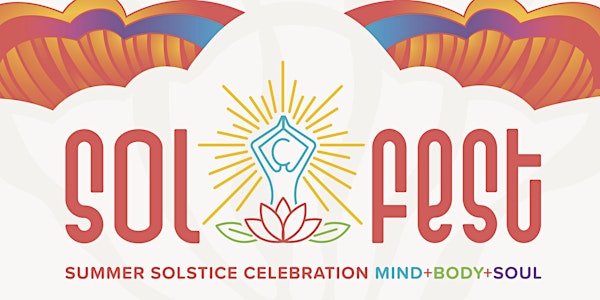 Sol Fest :: Summer Solstice Celebration for Mind+Body+Soul
A soulful celebration of health, wellness, music, movement, and the summer solstice season!
Date and time
Saturday, June 17 · 9am - 9pm EDT
Location
Liberty Park 828 West Bayfront Parkway Erie, PA 16507
About this event
Come join us for Sol Fest - a unique, day-long gathering - to experience a variety of healing modalities and wellness classes that are playful, educational and inspirational.
You'll discover practices that will expand your current healthy habits, help you create new proactive wellness routines, and promote total well-being in your body, mind, heart and home.
At Sol Fest, you'll come together with like-minded, wellness-oriented folks and enjoy a day full of community, connection, laughter and love!
WELLNESS WORKSHOPS + LIVE MUSIC
Featured on the Main Stage are well-known holistic wellness teachers and musicians from Erie and surrounding regions.
The event schedule is as follows:
10:00am - 10:15am
Opening Meditation + Intention Setting with Monica Graves
10:15am - 6:45pm
45 minute wellness classes, featuring a fun variety of yoga, meditation, sound healing, breathwork and more!
Gen DeRose | Pilates
Terry Seth | Gentle Yoga
Ross Marshall | Breathwork
Matt Price | Drumming
Jill Murphey | Power Yoga
Danielle Kudlak | Sound
Merryn Spence | Dance
In between classes, Live DJs fill the air with ambient and energetic beats while you connect, explore and enjoy the park.
7:00pm - 7:30pm
Closing Meditation + Collective OM Bath
8:00pm - 9:00pm
Sunset Celebration Live music performance with headliner - Mystik Fool
Class Descriptions can be found on our website solfesterie.co
HEALING ARTS SANCTUARY
In addition to the transformational group classes you'll experience - there will be lots of opportunity to receive 1:1 personal healing at Sol Fest.
Our Healing Arts Sanctuary features the best of the best practitioners in Massage, Reiki, Aura Clearing, Tarot, Sound Healing and more. Book a 1:1 mini-session with one (or all!) of them to enhance your overall experience.
Sessions are offered at a small additional cost, and spaces will be booked on a first come, first served basis. We encourage you to visit the Sanctuary early to get on the schedule of your favorite healer.
FEATURED HEALERS: Ross Marshall, Danielle Kudlak, Jessica Frombach, Melissa Hopkins, Nelly Khilchuk, Diana Meyer, Michele Paich, Stephanie Sawtelle, Andrea Chesley, Jennifer Stahon
Open from 10:00am - 6:00pm
VENDOR VILLAGE
The Sol Fest Vendor Village is a colorful marketplace of makers, designers, doers and dreamers.
Come explore a world of handmade products that tell the stories of the people who created them. Browse the booths of one-of-a-kind holistic products and sustainable fashion, and treat yourself to something wholesome and wonderful that can't be found anywhere else.
FEATURED PRODUCT VENDORS: Willahollow Pottery, Erie Maidin, A Compassionate Hart, Enchanted Luna Candle Co, QiQi Naturals, Triple Moon Alchemy, The Boho Daisy Boutique, Etherealm Co.
And as you spend the day at Sol Fest, we want to make sure your belly is as happy as your heart! The Vendor Village also features several local and regional food trucks serving up a delicious selection of healthy meals, smoothies, fruit bowls, and more. Vegetarian and vegan options are available.
FEATURED FOOD VENDORS: Purrista Cat Cafe, Sundae Vegan Desserts, Fresh Healthy Cafe, iPPA Pizza Napoletana, The Juice Jar, A Waffle Miracle
Open from 10:00am - 6:00pm
LOCATED IN THE HEART OF ERIE, PA
Set to the backdrop of Presque Isle Bay and the world-class Erie sunsets, the Sol Fest Summer Solstice Celebration will surprise and delight your senses in a beautiful nature-filled park setting.
Erie is conveniently located to many surrounding cities. We're a 90-minute drive from Pittsburgh, Cleveland and Buffalo, and a quick direct flight from Charlotte and Detroit.
There are several hotels within a couple miles of the park, and plenty of activities in downtown Erie if you decide to make a whole weekend adventure of it!
TICKETING TIERS
General Admission* - $60
Includes full access to the 12-hour event, all wellness workshops and live music
VIP Access* - $125
Includes GA benefits plus:
Preferred seating closest to Main Stage
Canvas Swag Bag printed with Sol Fest logo and filled with holistic, healthy goodies
10% off everything in Vendor Village
Early Access to Healing Arts Sanctuary schedule to book 1:1 mini sessions
Priority registration line for faster entry
PLEASE NOTE - This event has a max capacity and we can't guarantee that tickets will still be available at the door the day-of. We encourage you to purchase in advance to make sure you're able to join us!