Description
Welcome with Traditional Mint tea
Short presentation of Berber Culture
Concert of Ankraf Band (traditional music from the Middle Atlas region) and Tazenzart Group (traditional music from the Small Atlas, or Souss region).
Following the concert you will taste traditional Moroccan Cuisine with Couscous (Vegetarian and Chicken)
There is limited tickets for this event, be sure to reserve your seat soon!
This event is possible thanks to the generous participation of our partner Morocco Immersion Tours and Adventures! Morocco Immersion Tours & Adventures is a family . . . literally. As direct descendants of the first dynasty of Morocco, our family history is entwined with Morocco's. We founded Morocco Immersion because of our love of our Berber culture and our desire to share it with the world. With over 15 years of experience, we provide safe and affordable adventures that allow you to immerse yourself in the beauty and magic of the REAL Morocco. Whether you choose a customized private tour or join one of our small group tours, when you travel with us, you aren't a "tourist." You are an honored guest of the family. And that is the BEST way to experience Morocco.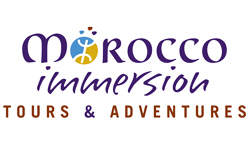 This event will be in English.
AFDC Member & Culture Pass: $ 30
General Admission: $35
Culture & Events policies:
The member discount is applicable for one ticket per member.
Guests must pay the non-member price.
Refunds will be issued when Alliance française cancels an event, or upon a 24-hour request for refund with or without cause sent via email to cultureaf(at)francedc.org by an attendee. No other refunds will be given.
The cultural department highly recommends advanced registration (online, by phone, or in person), as events sell out quickly.
If tickets are available, the AFDC can accept payment at the door by credit card, check, or cash (exact change only). The AFDC cannot make change at the door. The AFDC reserves the right to refuse entry to sold out events.