Soiree In The Cities Girls Night Out Philadelphia 2017: Coachella Theme Bes...
Description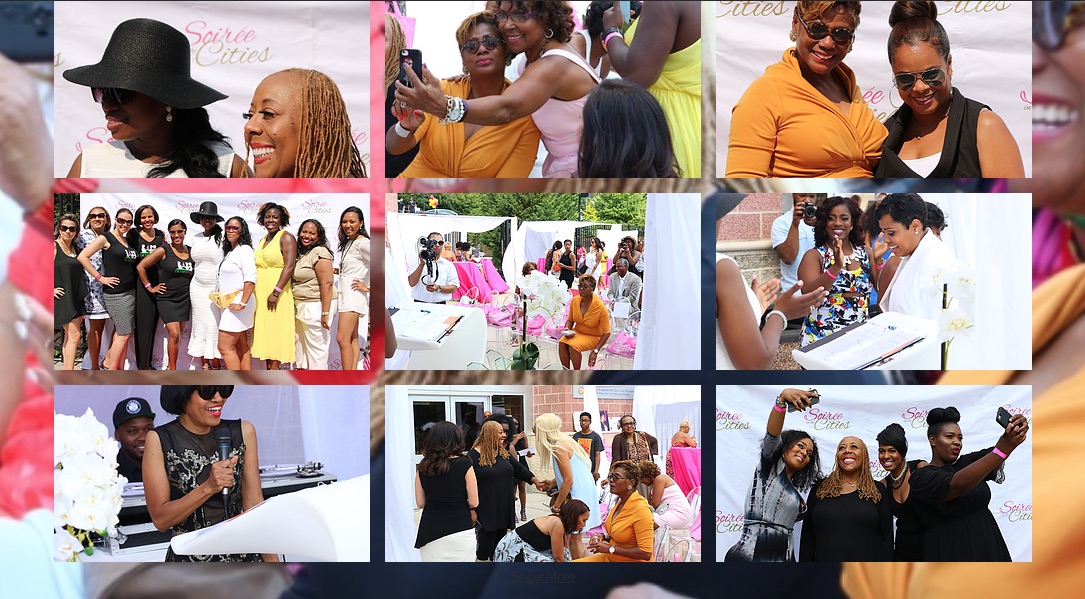 Soiree #ItGirls,
If your Instagram, Twitter, FACEBOOK and Snapchat stories were not busy this past year get ready for the hottest girls night out of the year in Philadelphia: Soiree In The Cities. Make sure you're wearing your cutest Coachella themed outfit and be picture ready for the red carpet.
Shopaholics, VIP's and social media influencers from all over the tri-state flock to the girls night out, for a shopping experience combined with women's empowerment.
This year, ladies pull out your glitter crowns, glitter unicorn-themed braids, glitter tears, glitter tattoos, glitter neon hair and glitter show-stopping makeup. Evidently, Ebony Edwards creator of Soiree In The Cities wants everyone to veer away from their regular girls night out attire, and more towards glitter everything. This years Coachella theme is all about the glitz and glam of women's empowerment where everyone is a star.
You and your besties will get to shop the latest trends in emerging fashion and accessories, sip delicious included cocktails, and sample fabulous beauty products and services. Best of all, you'll love scoring one of our soiree shopping bags. Whether you attend with a group of girlfriends or treat yourself to some solo "me time," this is sure to be one of the best nights out of the season.
For tickets and more information please visit [www.soireeinthecities2017.eventbrite.com](http://www.soireeinthecities2017.eventbrite.com) or [www.soireeinthecities.com](http://www.soireeinthecities.com)
Xoxo,
Soiree It Girl Ashley
Event Details
Saturday, September 16, 2017
Time: 2pm till 8pm
Location: 22 S 23rd Street, Philadelphia, PA 19103
Tickets: $15 Includes Soiree Shopping Bag
Red Carpet Pictures: All Day
VIP Award Show: 3:30PM Sharp
IG: Soireeinthecitiesgirlsnightout
FB: Soiree In The Cities Girls Night Out
Forward Soiree 2017 to your girlfriends!
City Girl Vendors Inquire: admin@soireeinthecities.com
ABOUT SOIREE IN THE CITIES
Our mission is to bring together sophisticated, business savvy women who are hard working and just want a girls night out. We bring forward new relationships with women in small business, media, entertainment and corporate relations. We consistently bond cities with the who's, who (women that is), and their integrity, intelligence and style speaks for itself.​
​Since our founding in 2013, Soiree In The Cities Girls Night Out, has set the standard for an elite presence for a girls night out. Not to mention, bringing a since of a WOW factor experience, which means, "Women of Worth", award segment and a result-oriented sip, shop, mingle, experience. Over the last three years, we have met some of Philadelphia's, New York, and Washington, DC best women small business boutique vendors. We built an impressive data base of your cities best of the best women in business.
We pre-select our vendors for our upscale event production.
The Soiree In The Cities Girls Night Out delivers memorable events that have our vendors and guest in complete awe. Some of our recent exclusive partners, BMW of The Main Line, UBER and Vitamin Water. The event is all about, shopping, hot fashion, complimentary soiree cocktails and swag bags.
Please visit our website: www.soireeinthecities.com