SOIREE in BUENOS AIRES: Grand Reception, Tango Cabaret & Ballroom Dinner!
Description
LAST $15 TICKETS! No tickets sold at the door. Come anytime between 6 and 10PM.

-ONLY- EVENTBRITE Ticket Holders have access to the Tango & Wine RECEPTION (6-10PM) and the 8PM dinner (advance purchase) created by Top Chef & Robuchon alumni Elia Aboumrad. Scroll down to see all what your ticket includes.

CHECK OUT THE PHOTOS OF OUR PAST EVENTS.
JOIN OUR GROUP ON FACEBOOK FOR THE LATEST UPDATES.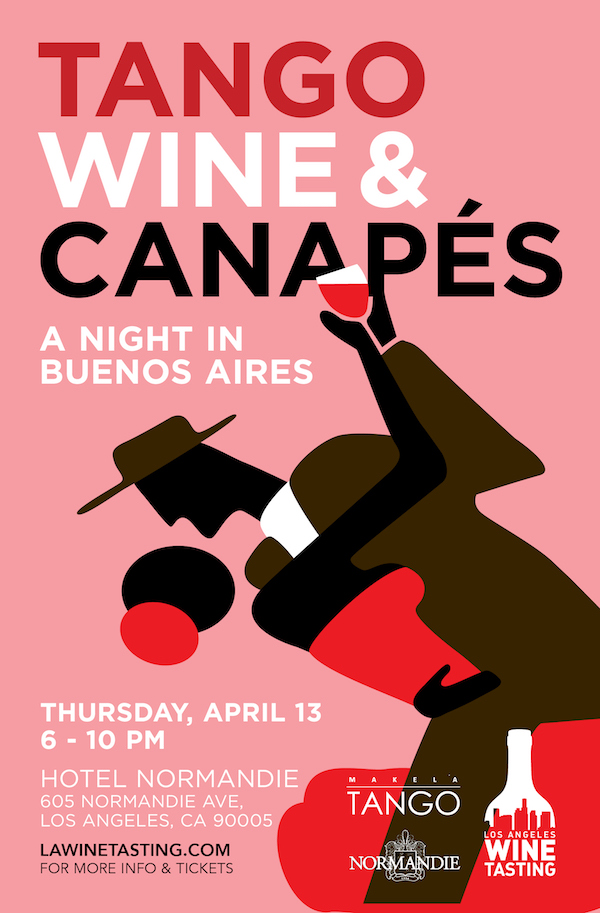 Los Angeles Wine Tasting, Hotel Normandie and Makela Tango invite you to Buenos Aires for an evening of mingling, dancing and dining. Wines from Argentina and food by

Top Chef & Robuchon alumni

Elia Aboumrad will be served during the soirée.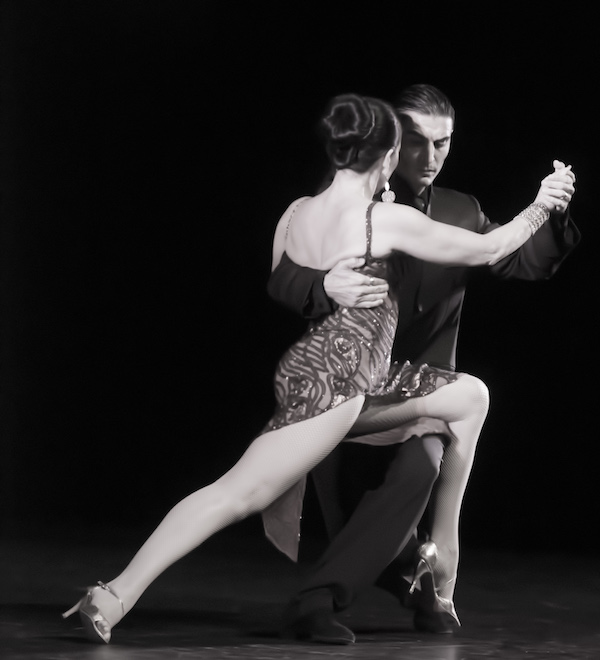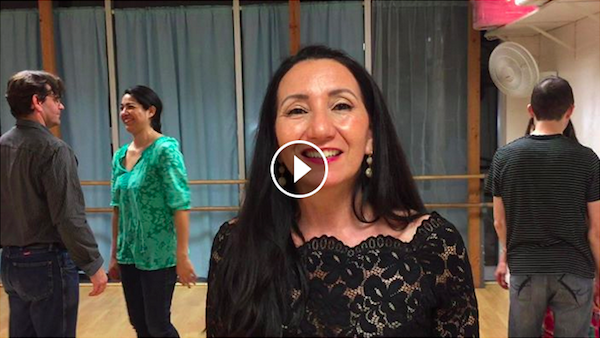 Dancing will be hosted by Makela Brizuela, one of Los Angeles tango community's most respected performers, teachers and choreographers. For this event, she will be partnering with Tango Dancer Denis Cante. Founder and director of Makela Tango School (since 2000), Makela was born and raised in Buenos Aires, Argentina, graduating from the National School of Ballet of Argentina. She directed the critically acclaimed "Urban Tango" in Los Angeles (2006/7) and choreographed "Camila, the Musical" for SMC, "Dance in Fight" at Pepperdine University, "Tango Cabaret" at the Museum of Latin American Art in Long Beach and "Sueño Azul" at the Electric Lodge 2103. Makela's performance credits include "Tango Nuevo Cabaret" at the Ford Amphitheater and "Cabaret Tango" at the Downey Theater. She performed at REDCAT (Roy and Edna Disney/CalArts Theater), the Alex Theater and the Ricardo Montalban Theater. She appeared many times on TV (i.e. Univision) and was featured in many films. She is also an official judge for the San Francisco competition branch of the Official World Argentine Tango Championship in Buenos Aires (2012, 2013, 2014, and 2017). Watch this inspiring video of what her students have to say.
Music by DJ Marlon with Ethnomusicology.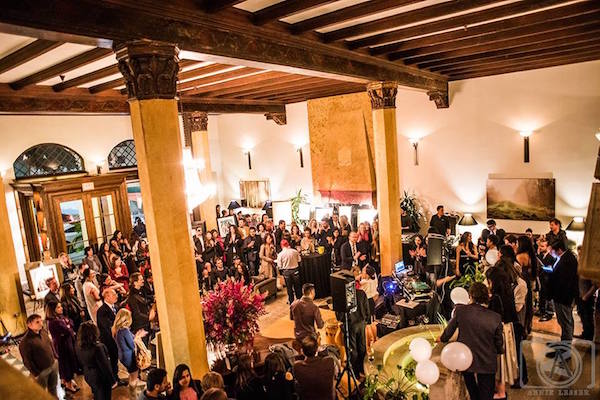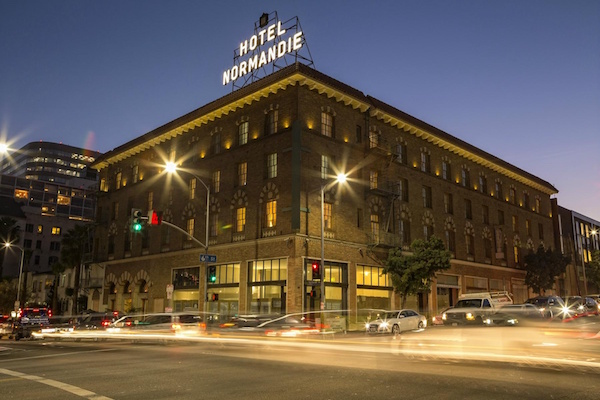 Hotel Normandie (1926) has deep roots in LA's Wilshire District and was declared Historical Monument in 2012 by the City of LA's Cultural Heritage Commission. After a multi-million dollar restoration, essentially crowdfunded, "nothing says 'rebirth' like a boutiquey historic hotel saved from a trashy, stucco-y fate", Curbed Los Angeles. Check out HotelNormandieLA.com for more details about this absolute unique venue!
___________
1ST PART - TANGO & WINE RECEPTION (Normandie's Lobby)

Come anytime from 6PM to 10PM!

EACH EVENTBRITE TICKET INCLUDES:
- Soirée event entry at Hotel Normandie from 6-10PM (access to grand reception & dinner)

- Tango show and optional class

- Complimentary Argentinean-style gourmet bites created by Top Chef & Robuchon alumni Elia Aboumrad, served until 7PM
- Music by our favorite DJ Marlon

- $25 of Free Ride Credit with Lyft (new users only - see details below **).
WINE TASTING AND DINNER NOT INCLUDED.
WINE TASTING ON SALE BY HOTEL NORMANDIE:

- $15 for 3 pours (you will be able to purchase the tasting tickets at the venue) to choose from the following wines:

NV, Rose Brut Nature (sparkling/méthode champenoise), Mendoza, Alma Negra
Rich and complex sparkling wine produced in the methode traditionale style of Champagne; pleasant notes of ripe red fruit.
2016, Torrontés, Salta, Bodega Colomé
Soft floral aromas alongside supple tropical fruit; a full, rich palate with a fruity, inviting finish.
2012, Cabernet Sauvignon, Malbec, Siesta by Ernesto Catena
Vibrant nose redolent of bell pepper, fennel, and cured meats. Fruit forward, yet elegant and modest.
2014, Malbec, Uco Valley, Tintonegro
Aromas of black pepper, toasted nuts, and forest floor. Rich, spicy palate with good acidity.
- Wines by the glass, cocktails and beers: available for purchase at the event

- Appetizers/small plates: available for purchase at the event

___________

2ND PART - BALLROOM DINNER (Charlemagne Room)

One Seating at 8pm. Limited seats available.

Access to Eventbrite ticket holders ONLY

- $45 ONLINE ($55 at the door) THREE COURSE DINNER by Top Chef & Robuchon alumni Elia Aboumrad. Gratuity, tax and wines are additional. Wine pairings available for $25.
1st course: Empanadas de carne and provoleta with flour tortillas and chorizo argentino

wine pairing: 2016, Torrontés/Riesling Blend, Salta, Bodega Amalaya
Crisp and light, but with vivacity and freshness. Floral aromas and a lush white fruit palate.
2nd course: Churrazco with potato pure and chimichurri

wine pairing: 2013, Malbec, Mendoza, Siesta by Ernesto Catena
A heady nose of olives, fennel, and ocean air. Dry, with a light body, smooth tannins and good acidity.
3rd course: Alfajor gigante topped with vanilla ice cream
wine pairing: to be confirmed
- Wines by the glass (or bottle), cocktails and beers: available for purchase at the event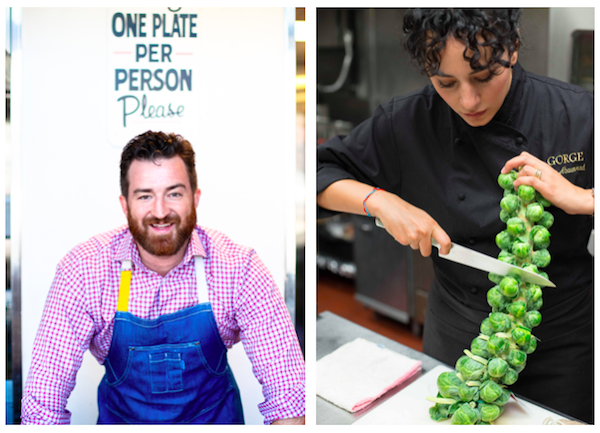 ___________

PLEASE NOTE: EVENTBRITE TICKETS DO

NOT

INCLUDE WINE, DRINKS OR DINNER. Prix-fixe dinner (with or without wine pairings) has to be purchased in advance here. Wine tasting tickets (3 for $15), wines by the glass and gourmet appetizers can be purchased

during the lobby reception

.


DRESS CODE

- Important: Business/Upscale Casual, Cocktail Chic. NO T-Shirts. NO Sneakers. Jacket Recommended for Men. Dress Shoes.
Must be 21 and Over to Attend. Every Guest's ID will be carefully verified upon Check-in.

Please Enjoy Responsibly.
** Don't worry about taking your car... and take Lyft to the hotel! Your ticket includes a $25 credit for new users with code LAWINE. Lyft is a mobile app that lets you request a ride from a fully-vetted, hand-selected community of drivers at the push of a button. For this soiree attendees, Lyft has kindly offered $25 of free credit (first users only). Just download the Lyft app and enter LAWINE under settings to take a free trip on us.
Ticket Policy: All sales are final. No credit. No refunds. A name change however can be done anytime until the event starts.
Question? email at info@lawinetasting.com