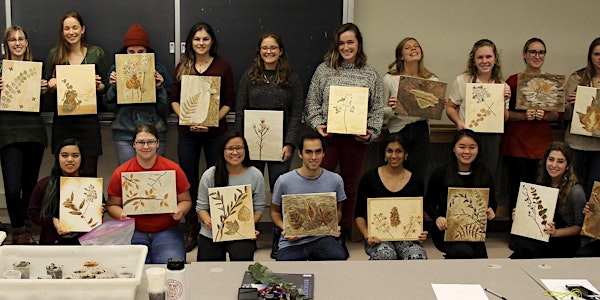 Soil Painting with The Arts Bus and Kirsten Kurtz
Artistic fun on the farm during Open Farm Week for kids and adults!
When and where
Location
Howling Wolf Farm 209 Tilton Road Randolph, VT 05060
About this event
RANDOLPH, VT – Making art from earth is what many farmers and gardeners do, but Cornell's Soil Health Lab Manager, Kirsten Kurtz takes it to a whole new level of creativity by blending art & science – literally! Both a soils scientist and artist, Kirsten married her love of art and science by creating paintings made entirely of pigments derived from soil. She discovered and honed this technique of mixing various dried soils with a gesso binder while working on her senior thesis to complete a B.A. in Visual Arts.
Howling Wolf Farm & The Arts Bus are thrilled to announce Kirsten is coming to Randolph to share her artistry and knowledge on Sunday, August 7th during Open Farm Week! Families & friends are invited from 1-4pm, during which Kirsten will give a short talk about soils, the art of soil painting, and teach how to use it to paint on canvas. All participants will go home with their own original artwork made by the soils at Howling Wolf Farm.
"We so very excited to have Kirsten come with The Arts Bus to blend the essential elements of art and soil together for joy, family fun, and education," says Howling Wolf Farm's owner, Jenn Colby. "This is exactly what our farm is all about!"
This event will be held during Open Farm Week, when members of the public are invited to farms all across Vermont to explore, learn and appreciate farming. When not actively engaged in art activities with The Arts Bus and Kirsten, visitors to Howling Wolf Farm will be encouraged to visit sheep and pigs, walk the farm, and take in the incredible views of over Randolph Village.
Kirsten Kurtz is an artist, scientific communicator and soil scientist. Kirsten manages the Cornell Soil Health Lab and has a Master of Science from the Department of Natural Resources at Cornell University.
Kirsten's paintings and interviews have been featured in a wide range of national and international publications including The Furrow, Yale Climate Connection, Art and Wine Magazine, CSA News and others. She has been recognized as an Artist for the Earth by the Earth Day Network and has shown in a wide range of galleries. Kirsten's work can be found on her website https://soilpainting.com/
This event is FREE thanks to Howling Wolf Farm and The Arts Bus, with funding from Lamson-Howell Foundation, Vermont Arts Council and the Town of Randolph. The Arts Bus is a nonprofit now in its 12th year of empowering children to find joy & authentic self-expression thru the arts through a big green bus. To support The Arts Bus and see the creative joy it empowers, contact info@artsbusvt.org or visit its website at www.artsbusvt.org or Facebook page @artsbusvt.
**Please note, this is an accessible event.**