Soil Food Web Intensive With Dr. Elaine Ingham Feb 2013

Monday, February 4, 2013 at 9:00 AM

-

Friday, February 8, 2013 at 6:00 PM (PST)
Event Details
In Association With
Green Friends Farm, Common Vision, Soil Food Web Inc. & Dr. Elaine Ingham
Course Overview
 There is a whole world under the soil – and no one knows this cast of characters better than Elaine Ingham! Elaine is one of the world's leading soil microbiologists, with 30 years of experience researching and teaching and an easy and enthusiastic style that brings the soil food web to life. Elaine literally wrote the book on compost teas: The Compost Tea Brewing Manual.
Healthy soil has all the interconnected elements of a "web" – which can retain nutrients, cycle nutrients into the right forms at the right rates for the plant desired, build soil structure, suppress disease-causing organisms, protect plant surfaces, produce plant-growth-promoting hormones and chemicals, and decompose toxic compounds. In this course, you'll look at the elements of a healthy soil food web, learn how to analyze and improve your own soil, and learn how to make composts and extracts to strengthen the soil food web.
The course will cover the soil food web, soil food web analysis, composts and compost extracts, and the use of microscopes.
5-Day Soil Food Web Workshop with Dr. Elaine Ingham
The missing link in today's comprehensive understanding of the soil and plant relationship is Dr. Elaine Ingham's 5 day intensive workshop. When you leave you'll have a full understanding of plant, soil, and microbe needs. Until recently, we have only understood the chemical aspect of plant relationships. Dr. Ingham connects the loop from chemical, biological, to available plant nutrients. In fact, the USDA's Soil Biology Primer is headed by no other than Elaine herself.
Whether you're growing in planters or backyards, understanding the Soil Food Web is a critical component to unlocking the yield barrier, allowing your gardens to thrive beautifully, while eliminating disease and pests.
Do you know the optimum bacteria: fungi ratio for YOUR plants? Every plant is different. In this class you will learn how to give your plants the biology they need to increase green growth, get more flowers and veggies, revitalize your farm, or restore open lands, while increasing moisture retention in the soil from 30-50%.
Find out how to make your own Liquid Compost Extract (LCE) and save hundreds of dollars on fertilizers, herbicides, and pesticides. Prevent Botrytis on seedlings, Powdery Mildew on roses, and other harmful diseases that reduce yield. Tailor your products to your plants with soil biology, See your garden or farm come to life!
Format & Module Descriptions
The course daily schedule is from 9:00 am - 6:00 pm., including lunch and snacks.
Day 1 & 2:  Soil Food Web Fundamentals – Dr. Elaine Ingham uncovers the basic principles of the Soil Foodweb, plant relationships, and bacterial to fungi ratios in this in-depth two day primer.  Not only will you gain a fundamental understanding of the way soil biology drives plant nutrition, you will learn how modern agriculture selects for disease and pests.  A must for anyone wanting a complete understanding of soil health and healthy plants.
Day 3:  Compost Technology - Not all compost is created equal.   There is a  big difference between good compost and reduced waste.  One of the biggest mistakes people make when building a compost pile is not selecting the different Carbon:Nitrogen ratios for the plants they're growing.  Learn how to select the proper ratios that will give your plants the exact biology they need to thrive.
Day 4:  Compost Tea Technology – We cover the processes that will maximize biological diversity to get the most bang for your buck.  Actively Aerated Compost Tea (AACT) and Liquid Compost Extract (LCE) are the most efficient methods for bringing back micobe diversity.  This allows you to eliminate inorganic fertilizers and herbicides which decrease diversity and degrade soil health.
Day 5:  Light Microscope Training – Dr. Elaine Ignham leads this very special day of training on effective light microscope techniques and identification.  Learn from the master herself about what constituents good compost and compost tea on a microscopic level.  This part of the class is essential for anyone who wishes to gain "eyes on" knowledge of the soil universe and what really goes on under our feet.  Get the necessary training to identify the bacteria, fungi, protozoa, and nematodes that drive the health and well being of our plants.  Students are encouraged to bring their own microscope.  Microscopes will also be available for a group discount at the workshop.
Who Should Attend?
This intensive course is for farmers, landscapers, ranchers, creators and distributors of agricultural products, waste management professionals, soil and garden enthusiasts of all types, and anyone who touches the earth.  Simply put, this information needs to be central to any sustainable agriculture or land management.
Site Details - MA Center Green Friends Farm

The beautiful 180 acre grounds of the M.A. Center are becoming a demonstration & educational hub of leading permaculture, holistic management, and regenerative design practices.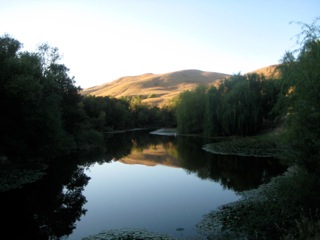 Site Projects Include:

* 1,000 tree holistic food forest
* Dynamic watershed restoration
* Broadacre land contouring & water infiltration
* Keyline patterning & ploughing
* Native reforestation & agroforestry
* Holistically managed grazing
* Soil food web management
* Solar energy
* Community garden & orchards
* Sustainability & spirituality programs
More Information
Visit the Course website for More information
For Question e-mail: education@livingmandala.com or
Phone: (707) 634-1461

When & Where

GreenFriends Farm
10200 Crow Canyon Rd
Castro Valley, CA


Monday, February 4, 2013 at 9:00 AM

-

Friday, February 8, 2013 at 6:00 PM (PST)
Add to my calendar
Organizer
MA Center - Green Friends Farm
The beautiful 180 acre grounds of the M.A. Center are becoming a demonstration & educational hub of leading permaculture, holistic management, and regenerative design practices.
Site Projects Include:
1,000 tree holistic food forest, dynamic watershed restoration, broadacre land contouring,        Keyline patterning & ploughing, native reforestation & agroforestry, holistically managed grazing, soil food web management, solar energy, community garden & orchards, sustainability & spirituality programs
Soil Food Web Intensive With Dr. Elaine Ingham Feb 2013