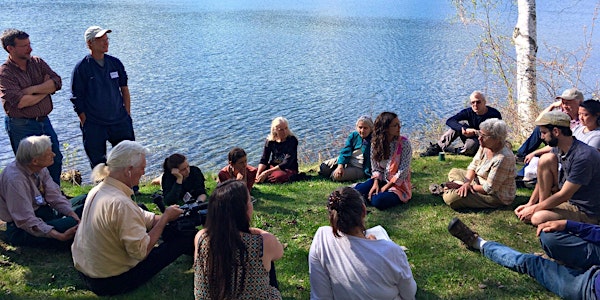 Soil Carbon Sponge Strategic Gathering with Didi Pershouse & Walter Jehne
When and where
Location
Lake Morey Resort 82 Clubhouse Road Fairlee, VT 05045
Refund Policy
Refunds up to 7 days before event
Eventbrite's fee is nonrefundable.
Description
At our annual gathering at Lake Morey, we have been building a cohort of engaged farmers, policymakers, educators, and community members. Projects that have come out of our past gatherings include the Vermont Healthy Soils Coalition, the Can We Rehydrate California? Initiative, major shifts in soil health policy, many hands-on workshops, talks, curriculum, online courses, and more.
Here's what Dave Chapman, Founder of Long Wind Farm and the Real Organic Project said:

"The workshop that Didi facilitated this weekend with Walter Jehne was stellar. I count it as one of the best educational experiences of my life. The intimacy and community-building of the three days at Lake Morey Resort was a significant part of the experience."
This year we are taking it to a new level. We will focus our learning on communication, communities of practice, and emergent strategies, which are aims and adaptive actions that become clear as a result of ongoing learning, listening, and observation within a community. Here are some examples:
We will learn from these and from participants' own examples.
An interrelated theme this year is communication: how do we talk to others about what we know? How do we set up meetings and conferences and learning groups that build working relationships and inspire ongoing learning and action?
We will look at why some narratives, facilitation styles, and methods of communication create fear, conflict, and feelings of dis-empowerment that result in stagnation. And we will explore and practice narratives, facilitation practices, and communication styles that create close working relationships, flexible thinking, and emergent strategies (rather than rigid rules), to bring diverse people together towards common aims.
Throughout the four days together, we will dive deeply into the principles at work in vibrant communities of practice (above and below ground) that create livable climates and landscapes that provide health and resilience for all the species that live within them.

We will share our projects (both successful and not-so-successful), our vision of what is possible, look at what stops us and what keeps us inspired, and allow space for new emergent strategies to develop.
Since it's well known that our minds work best when we can relax together, as well as work together, we will spend our mornings and evenings learning and working together, and the afternoons will be devoted to relaxed conversation and simply "being" together—with a big buffet lunch and time for sitting by the water, walks, swimming, boating, (even a round of golf if that appeals to anyone!).
We are also offering a hands-on, experiential soil workshop with Didi Pershouse, Walter Jehne, and Cat Buxton at a local farm on Wednesday afternoon, from 1pm to 5pm called "Understanding the Soil Sponge and Green Stormwater Infrastructure." Learn more here.
Here are a few videos from past gatherings:
---
Lodging
Lake Morey Resort is mostly booked, due to it being summer, but we have five rooms available to share right at the resort, (with space for two to five people to bunk together in each room.) and will be also offering rooms and space for camping in the surrounding communities. If you'd like to share a room at the Lake Morey Resort, or share a local AirBnB, contact Cat Buxton at CatDuffyBuxton@gmail.com.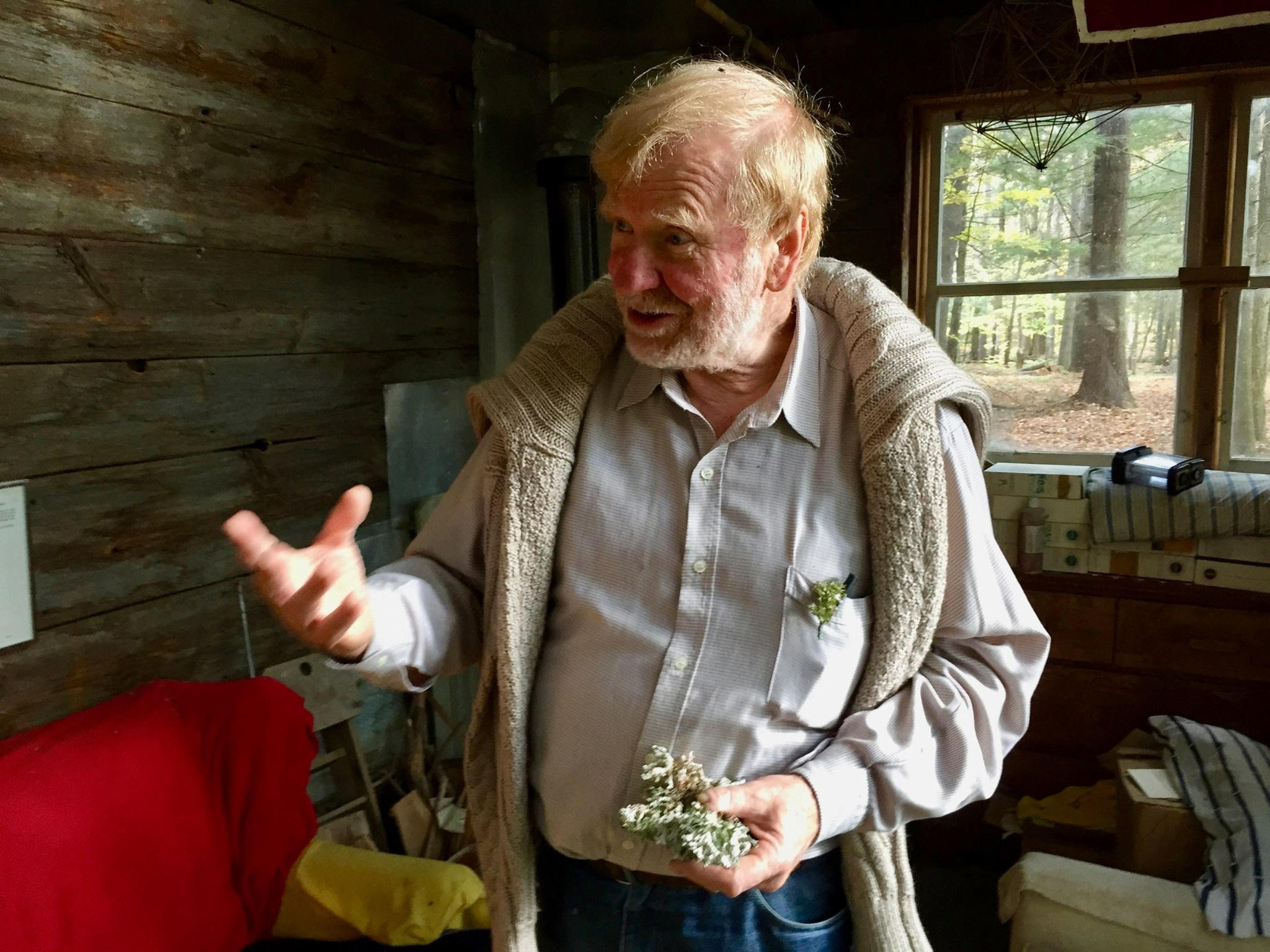 ---


Payment
YOU CAN SAVE YOURSELF THE HEFTY TICKET PROCESSING FEES by skipping this Eventbrite form and sending us an email to let us know you are coming and then mailing your check, plus your phone and email contact information, directly to: Didi Pershouse, PO Box 277, Thetford Center, VT 05075.


---
Scholarships & Sponsorships
A limited number of scholarships are available for this gathering. If you are in need of one, please reach out to Didi Pershouse directly.
Our goal is to make this an event that everyone can attend so that we have a diversity of voices and experiences in our discussions. Please consider making a contribution to our scholarship fund, by including it in your payment (see donation option in ticketing, or add it onto the check you send in.)
If you're interested in being a sponsor for this event, please contact Didi Pershouse.


---
About the workshop hosts:

Didi Pershouse is the author of The Ecology of Care: Medicine, Agriculture, Money, and the Quiet Power of Human and Microbial Communities and Understanding Soil Health and Watershed Function. She is a lead author for the "Future Directions" chapter of the UN-FAO Technical Manual on Soil Organic Carbon Management, and a contributing author for Health in the Anthropocene.
Pershouse is a skilled facilitator, who can bring conservatives and liberals together into effective working groups with common goals: improving soil health, public health, water security, and regional resilience through simple changes in land management. Both online and in-person, her participatory workshops engage farmers and ranchers, policymakers, investors, and scientists in systems thinking and deep listening, to allow for emergent strategies. She was one of five speakers at the United Nations-FAO World Soil Day in 2017.
At the Center for Sustainable Medicine, she developed a practice and theoretical framework for systems-based ecological medicine—to restore health to people as well as the environmental and social systems around them. After 22 years of clinical work with patients, Pershouse now travels widely in North America and Europe as a speaker, teacher, and consultant.
In 2018, she founded the Land and Leadership Initiative. She is the board chair of the Soil Carbon Coalition, and a co-founder of Regenerate Earth and the "Can we Rehydrate California?" Initiative.
She is currently working on projects with the UN-FAO Farmer Field School program; the Climate Resilient Zero Budget Natural Farming Initiative in Andhra Pradesh, India; the 4p1000 Initiative, and the Northeast (US) Healthy Soils Policy Group. You can learn more about her work at www.didipershouse.com.
Walter Jehne is an internationally known Australian soil microbiologist and climate scientist. He is passionate about educating farmers, policymakers and others about "the soil carbon sponge" and its crucial role in reversing and mitigating flooding, drought, wildfires, and rising global temperatures. His work shows how we can safely cool the climate by repairing our disrupted hydrological cycles. That project requires us to return some of the excess carbon in the atmosphere to the soil, where it can build a sponge that soaks up water.
In 2017, he participated in an invitation-only United Nations Food and Agriculture Organization conference in Paris aimed at bringing soil into the next Intergovernmental Panel on Climate Change (IPCC) report. Jehne was an early researcher on glomalin, mycorrhizal fungi, and root ecology. He grew up in the bush, surrounded by nature. At university, he chose the field of microbiology because it encompasses all life processes in microcosm. As a young man, he started his career working on forest dieback diseases in relation to soil microbial interactions. Later he realized that the disease fungi were actually our friends because they're involved with symbiosis, and disease serves to remove and recycle moribund organisms.
As a research scientist at CSIRO (Australia's scientific research organization), Jehne investigated the potential of mycorrhizal fungi to recolonize toxic, degraded soils and to rebuild productive biosystems. His curiosity took him to China to study why the country's traditional agriculture was so productive.

Eventually, he worked with his federal government on changing the paradigm of land management to foster strategic innovation. He retired 15 years ago so he could get back to practically applying science and grassroots empowerment. He travels widely to work with farmers and policymakers to share his understanding of biology's role in restoring a healthy climate.
---
Event Schedule (Subject to change)
---
Wednesday, August 14, 1 PM - 5 PM.
at Cedar Circle Farm. 225 Pavillion Road, East Thetford, VT
Park in the marked lot in the field. Arrive earlier to buy food from the farmstand and cafe'. Dress for outdoor activities. BYO water, sun and bug protection.
5 PM to 8 PM Optional trip to a gathering at Free Verse Farm in Chelsea, Vermont.
Thursday through Sunday at the Lake Morey Inn
A light breakfast and social time begin at 8:30 AM each day. Buffet lunch. We will have time to relax at the lake after lunch each day.
​Thursday, August 15
10:00 AM - 6:30 PM Lake Morey Resort, Fairlee Vermont. (optional discussion time after dinner.)
Friday, August 16
9:00 AM to 10:30 farm tour at Cedar Circle Farm, East Thetford, VT. At 8:30 AM meet at Lake Morey to carpool for a field trip to Cedar Circle Farm no-till experimental plots (or arrive at the farm at 9 am).
11:00 AM- 7:00 PM Lake Morey Resort (optional discussion time after dinner.)
Saturday, August 17
9:30 AM - 7 PM
Sunday, August 18
9:30 AM - 6:30 PM
Details:
Most likely we will spend Thursday and Friday going through key points of whole systems landscape function, unpacking them through interactive learning, and working on turning them into our own personal narratives and talking points. Friday morning start with a tour of the organic no-till experiments at Cedar Circle. Saturday and Sunday will be more focused on how to grow effective communities of practice, and emergent strategy, using real-world examples.