SoGal Summit 2015
When and where
Location
USC - Seeley G. Mudd Building (SGM) Room 123 3620 MCCLINTOCK AVE Los Angeles, CA 90089
Refund Policy
Contact the organizer to request a refund.
Description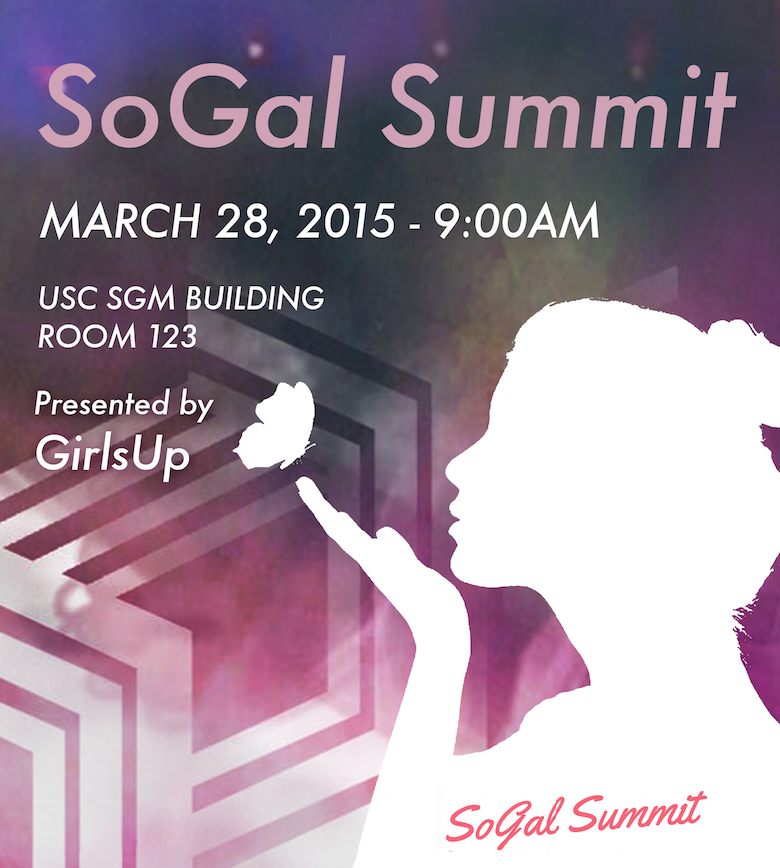 GIRL POWER IS ON!
SoGal Summit 2015 presented by GirlsUp kicks off on Saturday, March 28th, and you're invited to take part in the most awesome female entrepreneurship summit in LA!
The University of Southern California is our meeting spot for a day of fun and excitement.
Come one, come all, bring a guest, and hang loose. We are bringing 300 female entrepreneurs, students, startups and investors together to empower and inspire the next-gen female leaders.
This is going to be EPIC!
SoGal Summit is the largest entrepreneurship conference for young women in Southern California. The day-long event brings 300+ female students, mentors, startups and investors together to address key issues women are facing in today's entrepreneurship world. We create a collaborative and interactive experience between established leaders and next-gen female entrepreneurs to leave attendees feeling empowered, inspired and connected.
Visit the event site for more information!
Selected List of Confirmed Guests (Updating Daily):
Eva Ho, Serial Entrepreneur & Founder, Susa Ventures
Sabrina Kay, Chancellor & CEO, Fremont College
Kat Manalac, Partner, Y Combinator
Kimberly Kovacs, Managing Partner, Arroyo Ventures
Leura Fine, Founder & CEO, Laurel & Wolf
Ann Wang, Founder & CEO, Enrou
Robyn Ward, New Media Ventures at United Talent Agency
Barbara Boxer, Managing Director, BELLE Capital USA
Julie Thorne Engles, Founder & CEO, Tribemint
Alyse Killeen, Venture Capital Investor, March Capital Partners
Melinda Moore, CMO, Crowdfunder
Hillary Gadsby, Founder, Stiletto Gal
Lina Chen, Co-founder & CEO, Nix Hydra
Rachel Payne, Founder & CEO, FEM Inc.
Ashley Crowder, Founder & CEO, VNTANA
Samira Far, Founder & President, Bellacures
Julie MacMedan, Co-founder & Managing Director, Women Founders Network
Anna Redmond, Founder & CEO, HIPPO Reads
Lisa Tsou, Founder, The Winning Pitch
Shona Mitchell, Managing Director of Headspace
Laurie Luh, Career Counselor and HR Consultant
Rabeh Soofi, Founder & CEO of AXIS Legal Counsel
Kathleen Ronald, Founder of Speaktacular
Chelsea Krost, TV & Talk Show Host, Co-Founder of MPulse
Rachael McCrary, Founder & CEO of Jewel

Toned

Delilah Panio, Founder of Stiletto Dash
Helena Yli-Renko, Director of USC Lloyd Greif Center
Erin Reilly, Executive Director of Blackstone LaunchPad USC
Sarah Chambless, Associate at Manatt, Phelps & Phillips
Jesse Draper, Creator & Host, The Valley Girl Show
Julie Pantiskas, Investor, Pasadena Angels
Dr. Rhea Kim, Chief Research & Development Officer, Haig Barrett
Elvina Beck, Founder & CEO, PodShare
Espree Devora, Founder of WeAreLATech
Yangyang Cheng, Founder & CEO of Yoyo Chinese
Terrence Yang, Founder, Yang Ventures
Pina de Rosa, Tedx Speaker, Mind Effectiveness Expert
Emmanuelle Stahler, Business Development Director, Science Inc.
Jean Mathews, Founder, iMAGINATE
Bri Seeley, Founder, The Inspirational Women Project
Asha Dahya, Founder, Girl Talk HQ
Jenny Q. Ta, Founder & CEO, Sqeeqee
Tiffany Crawford, Founder, CREATE Leadership Institute
Dr. Dominique Reese, Owner, Reese Financial Services
Jaclyn Mullen, Chief Operating Officer, Jaclyn Mullen Media
Debbie Yu, Venture Capital Investor, Tech Coast Angels
Megan Sette, Founder, M Collaborative
Jamie Kantrowitz, Partner, Mesa Ventures
Marieme Haynes, Managing Director, Arela Naturals
Amanda Coolong, Founding Partner, TechZulu
Cameron Kashini, Advisor, LA Chamber Bixel Exchange
Emily Gruber, COO & CFO, Apliiq.com
Program:
8:00am Registration & Breakfast
9:00am Opening Introduction
9:15am Fireside Chat with Eva Ho, Partner at Susa Ventures
10:00am Entrepreneurial Journey Panels
Wonder women discussing key issues in an entrepreneur's lifecycle
"What Is My Brand?"

: Solidify your unique brand identity, target consumer and go-to-market strategy

"I have An Idea, Now What? "

: Build a team, find mentors, accumulate resources

"How to Raise Funds?"

: When and how to secure early stage capital

"I'm a Millennial Female CEO"

: What it means to be the face and brain of your own business

"Stand Up, Speak Out": TED Talk style, hear powerful individual stories from the coolest women
11:00am Speed Mentoring Sessions / Workshops
Connect with awesome mentors, get to know each other and learn from the best!
Workshop: Brand Visualization: Build your brand vision, identify action steps and commit!

Workshop: Pitching & Presentation: How to put together a killer deck and engage the audience

Sisterhood Community: The power of building a collaborative community

Grow Your Business: Talk their language to get them on board

Female Leadership: What it takes to lead and motivate; how to build rapport
12:15pm Delicous Lunch Break
1:30pm

Keynote with Dr. Sabrina Kay, CEO of Fremont College - Technology and Innovation
2:30pm Pitch Showcase

Judges: Kat Manalac (Y Combinator), Alyse Killeen (March Capital Partners), Melinda Moore (Crowdfunder), Robyn Ward (United Talent Agency), Kimberly Kovacs (Golden Seeds), Terrence Yang (Yang Ventures)
Apply for Female Pitch Showcase
FREE Pitch Coaching:

One-on-one assistance before you set foot on stage!

WIN: A $5,000 worth package to help you form your desired startup, sponsored by AXIS Legal Counsel

WIN: Facetime with top VC firms and incubators/accelerators in LA,

including Y Combinator, Muckerlab, Amplify, Yang Ventures...

WIN: FREE Co-working Space, All-stage Mentorship, Legal Sessions, Startup Orientation Services,

from Hanhai Investment, USC Startup Garage, The Grady Firm, The Winning Pitch...

WIN: Membership at Cross Campus, Venture Incubation Program...
Attendee Profiles:
90% W

omen, aged 18-30, global and diverse backgrounds

75

%

Pursuing a degree or graduated from USC

30% Founders of one or more companies and organizations

5% A

ngel or VC investors, incubators / accelerators

Tech-savvy social influencers, purchasing decision makers
Attendees are influencers online and offline and they:
- Drive 50%+ of all social sharing, shopping and gaming activities online.
- Represent 54%+ of online publication/news readers
- Spend 30% more time online
We Are Adding Sponsor and Partners Everyday: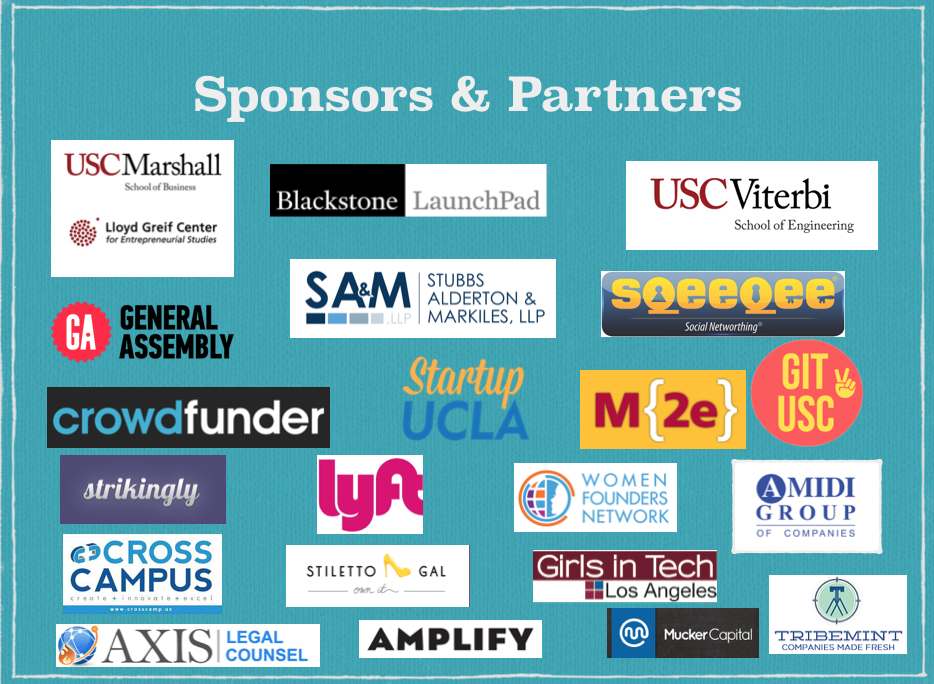 About SoGal (GirlsUp):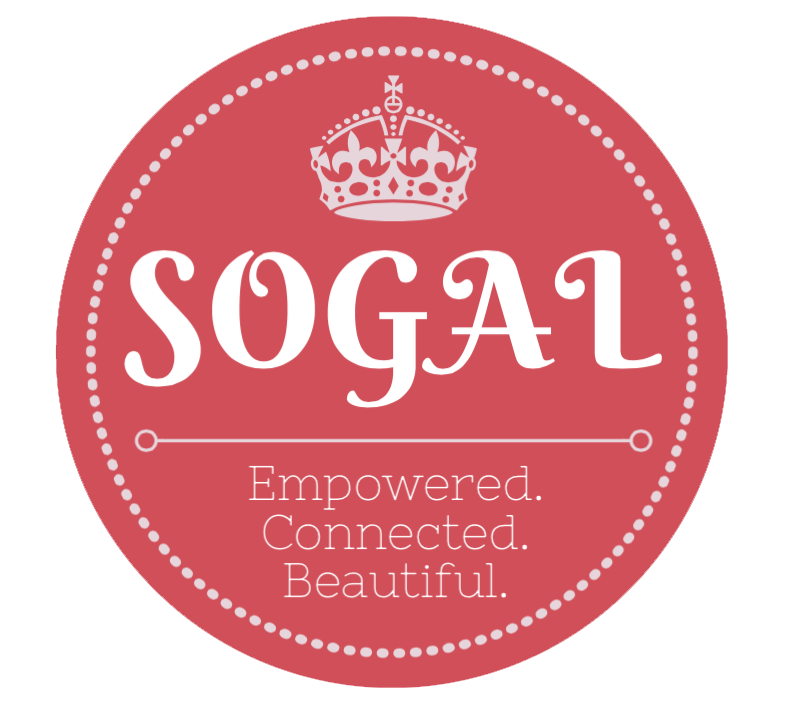 Founded by Pocket Sun, SoGal (GirlsUp) is the fastest growing community of young female entrepreneurs in Southern California. Our mission is to close the gap between female and male entrepreneurship within our generation. The fun and meaningful events, the unique mentorship program, and a fearless, passionate spirit have led to a movement of female empowerment within young millennials.
PARKING INSTRUCTIONS: Your parking is located through Gate 1 (enter on Exposition Boulevard at Watt Way East of Vermont Avenue) for Parking Structure A (PSA).Please stop at the kiosk and obtain a daily permit ($10) to place on your dashboard. This allows for parking in Parking Structure A in spaces NOT marked "Reserved" or "Carpool" (if you park in a reserved space, or fail to display the permit, you may be ticketed). The SGM Building (red spot on the map) is caddy-corner (diagonally opposite) from Parking Structure A.
SPONSORSHIPS: Sponsorship packages are available for logo placement on all promotional materials (60,000+ reach in SoCal), conference booths, and complimentary tickets starting at $500. We also welcome in-kind sponsorships, food, drinks, services for startups or women, etc. Contact us at sogalsummit@gmail.com.
VOLUNTEERS: Wanna help? Let us know at sogalsummit@gmail.com.
ALL OTHER INQUIRIES: Contact us at sogalsummit@gmail.com.