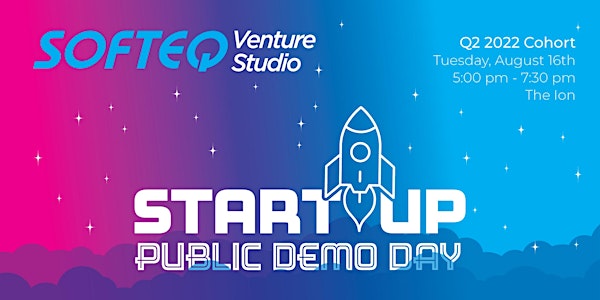 Softeq Venture Studio Public Demo Day - Q2 2022 Cohort at The Ion
Please join us as the Q2 2022 Softeq Venture Studio cohort of fourteen startups pitch for their next round of growth capital!
When and where
Location
The Ion 4201 Main street #Suite 120 Houston, TX 77002
About this event
The Softeq Venture Studio invested $125,000 in cash and services in each of the fourteen early-stage startups to help them refine their business model, build their technology, and prepare them to scale. With 14 startups, the Q2 2022 cohort is the largest yet and brings the total portfolio to 27 companies! In this capstone event, founders have seven minutes each to present their pitch deck, demo their product, outline their ask, and answer questions. And we need you there to evaluate them for investment (or at least support them)!
Attendees have the chance to meet the founders, learn about the problems being solved, and learn more about how the Softeq Venture Studio de-risks growing startups. Join us for networking prior to the pitch segment and stick around for complimentary refreshments afterward. This is a great way to meet the startup founders and organizers of the Softeq Venture Studio.
Stick around for a complimentary beer, wine, and pizza happy hour after the pitches.
AGENDA
5:00-5:45 PM: Gathering & networking
5:45-6:45 PM: Startup pitches
6:45-7:30 PM: Refreshments & mingling
ABOUT THE STARTUPS
Concerto Commerce, based in Southlake, Texas, is an eCommerce platform that combines automated catalog management and payment processing to streamline reseller operations.
New York City-based Dailyhuman is a software platform designed to help companies retain employees by fostering safety, trust, and connection in the workplace.
Headquartered in Houston, FrakBlock is a blockchain-based predictive tool providing financial products for the adulting process of young teens in Latin America.
High Tech Ranch Solutions, from The Woodlands, is a digital ranch management system designed by ranchers to bring monitoring to the palm of your hand.
Santa Barbara, California-based Homesavi is a platform that helps first-time homebuyers understand the home-buying process and guides them to their dream home.
Louder.ai is an advertising platform that revolutionizes how people can support causes they care about and see the impact of their donations.
Mallard Bay, founded out of Louisiana State University, is a marketplace for guided hunting and fishing trips that streamlines booking and administrative processes for consumers and outfitters. The company won Softeq's prize at the Rice Business Plan Competition.
RYN is a social platform to help families in the Middle East find and employ household migrant workers providing better working and living conditions.
Egypt-based SAmAS Gamify is building a gamified psychometric assessment platform that helps employers evaluate and select the most qualified candidates.
Founded in North Carolina, ShopAgain is an AI-powered customer retention platform redefining personalized customer experiences for eCommerce businesses.
Houston-based TeeMates Golf is a mobile app that connects golfers worldwide using social media, tee time linking, and offers a merchandise marketplace.
ViiT Health, based in Mexico, is a non-invasive technology to help people measure and monitor blood sugar levels more accurately without a finger prick lancet.
WellnessWins is a CRM to streamline intake processes for private therapy clinics to reduce waitlists and increase access to mental health care.
WorkHint helps retail companies manage on-demand hourly talent to increase flexibility, reduce cost, and generate actionable data-driven insights.