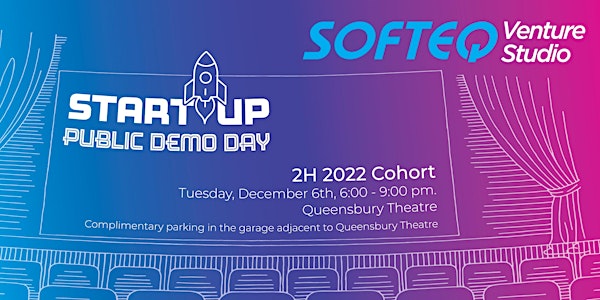 Softeq Venture Studio Public Demo Day - 2H 2022 Cohort at The Queensbury
Please join us as the 2H 2022 Softeq Venture Studio cohort of twenty-two startups pitch for their next round of growth capital!
When and where
Location
Queensbury Theatre 12777 Queensbury Lane Houston, TX 77024
About this event
The Softeq Venture Studio invested $125,000 in cash and services in each of the twenty-two early-stage startups to help them refine their business model, build their technology, and prepare them to scale. With 22 startups, the 2H 2022 cohort is the largest yet and brings the total portfolio to 49 companies! This cohort includes entrepreneurs from several global locations as diverse as the United Kingdom, Iceland, Mexico, and Peru.
In this capstone event, founders have three minutes each to present their pitch deck, demo their product, outline their ask, and answer questions. And we need you there to evaluate them for investment (or at least support them)!
Attendees have the chance to meet the founders, learn about the problems being solved, and learn more about how the Softeq Venture Studio de-risks growing startups. Join us for networking prior to the pitch segment for complimentary refreshments. This is a great way to meet the startup founders and organizers of the Softeq Venture Studio.
Complimentary beer, wine and pizza served.
Reminder: Complimentary parking is provided if you park in the covered garage parking adjacent to the Queensbury Theatre. Please remember to bring your parking ticket into the theatre for validation.
AGENDA
6:00-7:00 PM: Gathering, networking & refreshments
7:00-9:00 PM: Startup pitches
ABOUT THE STARTUPS
Adkaddy gets brands out of your email and into a powerful brand management tool. From discovery to promotions, shipping and receipts, this is digital commerce your way.
Allkind is benefiting reproductive healthcare globally by innovating fertility matching, empowering personal goals & improving modern family building.
atease is where 133 million government and military employees with strict rental requirements find approved, affordable, and reimbursable lodging options.
Boxes provides convenient, space-efficient, highly measurable, sampling and trial vending technology for premium CPG companies looking to reach customers where they shop and live.
Hapi is a stock trading platform with no minimums and no commissions focused on consumers in Latin America.
HelloDoctor puts qualified, responsive, and affordable doctors on the screens of 89 million cell phones of patients in Mexico. Healthcare just got better in Latin America.
Hightag is an automated media capture and delivery system that helps mountain bikers, skiers, and other action sport athletes capture and share their greatest moments.
IncentiFind is the nation's go-to database of green building incentives, transforming U.S. real estate through $70 billion in incentives.
JamFeed aggregates artists' social media and music streaming content into an automated no-code website where artists can control their brand, their business, and their relationship with fans in one platform in less than 5 minutes.
Lesson Squad helps brands turn their customers into loyal users by creating a branded hub where customers can take lessons, enter competitions, and discover products.
LVED is an easy to use expert guided platform that provides everything families need to plan, organize, legally document end of life wishes, and memorialize loved ones.
Mesada is a digital remittance company that is utilizes blockchain technology to offer fast, efficient, and easy money transfers throughout the Latin American region.
Motusi is a whole-body wearable with AI to generate deeper insights related to movement quality and injury insights to help athletes progress in their performance or recovery.
MyShoots is an app for shooting sports organizations to connect with and market to their clients more efficiently, while allowing field-sports brands to connect with their customers.
Pagaloop is a fintech company that allows Latin American businesses more control over their cash flow when performing B2B transactions.
RESCUNOMICS offers a mobile app that helps save lives by expediting rescuer protocols and providing visibility into building floor plans and more.
Rivalry Technologies Inc., Rivalry Tech, creates myEATz and sEATz, a modernized mobile ordering solution for professional sports, healthcare, business dining, and leisure facilities that focuses on operational efficiencies. myEATz and sEATz offer mobile ordering, express pickup, and hardware options that are tailored to enterprise clients' needs throughout the US.
SpecsX is transforming eye care into a virtual care model reducing costs, inconvenience for patients and providers, and giving everyone access to perfect vision.
Struttur Sports is an NFT platform where athletes share their experiences by connecting and combining digital and In Real Life events to create the deep interactions sports fans crave.
Svarmi is a digital platform that defines and prioritizes areas where business and progress influence nature providing meaningful, insightful metrics and proof of regulatory compliance.
SynvergySvn digitizes the movements of athletes with integrated wearables like the J-Sleeve so players, coaches, and trainers can diagnose muscle memory and improve repeat performance.
WulfTech protects and preserves the health of high-value K9 working dogs through smart wearable technology for government agencies, the military, and first responders.