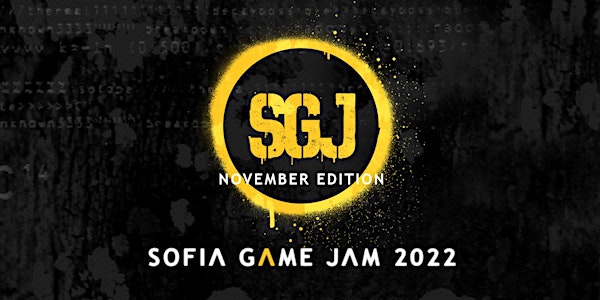 Sofia Game Jam 2022 - Hackathon
A 48-hour hackathon where we get together to make awesome games, foster friendships, and explore our imagination.
When and where
Location
French Institute in Bulgaria 3 ploshtad "Petko R. Slaveykov" 1000 Sofia Bulgaria
Refund Policy
Contact the organizer to request a refund.
About this event
About the jam
The game jam is a three-day hackathon where we get together to create awesome games, foster friendships, challenge our creativity and explore our imaginations.
To participate in the jam you need to buy a ticket. However, there are no other limits to who can join. We encourage people with all kinds of backgrounds to participate and contribute. It doesn't matter if you are an experienced game dev or if you are simply passionate about games. We believe that every person can bring something unique!
Your ticket gets you:
Participation in the game jam
Workspace with 24-hour access and high-speed connection
Limited edition merch - t-shirt, mug, stickers, pins and more
Coffee, tea, water, and Monster drinks to fuel you
Lunch, dinner and snacks during the days
Structure
The game jam begins on November 11, Friday at late afternoon. Everyone gathers, we watch a short video keynote and the secret theme of the jam is announced.
After the announcement, jammers get time to meet each other and organize in teams. They are then challenged to make games based on the theme. Jammers are invited to explore new technology tools, trying on new roles in development and testing their skills to do something that requires them to design, develop create, test and make a new game.
Games are to be completed by November 13, Sunday afternoon after which every team will have to present their game on stage. At the end, jammers vote for what they think is the best game and awards are given out.
FAQ
Do I have to bring my own computer?
Yes, you have to bring your own computer and any other equipment you think you will need. We provide desks, chairs, internet connection and electrical sockets.
How are people organized into teams?
Teams are formed during the first day of the game jam. After the theme of the jam is announced, participants will have a couple of hours to meet, share ideas and organize into teams.
How many people can be in a team?
Teams can have anywhere between 2 and 6 people. While there is no hard rule forbidding teams to have more than 6 people, we generally discourage it. Past editions have proved that the optimal size for a team is 4 to 5 people.
Can I work solo?
You can if you want to, but the game jam is very much about collaborating with others to stir creativity and make something special together.
What if I don't know anyone there?
Worry not. Our community is incredibly welcoming and friendly. We facilitate an environment that is accessible to everyone - from veterans to newcomers.
What types of games can I make?
Whatever you want! Video games, board games, card games, tabletop games, there is no limit.