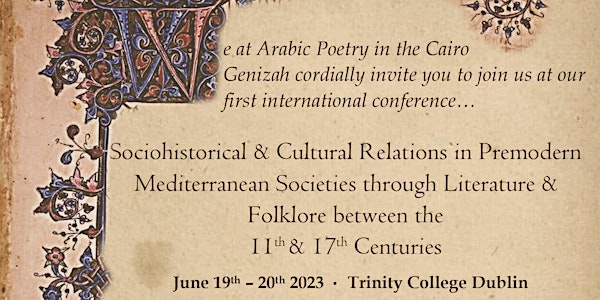 Sociohistorical & Cultural Relations in Premodern Mediterranean Societies
A conference on the Sociohistorical & Cultural relations of premodern Mediterranean societies through Literature and Folk lore @ TCD
By Arabic Poetry in the Cairo Genizah @ TCD
Date and time
Mon, 19 Jun 2023 08:00 - Tue, 20 Jun 2023 17:00 IST
Location
Trinity College Dublin College Green Dublin 2 Ireland
About this event
1 day 9 hours

Mobile eTicket
The pre-modern Mediterranean was composed of diverse ethnic groups, religions and societies, making it a rich environment for ethnoreligious and sociocultural exchange. Increased access to digitised manuscript collections and fragmentary archive provides exciting opportunities to consider the relations between Jews, Christians, and Muslims across the Mediterranean through the investigation of literary materials – poems, fables, folk stories, legends, and myth, as well as the sentiments expressed in manuscripts, documents, letters, and personal accounts. An example is the fragments of medieval and early modern Arabic poetry from the Genizah collection, from which the APCG team at Trinity College Dublin study the sociocultural and intellectual life of the Jewish community and the mutual influence between the Muslim and Jewish cultures.
The Genizah fragments represent literary history which covers almost a thousand years of cultural production, giving insights into the multicultural aspects of the Mediterranean societies of the day, demonstrating a significant cultural exchange through, inter alia, poetic literature. This conference thus seeks papers on the theme of the educational and historical context of relations and between Jews, Christians, and Muslims, among others, through analysing the above works of high culture and mainstream literature. It also aims to uncover new perspectives on their sociocultural relations and exchanges, and highlight the extent of their interdependency.
In the same context, collections of medieval and early modern fragments and manuscripts, including letters, legal or official documents, diwans of poetry, mythic tales or fables, popular histories, or personal narratives, are accessible through numerous libraries and archives. An examination of these documents reveals aspects of the "micro" and "macro" historical relations across the Mediterranean. Studying individual documents or works of literature can both present unique perspectives and reveal particular challenges to a balanced interpretation of the nature of intercommunal relations, or to educational and cultural dependencies as they were realised through diverse communities over periods of hundreds of years in the pre-modern Mediterranean.
Through this conference, we seek to bring together scholars, including PhD researchers of various disciplines, including, but not limited to, History (especially sociocultural and educational histories), Literature, Philology, Anthropology, Manuscript Sciences, Archaeology, Philosophy, Sociology, Theology and Religious Studies including papers focusing on theory and methodology. We are looking forward to engaging discussions on the opportunities and challenges inherent in diverse subjects for the purpose of writing history. The convenors plan to publish an open-access volume of papers on the theme of the Conference, particularly Jewish-Christian-Muslim sociocultural and educational histories in the pre-modern Mediterranean.