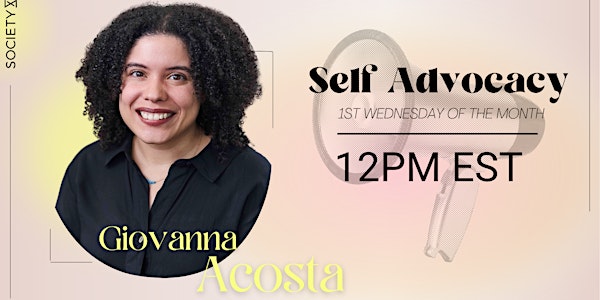 SocietyX : Self-Advocacy
Be your own biggest champion!
About this event
Classe is on the First WEDNESDAY of Each Month @ 12PM EST
About This Class
I learn to build your own self-worth. It's an active process that involves managing your thoughts, feelings, and behaviors to optimize how you view your own worthiness and value as a human being.
At work, this includes advocating for yourself, being your own champion, negotiating for the salary and perks that you deserve, recording your wins, and being vocal about your accomplishments. Never be afraid to show up and ask for more!
What You Will Need
Open mind, notebook/pen (or somewhere to complete a short writing excercise)
What You Will Learn
Definition of Self-advocacy
Theories around self-advocacy
How to apply self-advocacy in your own lives
About Giovanna Acosta
Giovanna Acosta is a writer and coach with over 10 years of experience in Learning and Development and Organizational Effectiveness.
She have led several teams to help optimize change management and improve individual and organizational performance.
One of her biggest passions is helping women "get more" from their careers (and life) by asserting their values and advocating for themselves.