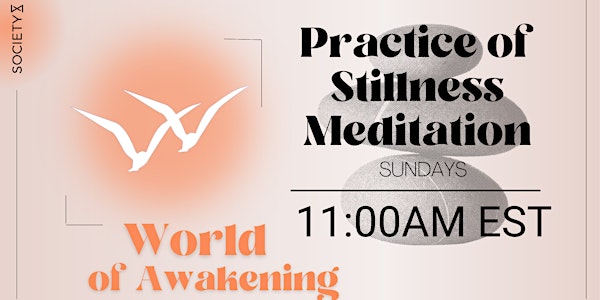 SocietyX : Practice of Stillness Meditation
Stillness Meditation
About this event
Classes are now on SUNDAYS @ 11AM EST
About This Class
Stillness meditation is a part of the World of Awakening / Givin School Methodology and goes back from its Slavic roots to ancient India.
This practice is simple, but the energy it transmits has changed the lives of many and helped others awaken.
All interested in Awakening and moving deeper beyond Awakening are welcome to join.
Session structure:
10-minute short explanation of who we are and why.
30 minutes of meditation practice
Discussion and sharing until the end of the session.
What You Will Need
Attend and actively participate!
What You Will Learn
Stillness meditation
Mindfulness practices
What is Awakening?
About World of Awakening
When we live an ordinary life, over time we begin to understand that material values are not able to fully satisfy us, which ultimately leads to inner emptiness and meaninglessness. That's when the most people start asking themselves "Who am I?" and "What is the purpose of being?" and this is where the real search begins.
World of Awakening community was created to share the knowledge which allows you to answer these fundamental questions. This is done with the help of practices, discipline, inner work, and helping others do the same.