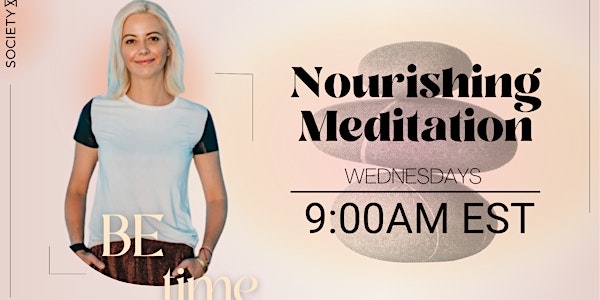 Multiple dates
SocietyX : Nourishing Meditation
Mindful breathing often serves as the foundation for meditation practices because your breath is always with you.
By The SocietyX Community
Date and time
February 16, 2022 · 6am - December 27 · 7am PST
About this event
Classes are on WEDNESDAYS @ 9AM EST
About This Class
Get ready to take a deep dive into mindfulness with our thrilling class on mindful breathing! Imagine being able to access inner peace and calm, no matter where life takes you. With your breath as your trusty companion, you'll discover how to anchor yourself to the present moment and let go of stress and worries. Join us on this exciting journey of self-discovery and elevate your meditation game like never before!
What You Will Need
a quiet place and comfortable seating
What You Will Learn
You will learn how to use mindful breathing as the foundation for your meditation practice
You will discover how to use your breath as an anchor to stay present in the moment and how to use it as a tool to reduce stress and increase inner peace
You will also learn techniques for incorporating mindful breathing into your daily routine to help you cultivate mindfulness and well-being.
About BEtime
BEtime is a women-founded brand based in New York City that offers an immersive meditation experience to help you disconnect from daily stress and reconnect with your inner peace. With virtual classes led by certified instructors, you can choose from a variety of themed sessions that focus on meditation, breath work, and sound baths. Our classes start with a brief intro and guided meditation, followed by time for sharing and Q&A. Take a deep breath and join the BEtime community, because everyone deserves a breather. So come along, connect, breathe and let us take care of the rest.
#Mindfulness #MindfulBreathing #Meditation #InnerPeace #StressRelief #SelfDiscovery #PresentMoment #AnchorYourself #ElevateYourMeditation
About the organizer
For the curious individual who craves connection through creativity, SocietyX offers an easy-to-navigate marketplace of virtual and in-person interactive experiences taught by experts in their field. SocietyX classes are experienced in real time with fellow inquisitive learners. Participants engage, create, and share actionable activities every single class