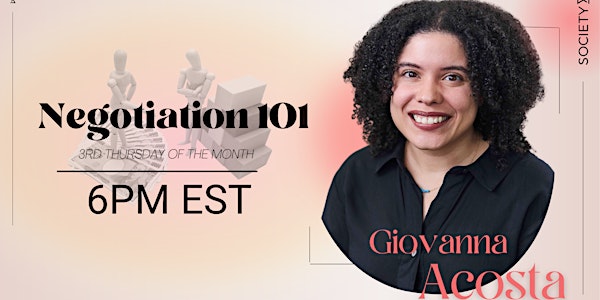 SocietyX : Negotiation 101
Networking 101
About this event
Class is on the THIRD THURSDAY of Each Month @ 6PM EST
About This Class
From the moment we receive a job offer, to the time that we are up for a promotion, to any and every time in between, we should be asserting our values and advocating for ourselves.
One way to do that is by asking for more- however, that is easier said than done.
Research finds that women are significantly less inclined to negotiate compensation than men and are more likely to be penalized when they do. However, failing to negotiate not only leaves potential money on the table but can also stunt your professional growth and may lead to feeling undervalued and disengaged while at work. Fortunately, there is a correct way to negotiate for better results.
What You Will Need
Open mind/ Pen, paper, laptop (etc.) for writing exercises
What You Will Learn
Importance of Networking / Networking trends among women as compared to men/ Review and practice proven strategies for negotiation
About Giovanna Acosta
Giovanna Acosta is a writer and coach with over 10 years of experience in Learning and Development and Organizational Effectiveness.
She have led several teams to help optimize change management and improve individual and organizational performance.
One of her biggest passions is helping women "get more" from their careers (and life) by asserting their values and advocating for themselves.