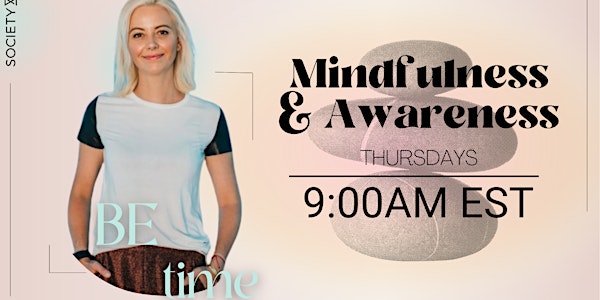 SocietyX : Mindfulness + Awareness
Learn about Mindfulness + Awareness + beginners meditation course
About this event
Classes are on THURSDAYS @ 9AM EST
About This Class
Guided mindfulness meditation on awareness of self that offers a new perspective. It is aimed at helping beginners or anyone struggling with consistent meditation to try a fresh approach.
What You Will Need
comfortable quiet place to meditate
pillow or cushion
20minutes of undisturbed time
What You Will Learn
About BEtime
We are a women-founded New York City born brand that delivers an immersive meditation experience to better the wellness culture of every space we join.
We offer an opportunity for you to disconnect and reconnect. A pause to break from the daily stress, immerse in a unique calming space and reach a transformative state of mind.
Enjoy our curated thematic focus classes from wherever you are and join our BEtime mindful community. Our usual class format begins with a brief intro, a guided meditation + time for sharing / Q&A.
BEtime provides inspiring and impactful practice via our virtual meditation, breath work and sound bath offerings led by an amazing team of certified instructors.
Everyone deserves a breather. Connect, Breathe and we'll take care of the rest.