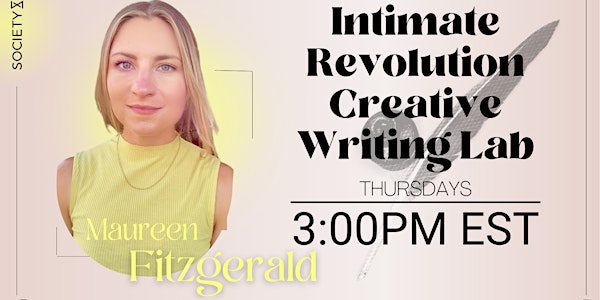 SocietyX : Intimate Revolution Creative Writing Lab
A creative writing lab to process our lives, elevate ourselves as the protagonist, and conjure new realities.
About this event
Classes are on THURSDAYS @ 3PM EST
About This Class
Writing is a way to take time back for yourself during chaos and uncertainty. There is an abundance of noise and opinions circulating in a way that feels dizzy and overwhelming. Taking the time to get quiet and listen to your own voice can powerfully transform your life and this world. Because when we write about our lives we refuse the title of the victim and we elevate ourselves as the protagonist– as the hero. One that has freedom, choices, and agency to imagine new possibilities.
During this 30-minute creative writing workshop, you will be guided by me to put your experiences, emotions, and beliefs on paper. Each session you will walk away with a piece you'll feel proud to show your best friends.
This workshop is for anyone that feels deeply right now. You do not have to consider yourself a writer, we are all storytellers deep down, it is in our nature. Spending time with and expressing our emotions through creative means is its own act of rebellion in the face of oppressive systems. And those rebellions over time lead to a revolution.
We need writing more than ever, it should be no surprise that recent years have seen a dramatic increase in mental health issues such as depression and anxiety. While we cannot control the things in this world that cause our cortisol levels to spike, writing is proven to help improve our mental health and build resilience.
When we write we are better able to make sense of this chaotic world by organizing our thoughts, solving problems, and forming new neural pathways.
For Mo, writing was a huge catalyst in healing from the trauma of my narcissistic ex-husband and finding her inner power. Abusive people, like abusive systems, do not want you to own your stories.
As a former Language Arts teacher and Oregon Writing Project facilitator, she has seen firsthand how personal writing can unlock a person and facilitate their long-awaited bloom.
What You Will Learn
How to write in a variety of mediums
Unlock creativity
Silence self-doubt
Self-love
What You Need
Pen and paper.
About Maureen Fitzgerald
Recently written and published her first book Good Girl, sound bites from an intimate revolution, Maureen recounts her raw healing journey after her marriage to a narcissistic drug addict. Through vigilant reflection, vulnerability, and piecing together the past, she finds her way to self-love and gratitude for life.
Maureen's work is to liberate joy and creativity in order to uncover our truest, deepest selves. She desires a world where systems, ideas, and narratives are designed to allow humanity to thrive.
A former teacher, and professional soccer player, and is currently a Problem Solver at B+A working with clients such as Nike, Masterclass, Patreon, Clinique, and Discord. Maureen develops strategic insights and works to provoke meaningful change across the US and the world.