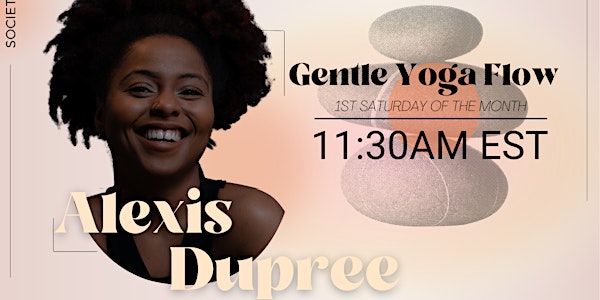 SocietyX : Gentle Yoga Flow
Start your month off with a gentle yoga flow (beginners welcome).
About this event
Class is on the First SATURDAY of each month @ 11:30AM EST
About This Class
Rooted in the belief that community is a key function to relationships and healing, this free class allows you to show up as authentic as you please. The barrier of money is intentionally detached to allow you to add a consistent yoga class to your wellness repertoire. Gentle yoga is a form of yoga that moves at a slower more meditative pace. We will relax and focus on breathing techniques to help destress our bodies.
What You Will Need
Water, a yoga mat, props (optional)
What You Will Learn
Mindfullness, your personal edge, breath work
About Alexis Dupree
Since her youth, Alexis has always found joy in exploring her creativity and movement exploration - dance, sports, bike riding. This desire never expired and has been the driving force for building a life in holistic practices rooted in the philosophy that movement is medicine.