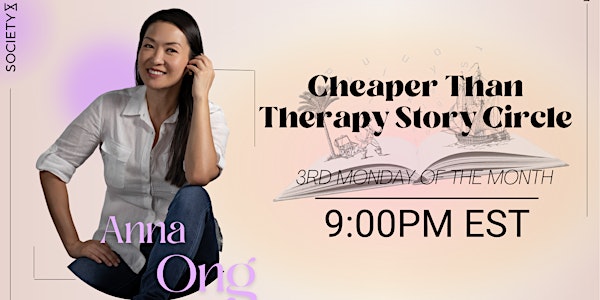 Multiple dates
SocietyX : Cheaper Than Therapy - Story Circle
A story circle is a group of people (virtually) exchanging stories around a particular topic.
By The SocietyX Community
Date and time
December 20, 2021 · 6pm - December 18 · 7pm PST
About this event
Class is on the Third MONDAY of the month @ 9PM EST
About This Class
Get ready to enter a virtual world of magic and connection! Our Story Healing Circle is a place where your stories will take center stage and shine brighter than the stars. Share your gifts with a community of supportive listeners and be ready to be inspired by their stories too. Storytelling is not just about words, it's a powerful tool that can heal, connect, and empower. Imagine being a part of a circle where empathy, understanding, and belonging are at the forefront. You'll be amazed at the power of sharing and listening to each other's stories. Your challenges will rise to the surface and together, we'll realize that anything is possible. So come on and join the circle, because your story deserves to be heard! Let's create some magic together!
What You Will Need
Your presence - both body and mind Everything you need is within you.
What You Will Learn
You will learn the power of storytelling as a tool for healing connection and empowerment
You will have the opportunity to share your stories in a supportive community of listeners and be inspired by others' stories as well
Through this experience you will cultivate empathy understanding and a sense of belonging
You will also learn how sharing and listening to each other's stories can help overcome challenges and create magic
About Anna Ong
Anna Ong is a former banker turned improviser and storyteller, who founded WYSH (What's Your Story, Huh?), a consultancy based in Singapore and Washington, D.C. that provides coaching, consulting, and corporate training through storytelling and improvisation comedy techniques. She is the host and creator of What's Your Story Slam (WYSS), a live storytelling show in Singapore that aims to create and promote a culture of storytelling in Asia. Anna is a communications coach who trains leaders and teams to be mentally agile and communicate authentically with humor and empathy. She uses improv to foster fun, creativity, and collaboration in the workplace. With over fifteen years of experience in financial services, an MBA from INSEAD and a certificate in Social Impact Storytelling from Georgetown University, Anna brings a wealth of knowledge and expertise to her work.
#VirtualWorld #Magic #Connection #StoryHealingCircle #Stories #Storytelling #Empathy #Understanding #Belonging #Sharing #Listening #Challenges #Power #Community #SupportiveListeners #Inspiration #Empowerment #Togetherness
About the organizer
For the curious individual who craves connection through creativity, SocietyX offers an easy-to-navigate marketplace of virtual and in-person interactive experiences taught by experts in their field. SocietyX classes are experienced in real time with fellow inquisitive learners. Participants engage, create, and share actionable activities every single class