Description
Come and enjoy the clear springs and have a picnic with SWE! Sub Sandwhiches and Lemonaid will be served at 11AM at Pavilion 3.
Please feel free to bring extra dessert, non acoholic beverages, or side.
No ticket cost for SWE Members or their families.
Bring your entire family for Swimming and Fun! We'll have a covered pavilion near the child swimming area. Swimming and tubing in the springs is available. Bring your own tube. Or, rent one from "Ron's" ($3 - down the road) or "King" ($5 - next to park entrance). Cash Only! For Rob's, you need to leave an ID - so bring something other than your drivers license.
Please RSVP to get your Entry Pass! Entry Passes Guarantee entry until 12 noon. Without the pass, you will likely not be able to enter the park after mid-morning due to capacity restrictions. We have a limited number of parking passes. Only ONE pass is needed per vehicle.
Park Entrance fees are $3.00 for up to two people in one vehicle, and $5.00 for up to 8 people in one vehicle. Pay the park directly on entry.
More Park Info:
http://www.ocfl.net/cultureparks/parks.aspx?m=dtlvw&d=22#.WHKSvLU8KaN
We Rented Pavilion #3. Location On Lower Right of Map: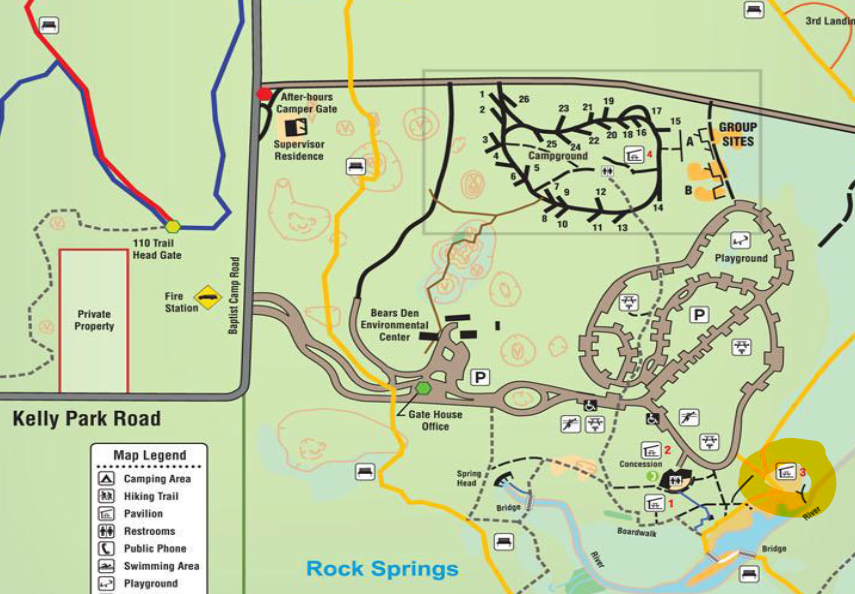 More details from http://mrsjennifercook.com/2015/06/29/exploring-orlandos-kelly-springs-park/
Recent Review of Area:
You will want your tube if you are going to go down the spring run. The top of the run is full of rocks. It's beautiful to look at but hard to walk on. May want to bring some water shoes.
There aren't a lot of fish!! I saw some minnows and other small fish. I even saw a turtle swimming!
If you want to go down the spring run, you take your tube and climb some stairs and walk about 10 minutes to the spring head. The head itself is blocked off, but you can jump into a big hole and then it shoots you down the run. This is where it's really rocky. The run lasts for about 15 minutes and then you end up in the pool/splash area of the springs. From here, you can continue down the run for another 10-15 minutes. This last stretch is super relaxing and the bottom is all sandy. Once you reach the end, you get out and walk back to the pool area. OR, you can just turn around in the run and walk your way back against the current. We did this because the water temperature was just so enjoyable!