Society of Professional Journalists Region 5 Spring Conference
Description

Society of Professional Journalists Region 5 Spring Conference is your best opportunity to rub elbows with working journalists and get tips and thoughts from some of the best in the business. We're planning interactive discussions with high-achieving professionals, including everyone from freelance writers to TV reporters to multi-media journalists.
If you're curious about how others in journalism are making their way through an ever-changing field, this is your chance to find out. You'll walk away with practical how-tos and more than a handful of business cards.
You can see a full program for the event here (subject to change).
All sessions are set for Saturday at Galt House Hotel. Our speakers include Jeff Cutler, a nationally known speaker on social media, and Dana Neuts, the President of SPJ. You'll also hear from freelancers who have created their own journalism careers, investigative journalists who are digging through records to create enterprising reports and recent college grads who have landed in their first gigs.
At lunch, our regional Mark of Excellence winners will receive their awards. We'll be posting details here soon about the lineup of sessions, but if you're one of those folks who just wouldn't miss their spring conference, you can register now, and take advantage of our cheap rates, which are good through Feb. 22. After that, rates increase in each ticket category.
Lunch on Saturday, March 28, is included in the purchase price. At the lunch, the Mark of Excellence awards will be presented to college students from across the region.
A few details: The conference hotel is the Galt House. The block of rooms was released on February 25. You may make reservations by phone on a first-come, first-available basis. Many other hotels are available in downtown Louisville. Jeffersonville, Indiana, also has options for hotels and it's about 10 minutes away. Reservations may be made at the Galt House by calling (502) 589-5200 or (800) 843-4258.
If you have questions about what we've got planned, please contact Robyn Sekula, President of SPJ Louisville Pro, who is helping organize the conference. You can reach her at (502) 608-6125 or robynds@live.com.
OUR SPEAKERS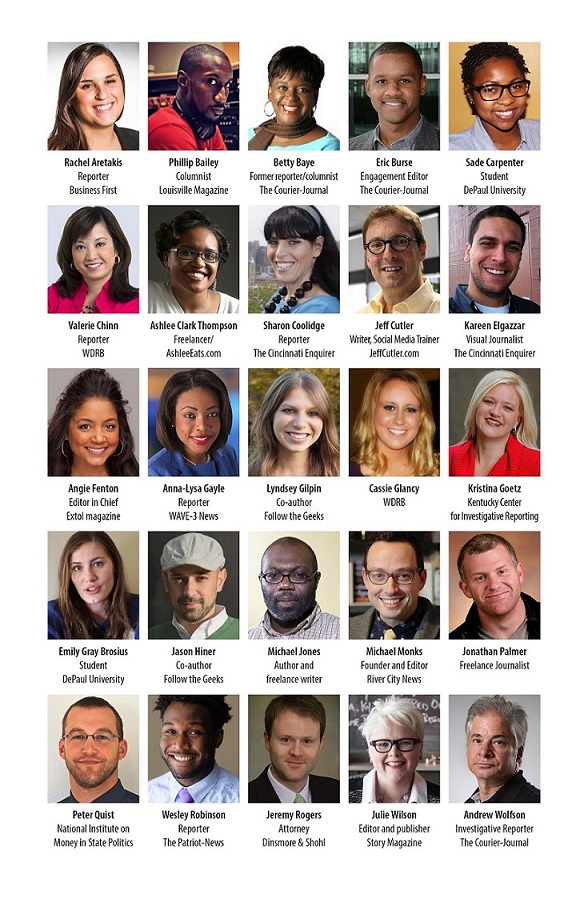 Organizer of Society of Professional Journalists Region 5 Spring Conference