Description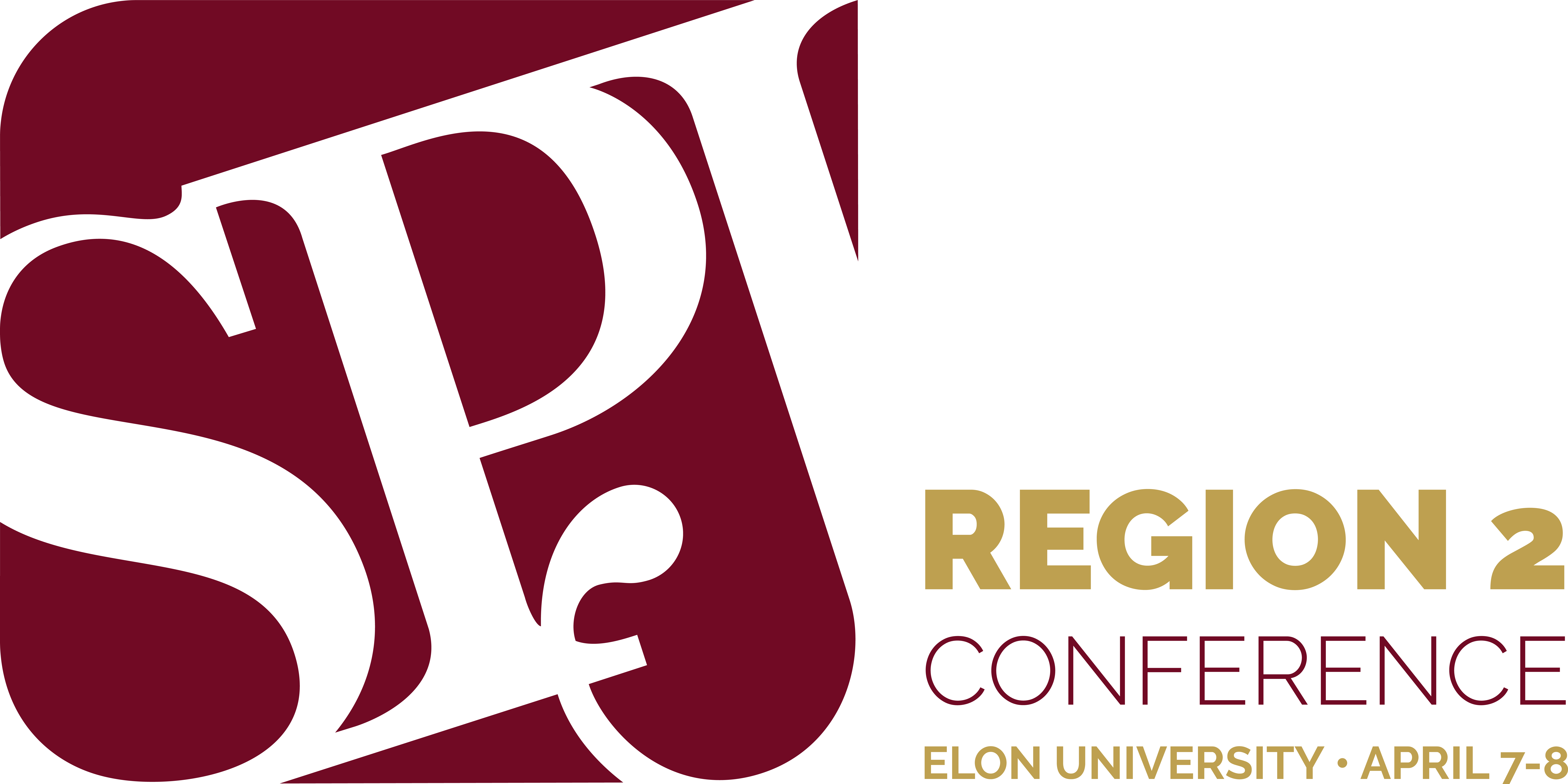 SPJ REGION 2 CONFERENCE
Elon University's School of Communications and its student chapter of SPJ is hosting the Society or Professional Journalists Region 2 conference April 7-8 in its brand new Dwight C. Shar Hall and renovated McEwen facilities. #2017SPJ2
Schedule:
Friday, April 7
6 p.m.: Social at the Oak House in Elon.
8 p.m.: Movie in Turner Theatre in Elon University's Dwight C. Schar Hall
Saturday, April 8
8-8:45 a.m.
Check in -- Snow Family Grand Atrium
8:45-9 a.m.
Welcome from Paul Fletcher (SPJ immediate past president), Andy Schotz (region 2 director), Dean Paul Parsons (Elon University School of Communications) -- Turner Theatre
9-10:15 a.m.
Fake News, Media Literacy & Fact Checking -- Turner Theatre
Moderator: Anthony Hatcher (associate professor of communications, Elon University)
Panelists: Katerina Spasovska (assistant professor of communications, Western Carolina University); Stephanie Willen Brown (director of the Park Library, University of North Carolina); Dick Barron (reporter, Greensboro News & Record); Jasmine Spencer (reporter/anchor, WGHP Fox 8)
10:30-11:45 a.m.
Using Mobile Apps in Reporting -- Schar 203
Jennifer Cox (assistant professor of communication arts, Salisbury University)
Muslims and Arabs through a Western Media Lens-- Schar 001
Nahed Eltantawy (associate professor of communication, High Point University)
Making Short, Short Videos for Multimedia Projects -- Schar Hall 205
Cheryl Spainhour (senior lecturer of communications, University of North Carolina at Charlotte)
The Sports Beat in the Age of In-House Media Outlets -- Schar 207
Steve Wiseman (sports editor, Durham Herald-Sun)

Noon - 1:45 p.m.
Lunch, Mark of Excellence Awards and Keynote address from Ahmed Fadaam (see below) -- Snow Family Grand Atrium
2-3:15 p.m.
Google News Lab on How to Use Fusion Tables-- Schar 205
Frank Bi (data journalist and engineer at The Verge, a technology news website operated by Vox Media)
Ditch the Heels and Shoot Better Than the Boys -- Schar 207
Sarah-Blake Morgan (reporter, WBTV in Charlotte, N.C.)
Susanna Black (reporter, WECT in Wilmington, N.C.)
Engage! Make the Most of Social Media -- Schar 203
Bob Bennett (senior producer, WAVY-TV 10 in Portsmouth, Va.)
Philip Jones (social media community leader, University of North Carolina)
Travis Lyles (social media editor, Virginian-Pilot)
Requesting Public Records: Tips and Issues -- Schar 001
Jonathan Jones (director of the North Carolina Open Government Coalition and instructor in Communications, Elon University)
Dick Hammerstrom (president of the Virginia Coalition for Open Government)
3:30-4:30 p.m.
An SPJ Ethics Adventure -- Schar 203
Paul Fletcher (group editor-in-chief for BridgeTower Media's operations in Virginia and the Carolinas and immediate past president of SPJ)
Resume, Portfolio and Reel Critiques -- Snow Family Grand Atrium
Bob Bennett (senior producer, WAVY-TV 10 in Portsmouth, Va.); Nick Ochsner (investigative reporter, WBTV News in Charlotte, N.C.); Sarah Blake Morgan (reporter, WBTV in Charlotte, N.C.)
KEYNOTE
*DUE TO HEALTH REASONS, MITCH WEISS, OUR ORIGINAL KEYNOTE, HAD TO CANCEL.*
Our keynote address will be delivered by AHMED FADAAM, a sculptor who learned to make his living as a photographer and reporter when the Iraq War started in 2003. He worked for a decade as an interpreter and journalist in Iraq, first for Agence Presse, then as Baghdad newsroom supervisor for The New York Times and The Times of London. He most recently worked professionally as an editor and producer for Al Jazeera English television.
Fadaam started recording firsthand memories of the war in 2006 in "Ahmed's Diary" for The Story on WUNC. He is the focus of the 2014 documentary "Musings of an Iraqi Patriot," which was produced and directed by Judy Van Wyk.
Fadaam is now an assistant professor in Elon University's School of Communications. He previously taught as a professor of fine arts for seven years at Baghdad University.
Fadaam is also an artist and sculptor, whose research interests include global issues, blogging daily life in wartime and the artistic use of computers. He first came to the United States in 2008 as a visiting scholar at the University of North Carolina. He then returned to Iraq for a couple of years before coming to the U.S. fulltime with his family in 2012.
SILENT AUCTION
We'll be hosting a silent auction to support the Sigma Delta Chi Foundation. Among the items available for bidding:
A bottle of Campari liqueur autographed by Larry Flynt
A set of Shepard Fairy's newest prints
Four VIP tickets to "The Daily Show"
An autographed picture of Washington Wizards forward Jason Smith
Four tickets to a Durham Bulls game (with four passes to the PNC Triangle Club)
CNN swag pack (hat, T-shirt, luggage tag)
Team autographed 2014-15 Orlando Magic basketball
An autographed picture of Carolina Hurricanes defenseman Jaccob Slavin
Four tickets to a Greensboro Grasshoppers game
First Amendment T-shirts
A $20 gift card to the JEA bookstore
The book "Thou Shall Not Use Comic Sans"
Several books and DVDs
HOTEL
Our hotel block at the Drury Inn has closed.
Hotels in the area and near Elon University:
Courtyard by Marriott
Best Western Plus
Country Inn and Suites
Hampton Inn and Suites
Holiday Inn Express
Drury Inn and Suites
PARKING
Parking for the weekend will be available in the university's Mooney building lot located at 200 E. Lebanon Ave., Elon, NC 27244. Several parking spots along Lebanon Avenue will also be available. Overflow parking will be available in the Historic Neighborhood lot (527 E. College Ave.) and the Oaks lot (416 N. Williamson Ave.).
Here's a link to Elon University campus maps: https://www.elon.edu/e/about/campus-maps.html.
QUESTIONS
Direct any questions about the conference to Colin Donohue. If you would like to request a gluten-free lunch or have other dietary restrictions, please email Colin immediately after you register.
Organizer of Society of Professional Journalists Region 2 Conference