About this Event
Each month, we hold a beer-and-food pairing with local culinarians. In October, we're teaming with the local confectionery legends at Andrea's Truffles, pairing five of our beers with a quintet of incredibly decadent, varied chocolate delicacies. Check out the menu below and make plans to join us on Saturday, October 19.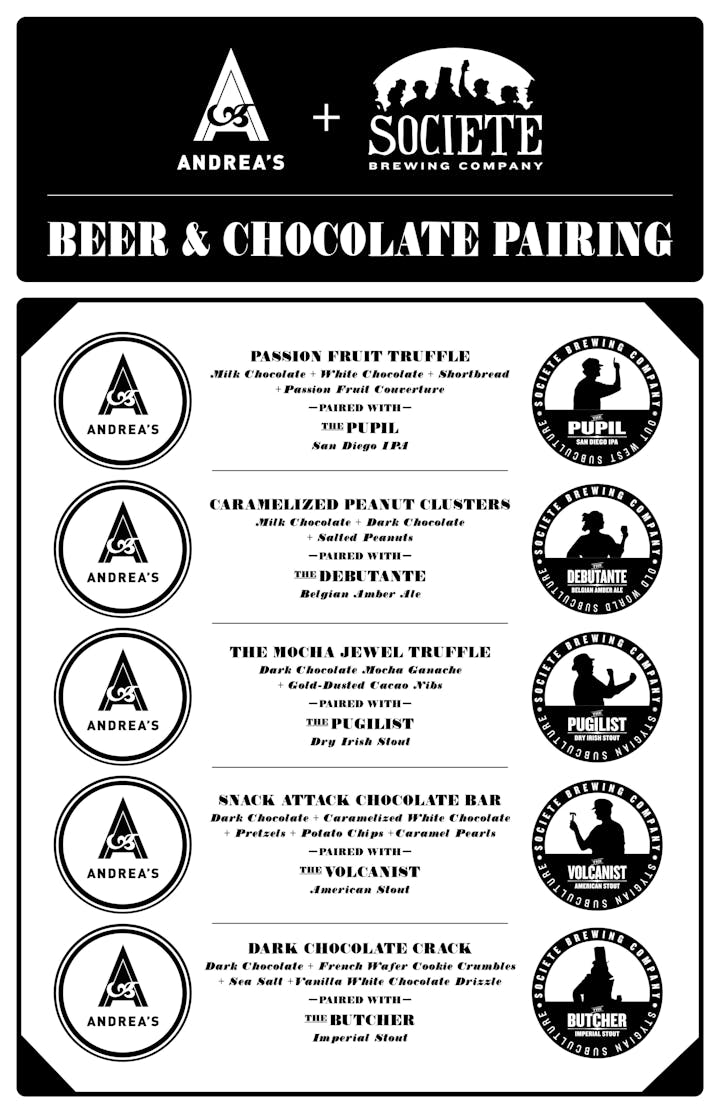 Passion Fruit Truffle with Milk Chocolate, White Chocolate, Shortbread & Passion Fruit Couverture --PAIRED WITH-- The Pupil San Diego IPA (7.2%)
Caramelized Peanut Clusters with Milk Chocolate, Dark Chocolate & Salted Peanuts --PAIRED WITH-- The Debutante Belgian Amber Ale (6.8%)
The Mocha Jewel Truffle with Dark Chocolate Mocha Ganache & Gold-Dusted Cacao Nibs --PAIRED WITH-- The Pugilist Dry Irish Stout (4.5%)
Snack Attack Chocolate Bark with Dark Chocolate, Caramelized White Chocolate, Salted Pretzel Bits, Potato Chips, Peanut & Chocolate Crisp Pearls --PAIRED WITH-- The Volcanist American Stout (6.5%)
Dark Chocolate Crack with Dark Chocolate, French Wafer Cookie Crumbles, Sea Salt & Vanilla White Chocolate Drizzle --PAIRED WITH-- The Butcher Imperial Stout (9.666%)
FINE PRINT: You can show up anytime between 1 and 3 p.m. to turn in your ticket for the pairing. Tickets are limited and this event is likely to sell out.