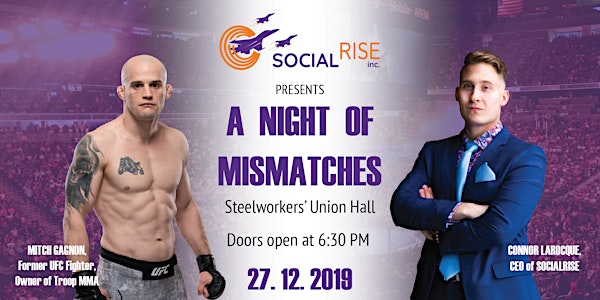 SocialRise Inc. Presents: A Night of Mismatches
When and where
Location
SteelWorkers' Union Hall & Conference Center 66 Brady Street Greater Sudbury, ON P3E 1C8 Canada
Description
SocialRise Inc. presents "A Night of Mismatches": A take-down style wrestling fight night where Sudbury's top influencers and business people, grapple for charity.
We are going to be hosting the venue at
The United Steelworkers Hall December 27th. Doors open at 6:30 pm. Event will start promptly at 7:00 pm.
In the main event Connor LaRocque is going to be wrestling former UFC fighter and top 5 contender Mitch Gagnon. The co-main event will feature competitive MMA fighter Simon Yoo VS. local celebrity Sean Lamothe. Three other bouts will take place with recognizable names in the city, Valerie Fremlin, Jenn Ricker, Bruno Lalonde, Dennis Legault, Kris Cacciotti.
Our MC is going to be Ritchie Rich, and our DJ will be Shane Wesley.
The event is going to be featuring live entertainment and special appearances from: The Fortunate Losers and LOL Sudbury's Shawn McLaren.
This event is in support of The Human League Association, a local not-for-profit organization.

The Association is home of the Breakfast Club for Kids, which provides local children with a nutritious breakfast every school day, and the PLAY Program, which provides access to extra-curricular activities for children of low-income situations.
There will be raffles, vendors, food and beverages to make it a fun evening for all! Come spend the day after boxing day with SocialRise and support the kids!