SocialRAIN 2014!

Saturday, April 19, 2014 at 9:00 PM

-

Sunday, April 20, 2014 at 2:00 AM (EDT)
Event Details
SocialRAIN

TICKETING IS NOW CLOSED.
Remaining available ticket will be available IN PERSON at the ticket window on a first come first serve basis starting about 8:30 PM.  

Doors open at 9:00 Show satrts promptly at 10:00PM

... is a viral invitation that attracts crazy-fun, sexy and a little bit edgy drama-free people of all ages. Master of Ceremonies, 2 of the best LIVE 80's-90's Dance bands, HOT & Sexy Lingerie Show with Brazilian Samba girls, Beautiful Girls on Stilts, Mimes, PLUS orlando best late night DJ to fire up the late-night 80's and 90's remixes to keep you rocking all night long! All this on the great  $100,000 light and sound styage of the Abbey Theatre!

The viral concept started with BobLee inviting just the fun, drama-free people that he knew, not everyone on his huge list of Facebook friends but the ones that he knew to simply love to have a great time and loved others in the same manner. But he went a step further. When he invited them, he gave each of them the ability to invite other friends that they knew in the exact same fashion and under the same criteria AND passed on that invitational privilege … and so on and so on and so on thru all friends of friends of friends!

WOW!

At the first year event, everyone realized that something very special was occurring. All the people had a common vibe, interest and appeal. Everyone realized that something very special was occurring. There were simply so many smiles, everyone was having such a great time and the people were all fun, beautiful people and with awesome personalities everywhere you looked… hence the name, "SocialRAIN".

So that was the very beginning and the people that have attended in the past, know and now provide the basis for the invitation growing each and every year! 

SocialRAIN 2014!

SocialRAIN, in its 4th year, 2014 is about taking the event to an exciting new dimension.  This year's event is at The Abbey (just off the downtown core) with an awesome sound and light stage. Think of it as a "show" like the Grammy's but instead of presenting awards, local guest introducers will come from the audience to introduce the next segment. The show will consist of 3 DJ's, 2 Live 80's and 90's band 2 Fashion runways walks, sexy Stilt-girls, Samba dancers, and other artsy Greeters.  We have designed SocialRAIN 2014 to be more "show style" than just an event and will have many things going on based around this rough program…

9:00 - 9:45       Cocktails, photographs and mingle with the Mime.

09:50-10:00      Welcome to SocialRAIN 2014!
10:00-10:55      Room2 | A band comprised of doctors that will truly amaze you...
                        Tell me if you like the electric violin and the eclectic vibe these surgeons
                        add to thier 90's cover music. 
10:55-11:00      Introduction to artist, Lyn Sky and the Stilt-walkers and Award winning Brazilian
                        Samba Girls, Phoebe Vecchioni, and Lingerie Fashion Designer
11:20-11:25      Introduction of the Band, Rockit Fly!
11:25-12:15      Rockit Fly is one of Orlando premier showman bands reproducing authientic 80's
                        and 90's cover songs by Journey, Goo Goo Dolls, Bon Jovi & more... Your just gonna
                        love these great showmen!
12:15-12:20      The Samba Dancers help intorduce the Lingerie show.
12:20-12:40      Late-Nite Lingerie runways show with some amazing Orlando models that
                        you may reconnize from your Facebook news feed... LIVE on the runway!

12:40-12:50      Recognition to the fashion show coordinator, Alfred Ramos, quick thank you
                        from Show Producer, BobLee and introduction to DJ John Campisano. 
12:50-02:00      DJ, John Campisano former resident DJ at Amway Centers, 180 Grey Goose
                        Lounge rocks into the Late Night with an amazing vibe remixed from classic
                        80's, 90's & 00's!

PLEASE NOTE... that these times are tentative and may change. 

VIP SEATING PLAN...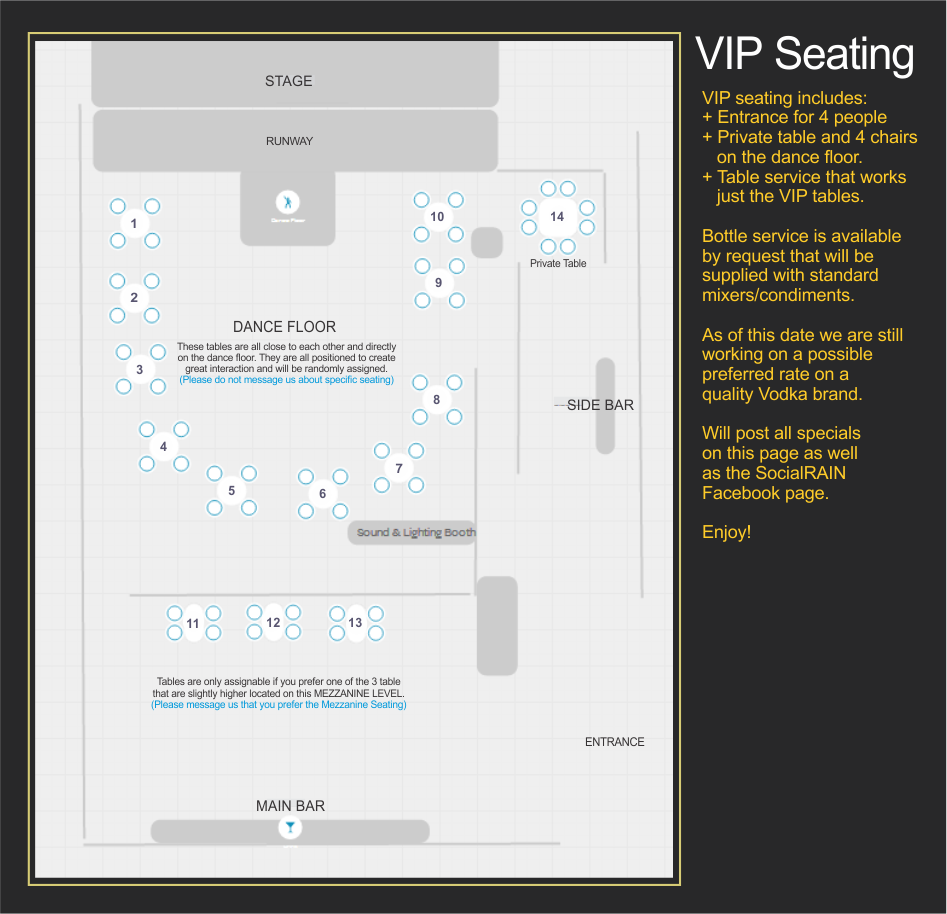 When & Where

The Abbey
100 S Eola Dr
#100
Orlando, FL 32801


Saturday, April 19, 2014 at 9:00 PM

-

Sunday, April 20, 2014 at 2:00 AM (EDT)
Add to my calendar
Organizer
BobLee, Event Planner | Life Orlando
Bob Lee is a respected event planner and social media expert. With an extensive background in corporate branding, his events are always well planned and structured in a way unique from others that simply "promote" events.   He understands all aspects of effective event planning and has a unique ability to make each and every event great fun and full of excitement. Suring, this is a major reason why his parties and events are always well attended. He certainly is all about guest satisfaction.

SocialRAIN is BobLee's signature event.