Renegade tech comedians roast whimpering techies on stage in front of a live crowd.
About this event
Tech is awesome. Tech people are terrible. But you're afraid to tell them how awful they are, because you think they'll stab you with an iKnife Pro. Hey, they probably will. Thankfully, a party of renegade tech comedians is coming through town. They fear nothing. They don't tape up their webcams. They don't even use Incognito Mode.
Watch these rogue comics roast whimpering techies in front of a live crowd. This show sells out every time. We don't even need you. But we'll kindly allow you to be there, because we know it's your one chance to experience fun.
Ages 18+ Doors open at 7:00PM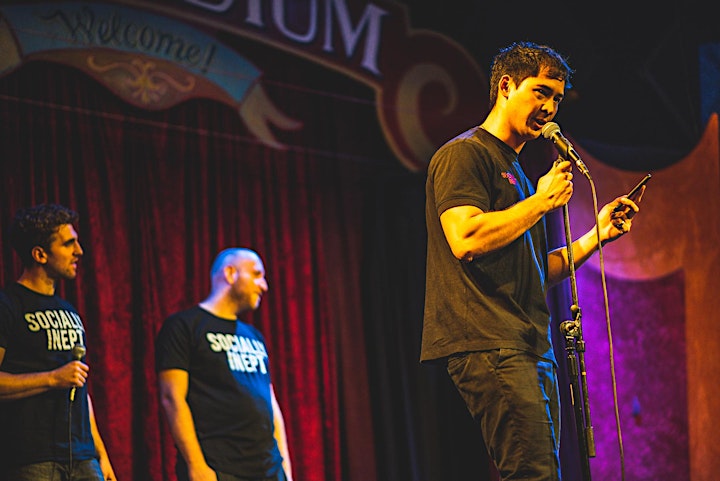 FUN COVID UPDATE:
Hey kiddo. Sorry we were away for a while. We took a break from live shows to focus on making fun of the sick and the dying. But now that everything is 100% completely back to normal (phew!), we turn our attention back to humanity's real plague - you, the humble tech worker.
Remember that time in the Zoom happy hour when you were pretending to have fun? And the connection dropped and you went from fake-laughing alone at your standing desk to real-crying. And then the connection resumed and you realized everyone else was also crying, and that was the only true moment of togetherness you've had in the last three years.
Time for another moment like that, but better! With laughter and tears and airborne toxins raining down on smiling faces. Time for a LIVE SHOW. Except we promised your corporate overlords to keep you alive for now, so here are some EXTRA FUN SPECIAL COVID RULES:
COVER YOUR FACE AND YOUR BUTTHOLE - those are the rules.
PROVIDE PROOF OF VACCINATION - it's that little receipt they gave you after injecting all the microchips into your butthole.