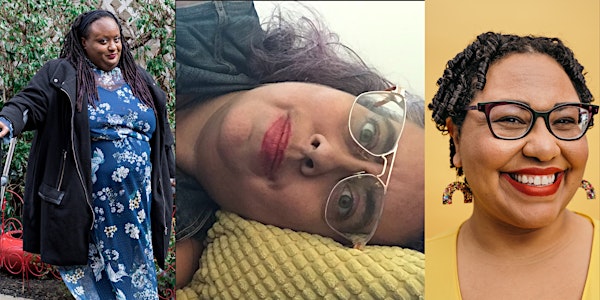 Social Workers Confronting Racial Injustice Conference 2023
Centering Disability Justice: Hosted by the UW-Madison Sandra Rosenbaum School of Social Work
Date and time
Friday, February 3 · 10am - 1:30pm PST
About this event
The 2023 theme for the Social Workers Confronting Racial Injustice Conference is Centering Disability Justice. Our January 27 opening keynote will be a discussion between Leah Lakshmi Piepzna-Samarasinha, author of The Future is Disabled, and Dr. Sami Schalk, author of Black Disability Politics. On February 3, Imani Barbarin, the creator of Crutches and Spice, will close our conference.
On both days, breakout sessions will take on issues of disability and racial justice to provide tools, frameworks, and inspiration to change social work practice. The conference is intended to support social workers by challenging and changing our approaches and by rooting our action in radical conceptions of justice. Through our learning together, we hope that this conference will challenge and inspire us all to change our work, our organizations, and our society.
2023 breakout sessions will include local and national issues on a range of topics including: disability pride work, BIPOC family leadership in disability justice work, disability justice in institutional spaces, decolonizing non-profits, key federal disability and racial justice policy proposals, disability and the right to vote, and many others.
For keynote sessions, there will be American Sign Language (ASL) interpreters and captioning/CART services. There will also be captioning/CART services for all breakout sessions.
The conference is free to attend. As in the past, we will offer CEUs/CEHs. The conference website will be updated with details on breakout sessions as they come in. Recordings of conference sessions from 2021 and 2022 are available on the conference website and on YouTube.
You are welcome to attend some or all parts of the conference. If you would like to attend both parts of the Social Workers Confronting Racial Injustice Conference, be sure to sign up for both days.
Click here to view the conference website
For further questions, please email: confrontinginjustice@socwork.wisc.edu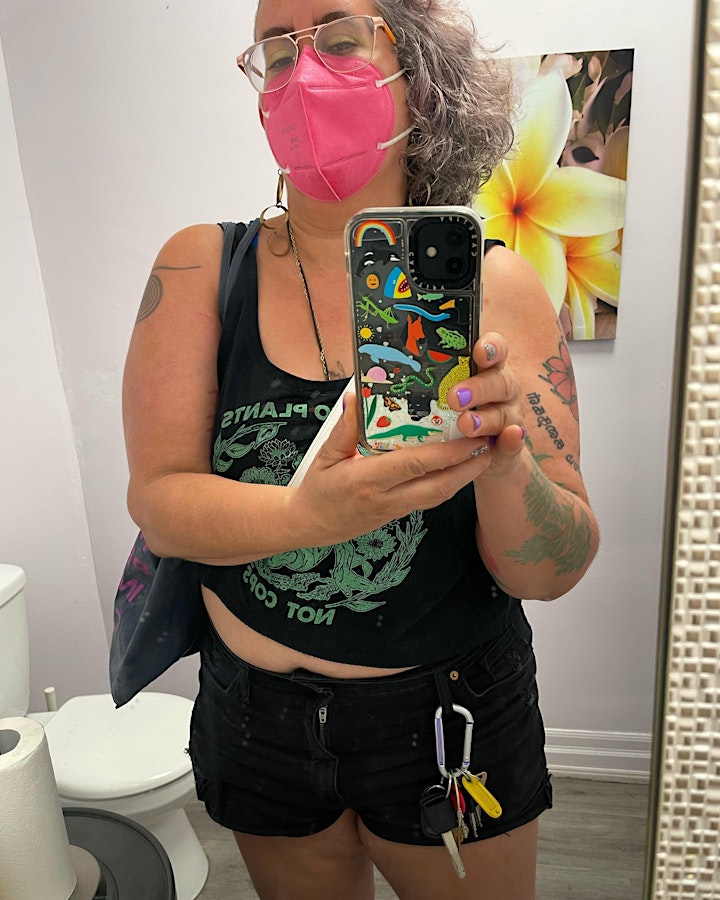 Banner ID: A 40ish mixed race Sri Lankan, Irish and Galician nonbinary femme with curly brown silver and purple hair, lying on a couch looking at the viewer horizontally. They have rose gold aviator frames, thick eyebrows, red lipstick and sand colored skin, and are looking at the viewer with a kind of tired but hopefully crip wonder. They wear a blue denim vest with a pin that says Neurodivergent Universe above a pink and blue image of a ringed planet, and a black tank top with yellow lettering that read Talk To Plants, Not Cops is barely visible. They have a tattoo of the words "We begin by listening" in magenta cursive script on their left arm.
ID: a Sri Lankan, Irish and Galician nonbinary femme with curly brown silver and purple hair and an undercut, wearing a "talk to plants, not cops" navy and turquoise crop top, tiny black denim shorts and a hot pink KN95 mask, takes a mirror selfie with a phone with glitter and many kinda of brightly colored animals and plants on it.
Leah Lakshmi Piepzna-Samarasinha (she/they) is a nonbinary femme autistic disabled writer, space creator and disability and transformative justice movement worker of Burgher and Tamil Sri Lankan, Irish and Galician/Roma ascent. They are the author or co-editor of ten books, including The Future Is DIsabled: Prophecies, Love Notes and Mourning Songs, Tonguebreaker, Care Work: Dreaming Disability Justice, and Dirty River. A 2020-2021 Disability Futures Fellow, since 2009 they have been a lead performer with disability justice performance collective Sins Invalid; since 2020 they have been on the programming committee of the Disability and Intersectionality Summit. Raised in rust belt central Massachusetts and shaped by T'karonto and Oakland, they are currently at work building Living Altars/ The Stacey Park Milbern Liberation Arts Center, an organization and accessible residency for disabled 2QTBIPOC writers and creators.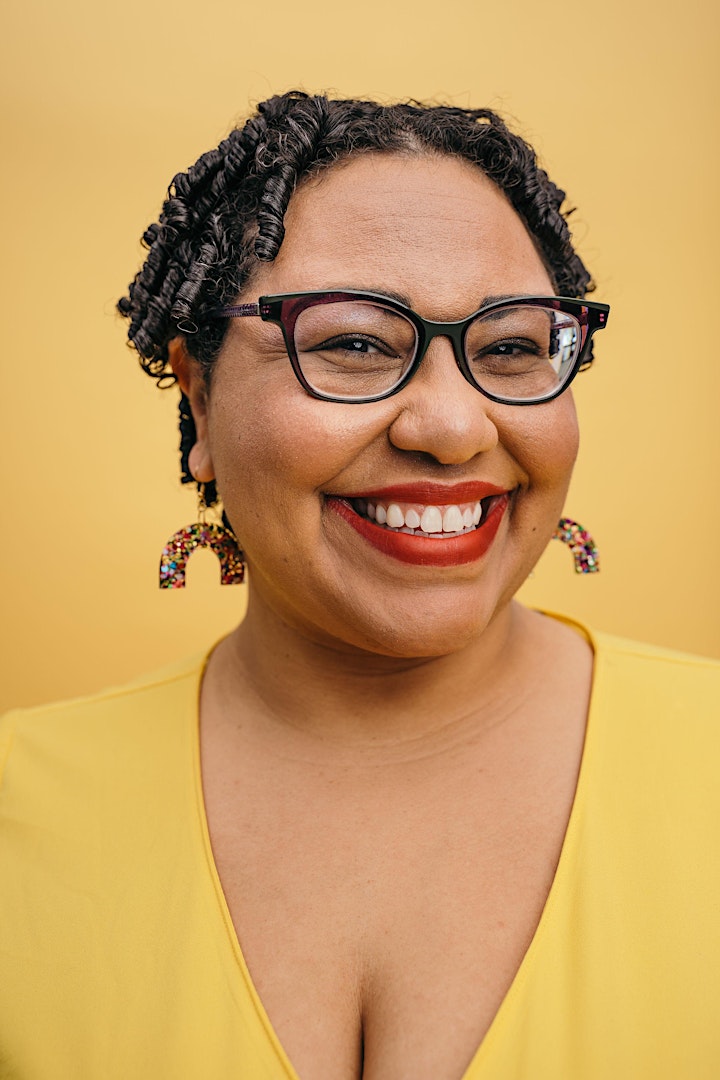 ID: A black woman smiling proudly at the camera with short, curly dark hair and red lipstick, wearing dark rimmed glasses, sparkly rainbow dangle earrings, and a yellow V-neck top.
Dr. Sami Schalk (she/her) is an associate professor of Gender & Women's Studies at the University of Wisconsin-Madison. She is the author of Bodyminds Reimagined: (Dis)ability, Race and Gender in Black Women's Speculative Fiction (Duke 2018) and Black Disability Politics (Duke 2022). Dr. Schalk's academic work focuses on race, disability, and gender in contemporary American literature and culture. She also writes for mainstream outlets, including a monthly column called "Pleasure Practices" in TONE Madison. Dr. Schalk identifies as a fat, Black, queer, disabled femme and a pleasure activist.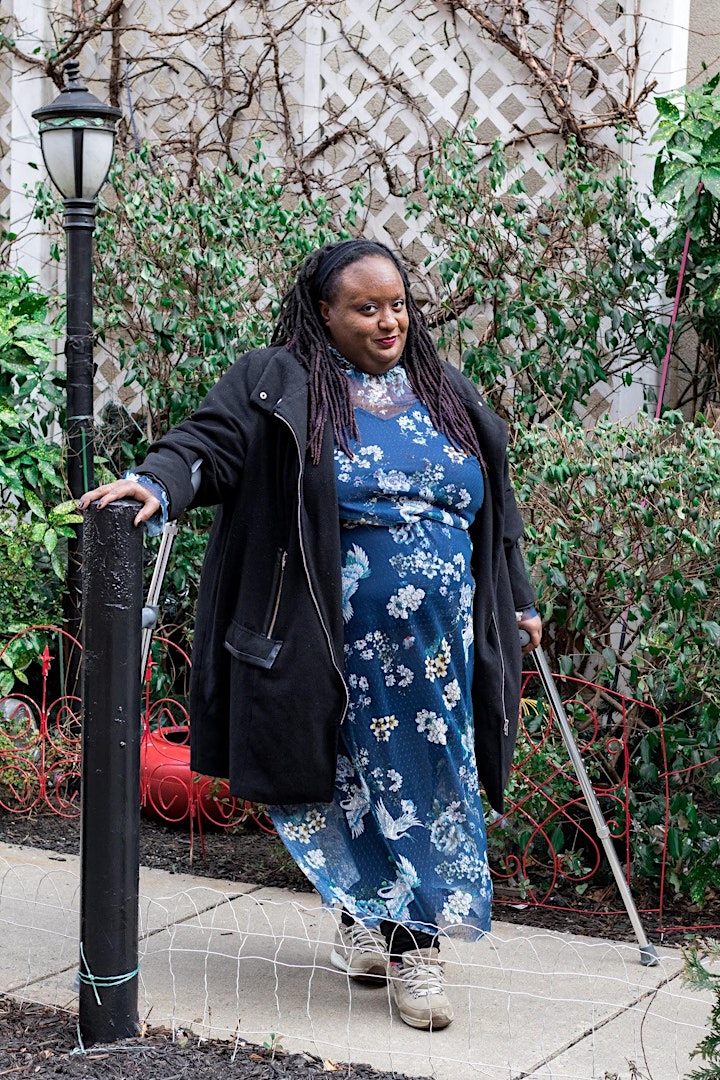 ID: A black woman with long, dark haired locs wearing a full length blue dress with printed flowers and birds paired with grey sneakers and a knee length black coat. Imani is posing outside on a sidewalk in front of various trees and bushes
Imani Barbarin is a disability rights and inclusion activist and speaker who uses her voice and social media platforms to create conversations engaging the disability community. Born with cerebral palsy, Imani often writes and uses her platform to speak from the perspective of a disabled black woman. In the last few years she has created over a dozen trending hashtags that allow disabled folk the opportunity to have their perspectives heard while forcing the world to take notice. #PatientsAreNotFaking, #ThingsDisabledPeopleKnow, #AbledsAreWeird and others each provide a window into disabled life while forming community.
Imani is from the Philadelphia area and holds a Masters in Global Communications from the American University of Paris, her published works include those in Forbes, Rewire, Healthline, BitchMedia and more. She runs the blog CrutchesAndSpice.com and a podcast of the same name.