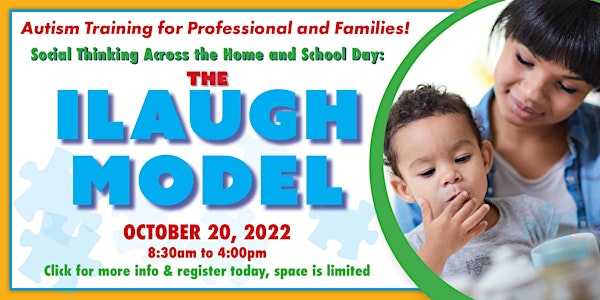 Social Thinking Across the Home and School Day: The ILAUGH Model
For professionals, parents & caregivers ; frameworks, concepts, & strategies to guide others in improved social processing & competencies.
When and where
Location
3600 Arrowhead Dr 3600 Arrowhead Drive Las Cruces, NM 88011
Refund Policy
Contact the organizer to request a refund.
Eventbrite's fee is nonrefundable.
About this event
This course is designed to teach professionals and parents the social learning frameworks, concepts, and strategies needed to guide others toward improved social processing and social competencies. Conference attendees will gain new insights into the power of their own social-emotional intelligence as they explore their social motivations and how they process and respond to social information. We will dissect hidden social rules, contemplate how social expectations change with age, and discuss how social problem solving is at the heart of social competencies and affects how students interpret and respond to social-academic information and assignments. Social Thinking has developed a large range of treatment strategies—and attendees will walk away with a number of them, including approaches for helping students avoid "the blurt," cope with boring moments, and develop conversational language. Treatment refers to using conceptual and strategy-based frameworks to help individuals improve their social thinking, skills, and competencies.
Much of the day will focus on the ILAUGH Model of Social Cognition. ILAUGH is an acronym for Initiating Communication, Listening with Eyes and Brain, Abstract and Inferential Thinking, Understanding Perspective, Getting the Big Picture, and Humor & Human Relatedness. The ILAUGH model demonstrates not only why people with social learning challenges have weaker social abilities but also how social interpretation is linked to academic tasks such as written expression, conversational language, reading comprehension, and organizational skills. As we wrap up the day, we will explore how to teach at the roots—and not through the leaves—of Social Thinking's Social Learning Tree. We will then discuss how to write realistic IEP goals based on rubrics. Mainstream teachers find the information in this course applicable to all students as it pertains to social-emotional learning, and audiences around the world love that it furthers their own social-emotional insights!
Participants will be able to:
1. Explain how teaching "think with your eyes" is different from simply teaching good eye contact.
2. Explain why a person with social learning challenges may have reading comprehension problems in the classroom.
3. Distinguish between IEP goals that address social competencies versus superficial social skills goals.
4. Describe how the use of spiral-bound strategy cards can facilitate teaching how to initiate communication.
5. Explain how gestalt processing relates to written expression and organizational skills.
6. Describe a strategy to help students avoid blurting.