"Social Studies" - Family Programming
About this event
About:
While living at the Soldiers' Home, Lincoln made nation-changing decisions about the country and freedom, most notably the Emancipation Proclamation. While here, President Lincoln persisted even though he had moments of self-doubt and worried that he might fail. He overcame his struggles because a united country and freedom for all was a dream worth fulfilling.
Reserve a table and join President Lincoln's Cottage in an exploration of their own dreams while learning that they have the potential to make them come true.
In this program, participants (ages 2-8)* will…
Enjoy a group reading of Maybe: A Story About the Endless Potential in All of Us by New York Times Best Selling Author Kobi Yamada and illustrated by Gabriella Barouch
Create a meaningful keepsake to store your hopes and dreams
*Program was developed for ages 2-8, but children of all ages are welcome to participate.
Social Distancing & General Information
Outside
The entire program will take place outside at our picnic area located behind the Robert H. Smith Visitor Education Center. When possible staff and visitors will maintain 6-feet of social distancing to reduce the risk of COVID-19 exposure.
Admission
To ensure safe social distancing, admission includes a reservation for a table for each family/group to use during and after the program. Tables come in sizes for up to 4 people or up to 8 people. We invite you to pack a picnic and stay with us after the end of the program.
Mask Policy
In accordance with Mayor Bowser's Order 2020-080, visitors three years and older are required to wear face masks while outside. Security at the gate will ask to see your masks before allowing you to enter the grounds.
Armed Forces Retirement Home
President Lincoln's Cottage is on the grounds of the Armed Forces Retirement Home. Security for the Armed Forces Retirement Home requires visitors to show valid identification at the security gate in order to enter the property.  Please be prepared to show your ID.
Exploring beyond the boundaries of President Lincoln's Cottage is not permitted and results in trespassing on federal property.
Additionally, the Creative Minds Play Space is closed.
Please send any questions to Info@lincolncottage.org.
All events are considered public events for the purpose of photography and video.
Organizer of Social Studies: Maybe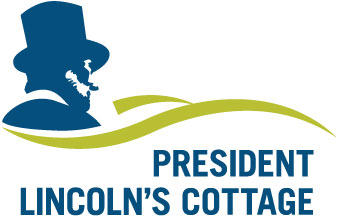 President Lincoln's Cottage is an historic site and museum located in the Petworth neighborhood in Northwest Washington, D.C. President Lincoln's Cottage first opened to the public in February 2008. It is the only place the public can experience the history of Abraham Lincoln's public and private life where he lived and worked for over a quarter of his presidency.
While in residence at the Cottage, Lincoln visited with wounded soldiers, spent time with self-emancipated men, women and children, and developed the Emancipation Proclamation. The human cost of the Civil War surrounded him, undoubtedly impacted his thinking, and strengthened his resolve to challenge the status quo. Through innovative guided tours, exhibits and programs, we use Lincoln's example to inspire visitors to take their own path to greatness, and preserve this place as an authentic, tangible connection to the past and a beacon of hope for all who take up Lincoln's unfinished work.