Actions and Detail Panel
Social Stories 10.2 – Presented by the ASD Nest Support Project
Sat, May 13, 2017, 9:30 AM – 3:30 PM EDT
Description
Come learn about Social Stories 10.2, the latest update to Carol Gray's strategy used worldwide with children, adolescents and adults on the autism spectrum.
This workshop will define Social Stories, an approach that describes a situation, skill or concept in terms of relevant social cues, perspectives and common responses in a specifically defined style and format. The workshop will cover the goals of Social Stories, their uses at home and in schools, and participants will develop their own stories.
Carol Gray Social Stories
As an official Social Stories(tm) Satellite, The ASD Nest Support Project is excited to partner with Carol Gray, the Director of The Gray Center for Social Learning and Understanding, to present her widely-used trademarked strategy.
Over the past two decades, Social Stories have earned the respect and enthusiastic affection of parents, professionals, and most importantly, people with autism. Participants at this workshop will update their understanding of Social Stories and improve their Story writing skills. If new to the approach, participants will discover the ever-expanding versatility and value of this incredible instructional strategy for the very first time.
The new Social Stories 10.2 Criteria make a number of improvements on earlier iterations of Social Stories, including:
Introduce an updated definition of Social Stories
Are based on a shorter albeit expanded rationale that includes context theory
Reflect new research and the most current experience with the Social Story approach
Retrieve 'long lost' valuable ideas from the "Social Story Archives'
Include new detail and increased support for those who write Social Stories, saving time as a Story is developed and maximizing the likelihood of a positive Story outcome
Combine seven types of Social Story Sentences into two
Introduce new terms and their definitions and implications
In 2010, The National Autism Center listed "story-based intervention package" (with Social Stories™ identified as the most well-known) as one of eleven established treatments for children on the autism spectrum (National Autism Center, 2010, National Standards Project).
Learn more about Social Stories at Carol Gray's website.
Target Audience
The presentation is designed for professionals and family members who work with people of all ages on the spectrum and provides an understanding of Social Stories that will support effective intervention and lead to practical, inexpensive, instructional strategies. Although Social Stories were first developed for use with children with ASD, the approach has also been successful with children, adolescents and adults with other social and communication delays and differences, as well as neurotypical people.
Learning Outcomes
At the close of the workshop day, participants will be able to:
Outline the philosophy and research-based rationale of every Social Story
Explain how the Social Story goal may be used by any parent or professional to determine what is – and is not – a Social Story
List the 10.2 criteria that ensure the integrity and safety of every Story
Define all Social Story terms
Describe how research and philosophy create important ties between how a Story is researched, developed, and implemented
Write a Social Story


Additional Notes
Certificates of Social Stories 10.2 Training will be distributed to all participants at the close of the workshop.
NYCDOE P-cards are accepted as payment. Select "Pay by Invoice" under "Payment Method."
Facilitator
Brandy Stanfill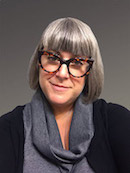 Brandy Stanfill, MSEd, is a certified Social Stories Coach. She provides on-site consultation to help teachers address the social and academic challenges of students in the ASD Nest program. Brandy taught in New York City public schools for eleven years, including seven years as a teacher, cluster, and coach in the ASD Nest Program. She has been an adjunct lecturer at Hunter College and taught courses on autism spectrum disorders and behavior theory and interventions in addition to conducting specialized pre-service training for new Nest staff on Staten Island. Brandy is particularly interested in the impact of ASD and other developmental disorders on children and families in low-income communities