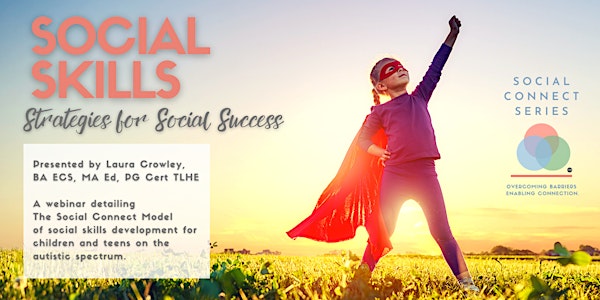 Social Skills: Strategies for Social Success
A webinar detailing The Social Connect Model of social skills development for children and teens on the autistic spectrum.
About this event
This webinar will be presented by Laura Crowley, BA ECS, MA Ed, PG Cert TLHE and will explore the Social Connect Model of social skill development which she has honed over the past 12 years.
This webinar is
Suitable for parents and professionals
Evidence based, proven strategies, developed over 12 years of practice
A holistic approach mindful of autistic expression.
Learn the skills you need to start your child/student's social advancement journey. An extensive resource pack will be emailed to each attendee after the event and a certificate of attendance will also be provided.
Laura Crowley, BA ECS (hons) MA Ed (open) PG Cert TLHE, has over 20 years experience working hands on with children and adolescents on the Autism Spectrum. She is a mother, lecturer, consultant and also diagnosed as autistic herself. Having spent her initial years working in residential care settings and an Autism specific ABA school, Laura later took up a role in a Cork based Autism Charity in 2004.
Laura set up an Educational Support Service in 2005 for the charity, providing individualised assistance to children with a diagnosis of Autism in mainstream school settings. Laura has since worked with over fifty schools in the Munster area. In 2009, Laura designed and co-ordinated the PALS (personal and life skills) Programme for the Centre, the first of its kind in this country. The programme has achieved huge success, and is currently in its eleventh year of operation. The Programme specialises in teaching social skills from a ground-up approach, mindful of barriers which may impede advancement. This has more recently been developed into an app format. The app "Mission Rescue Kloog: Social Skills For Autism" is now available on the App Store and Google Play. The app provides parents, carers, teachers and SNA's with the opportunity to provide elements of the PALS programme in the home/school classroom. The app stresses context sensitivity and social consequences and is suitable for children from approximately 7 years old (dependant on comprehension levels). The second installment of this series is also available, Mission Rescue Kloog 2: Return to Zugopolis. This app concentrates on the concept of friendship, relationships and safety. The third installment was released in 2018 and concentrates on the school environment. The series has now been downloaded over 200,000 times globally and has also been the recipient of two awards to date.
Laura has also been lecturing on the Diploma in Autism Studies in University College Cork since it's inception eight years ago and was heavily involved in formulating and devising content for the course.