Description
Topic: Social Shorts #5 - Social Media Club Atlanta, Powered by PechaKucha
Date: May 28th
Time: 8:00 am (Zoom call opens at 7:45 am)
Location: Zoom Video Conference (link sent to registered attendees)
We are bringing back one of our most popular events – and holding our Annual PechaKucha meeting virtually! This will be the 5th time we have hosted our Social Shorts program - Social Media Club Atlanta, Powered by PechaKucha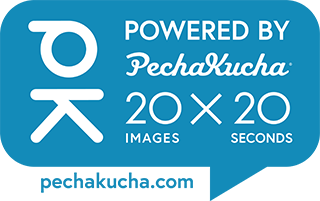 For those of you who have missed previous years' events or haven't heard of PechaKucha, here's a primer:
PechaKucha 20×20 is a presentation format where you show 20 images, each for 20 seconds. The images advance automatically and you talk along to the images. In other words, you've got 400 seconds to tell your story, with visuals guiding the way. PechaKucha is the ideal tool to share passions and drop some knowledge.
PechaKucha means "chit chat" in Japanese. This creative outlet began in Tokyo in 2003 as an event for young designers to meet, network, and show their work in public.
Here is this year's line-up so far:
Title: YouTube is not a Social Media Platform
Description: So many brands think YouTube is just another social media site and treat it the same way as they do Instagram or Facebook. The truth is, brands should be treating their YouTube channel more like a blog. Similar rules apply and I'll dive into the analytics to prove it as well as share a few of the secrets to YouTube Success.
Presenter: Kendrick Disch
Title: Business Matchmaking
Description: Business matchmaking is a little different than romantic matchmaking. I will teach the audience how they too can become (semi) professional matchmakers.
Presenter: Joe Koufman
Title: X Ways to use Twitter to Earn Media Coverage
Description: Twitter is a great tool to engage reporters, bloggers and influencers to build relationships and earn coverage. This fast-moving presentation will cover practical tips for earning coverage that can be put as soon as they get back to the office.
Presenter: Frank Strong
Title: #2Dto3D, Making Social Social Again.
Description: It's about how I've leveraged social to build a better and stronger friend network.
Presenter: Jason Dominy
Title: Inside Google Ads
Description: Demystifying the secrets and giving you the true facts about how Google Ads really works.
Presenter: Josh Bernstein
Additional Presenters TBA