Description
For I know the plans I have for you," declares the LORD, "plans to prosper you and not to harm you, plans to give you hope and a future.- Jeremiah 29:11
Have you ever thought about your purpose in life? Perhaps you're feeling empty like there is more for you to do but you don't know where to start. Maybe you've found yourself spinning in circles, accepting projects and jobs that leave you unfulfilled.
In this Social Share, we are going to discuss PURPOSE. Join us to hear the stories of 3 amazing resourceful leaders in the Houston community as they share their difficult journey which has led them to where they are today.
This women of purpose community are ready to embrace you with open arms!
PANELISTS: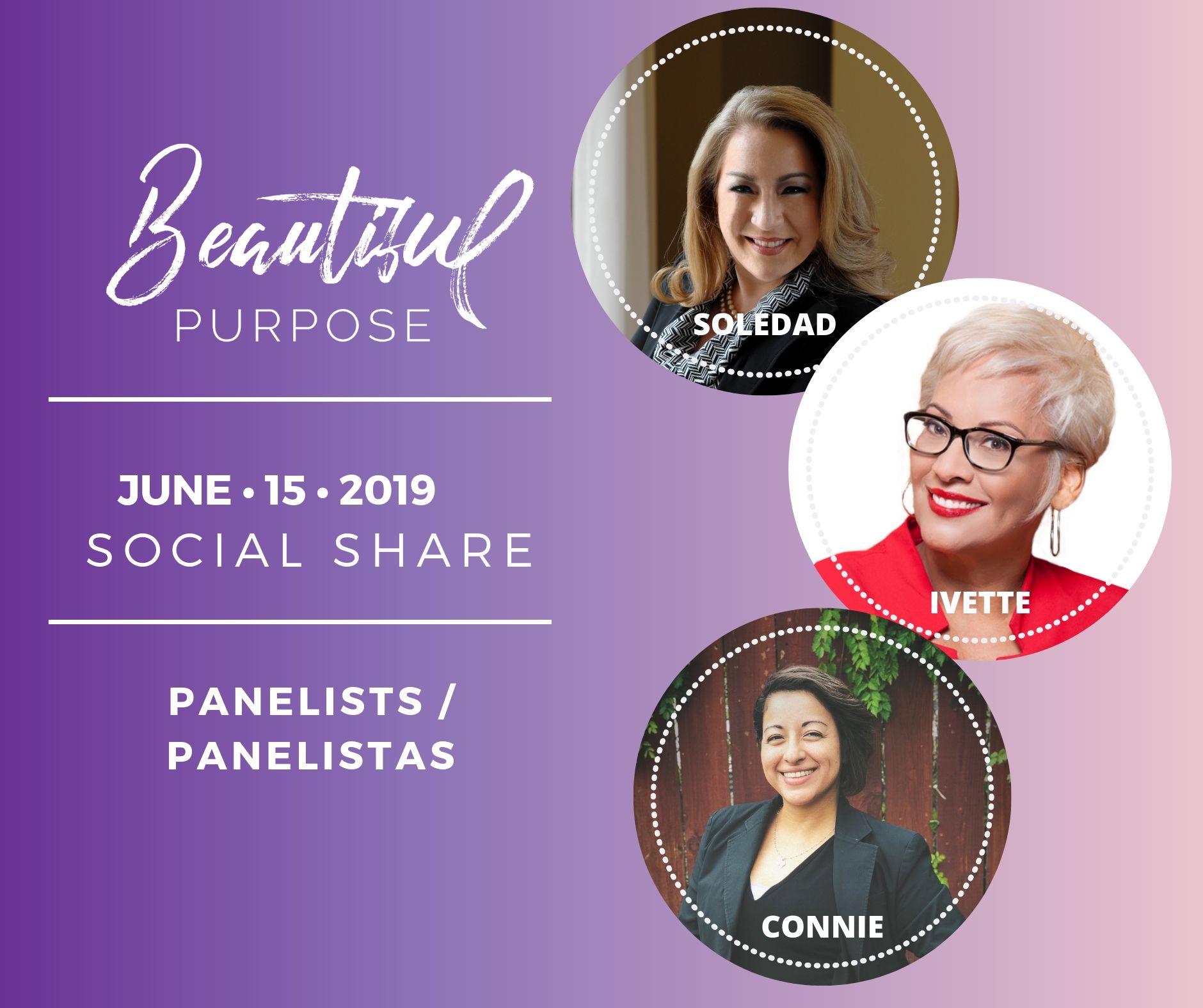 CONNIE LEON, better known as Momma of Dos. Born and raised Texan. Grew up in a small Texas town near the Mexican border. Moved to Houston in 1999 to attend the University of Houston where she received her Bachelor of Science in Psychology with a minor in Health. Has worked in the non-profit and governmental sectors most of her career. These days she works around the clock to provide for her little Mexican-American family both in and outside the home. She has "Dos" amazing, children; Camila, 7 years old and Santiago, 9. In 2014 she helped found Houston Latina Bloggers which serves as a collaborative group to help raise awareness of Houston-based Latina writers, bloggers and content creators within many industries such as; social media, marketing, and public relations among others. Their vision is to help empower Latinas in Houston to share their voice.
SOLEDAD TANNER, MIB is a global senior financial executive with 27 years of experience in finance & controlling, strategy & consulting, performance & metrics in the global logistics and banking industry. Currently, she owns her own consulting business, Soledad Tanner Consulting, LLC. They are a Business & Financial Management Consulting firm that support businesses, professionals, and Corporations with solutions, knowledge, and expertise to grow efficiently and stay competitive in the market, optimizing businesses and achieving goals.
IVETTE MAYO, is an award-winning entrepreneur, international speaker, and author. Ivette is the President and CEO of Yo Soy I AM, LLC, professional development and consulting firm. She is known as a POWER ADVOCATE by her clients for creating POWERFUL and IMPACTFUL results. Her 27-year global career was spent working in business development, sales, marketing, and training. She is the Founder of POWER On Heels Network, a digital platform empowering and supporting women to achieve their vision of success with members from throughout the country.
---
EN ESPAÑOL
Porque conozco los planes que tengo para ti ", declara el SEÑOR," planea prosperarte y no hacerte daño, planea darte esperanza y un futuro.- Jeremías 29:11
¿Alguna vez has pensado en tu propósito en la vida? Quizás te sientas vacío porque hay más por hacer pero no sabes por dónde empezar. Tal vez te has encontrado dando vueltas en círculos, aceptando proyectos y trabajos que te dejan insatisfecho.
En esta plática social, vamos a hablar sobre PROPÓSITO. Únase a nosotros para escuchar las historias de 3 increíbles líderes ingeniosas en la comunidad de Houston mientras comparten su difícil viaje que las ha llevado a donde están hoy.
¡Esta comunidad de mujeres de propósito está lista para abrazarte con los brazos abiertos!
---
Beautiful Purpose Mission:
Empowering women to live a purpose-filled life by creating a safe space for sharing and healing, offering resources, personal development workshops, and by building a supportive community.
Nuestra Misión: Capacitar a las mujeres para que lleven una vida llena de propósitos creando un espacio seguro para compartir y sanar, ofreciendo recursos, talleres de desarrollo personal y construyendo una comunidad de apoyo.
FAQs
Are there ID or minimum age requirements to enter the event? | ¿Hay requisitos de identificación o edad mínima para participar en el evento?
You must be 18 and over to participate in this event. | Debes tener 18 años o más para participar en este evento.
Is there childcare available? | ¿Hay cuidado de niños disponible?
At the present time childcare is not available. | No tenemos cuidado de niños disponible.
How can I contact the organizer with any questions? |¿Cómo puedo contactar al organizador con cualquier pregunta?
Please email hello@beautifulpurpose.me | Por favor envíe un correo electrónico a hello@beautifulpurpose.me
---
ACCIDENT WAIVER AND RELEASE OF LIABILITY FORM
HEREBY ASSUME ALL OF THE RISKS OF PARTICIPATING IN ANY/ALL ACTIVITIES ASSOCIATED WITH THIS EVENT, including by way of example and not limitation, any risks that may arise from negligence or carelessness on the part of the persons or entities being released, from dangerous or defective equipment or property owned, maintained, or controlled by them, or because of their possible liability without fault.
I acknowledge that this Accident Waiver and Release of Liability Form will be used by the event holders, sponsors, and organizers of the activity in which I may participate and that it will govern my actions and responsibilities at said activity.
In consideration of my application and permitting me to participate in this activity, I hereby take action for myself, my executors, administrators, heirs, next of kin, successors, and assigns as follows:
(A) I WAIVE, RELEASE, AND DISCHARGE from any and all liability, including but not limited to, liability arising from the negligence or fault of the entities or persons released, for my death, disability, personal injury, property damage, property theft, or actions of any kind which may hereafter occur to me including my traveling to and from this activity, THE FOLLOWING ENTITIES OR PERSONS: Beautiful Purpose and/or their directors, officers, employees, volunteers, representatives, and agents, and the activity holders, sponsors, and volunteers;
(B) INDEMNIFY, HOLD HARMLESS, AND PROMISE NOT TO SUE the entities or persons mentioned in this paragraph from any and all liabilities or claims made as a result of participation in this activity, whether caused by the negligence of release or otherwise.

I understand while participating in this activity, I may be photographed. I agree to allow my photo, video, or film likeness to be used for any legitimate purpose by the activity holders, producers, sponsors, organizers, and assigns.
The Accident Waiver and Release of Liability Form shall be construed broadly to provide a release and waiver to the maximum extent permissible under applicable law.
I CERTIFY THAT I HAVE READ THIS DOCUMENT AND I FULLY UNDERSTAND ITS CONTENT. I AM AWARE THAT THIS IS A RELEASE OF LIABILITY AND AGREE TO ATTEND ON MY OWN FREE WILL.