Multiple Dates
"Social Selling & Relationship Marketing for Huge Sales Success Boot Camp!"
Description
We have a special speaker, Kevin Knebl, who will speak on "Social Selling & Relationship Marketing for Huge Sales Success Boot Camp." This same workshop his corporate clients pay $15,000-25,000.
Here is Kevin's Bio:

Kevin Knebl, CMEC is an International Speaker, Author, Trainer and Executive Coach whose clients include individuals and small, medium and Fortune 500 companies. He's an in-demand, leading authority on Social Selling, Relationship Marketing, LinkedIn and Twitter with a healthy dose of Inspiration, Transformational Insight, and Humor blended in for conferences, conventions, company trainings, and many other events.
Kevin is the coauthor of "The Social Media Sales Revolution: The New Rules for Finding Customers, Building Relationships, and Closing More Sales Through Online Networking" (McGraw-Hill). Kevin is also a contributing author of "Learn Marketing with Social Media in Seven Days" (Wiley). Kevin's background includes being the top salesperson for four different companies including being the top salesperson in the world for an international consulting company with over 300 salespeople in 15 countries. He has trained hundreds of organizations and tens of thousands of professionals on the most profitable uses of LinkedIn, Social Selling, and Relationship Marketing since 2004.
Kevin also has the most individually, hand-written, client Recommendations (1925+) on his LinkedIn profile among over 575,000,000 LinkedIn users worldwide. He's also been married for 23 years to a woman he met when she booked him to play piano at her wedding to another man. Yes, that last sentence is true. And he has a face for radio. He can be reached at www.kevinknebl.com.
LinkedIn, Facebook and Twitter are tremendously fast growing Business Networking platforms that when used effectively can help Business Professionals in many ways. With over 1,000,000,000 people using these communication channels and millions more people getting connected daily, these are not business tools that you can afford to ignore.

This exciting, fast-paced and humorous Boot Camp will teach you:

• Why Social Networking should be a strategic component of your business plan

• How to create robust profiles that showcase you and your organization

• How to identify and connect with prospects, clients, networking partners, and strategic alliances

• Methods of communicating with large numbers of people that result in greater visibility for you and your company

• How to stay top of mind by strategically adding value to your network

• The art of building relationships which leads to long term success, client acquisition/retention and revenue growth

At the end of the day, long term business success has always been and always will be about relationships. Whether online or offline, people are the same, only the technology changes. This exciting and humorous Boot Camp will equip you with an understanding of the strategies and methodologies used to leverage these amazing business tools!

http://www.kevinknebl.com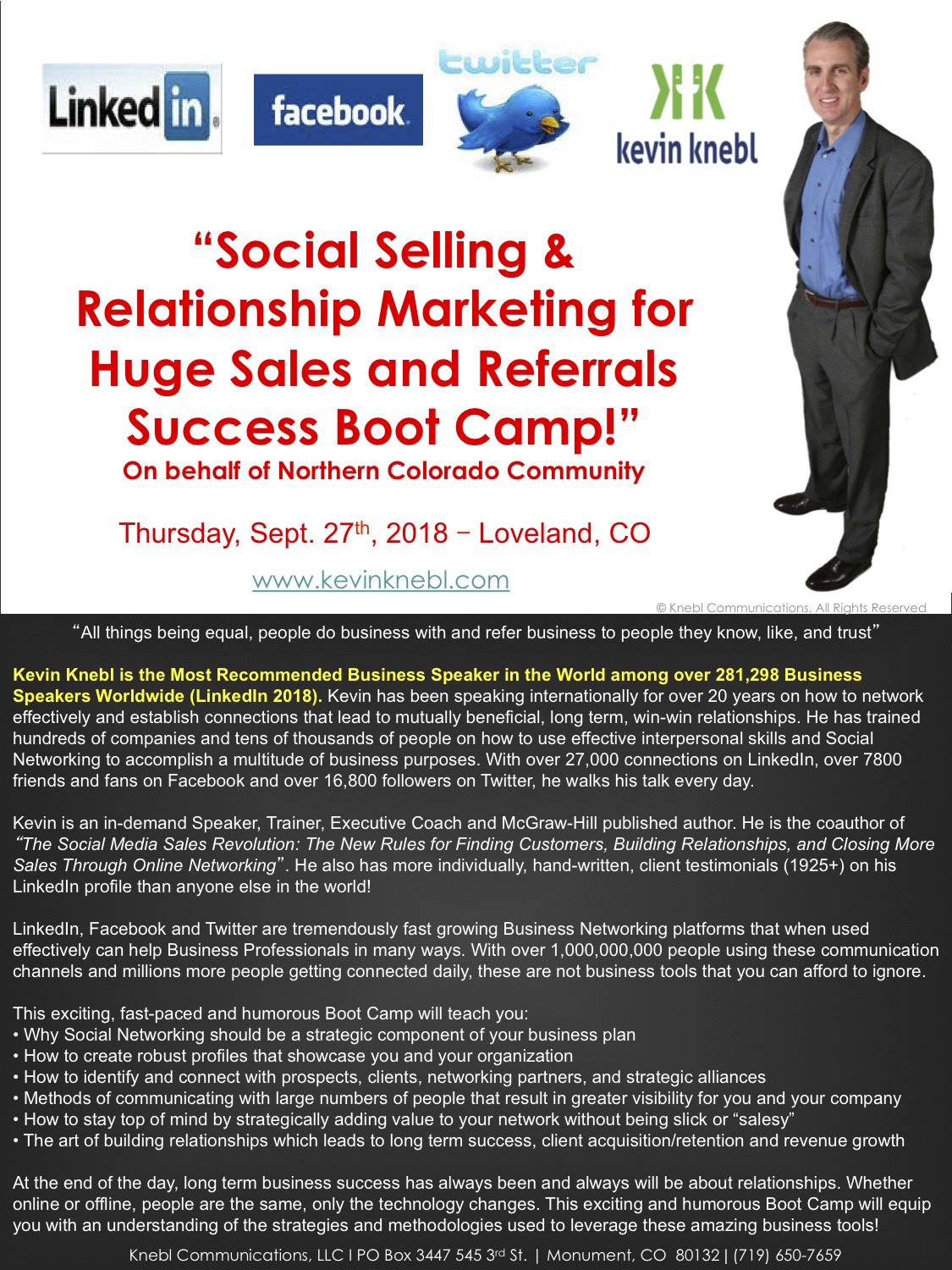 FAQs
What are my transportation/parking options for getting to and from the event?
The location is easy to find and it is in the same building as Group Publishing right on Highway 34. There is free parking and plenty of parking spaces.

What can I bring into the event?
Please bring a notebook, business cards and great attitude. Food and beverages are not allowed since there is an onsite caterer. You may purchase food or beverages from the cafe which is open from 7:30 am until 2 pm. Also, we will have available for purchase from Fireside Cafe a box lunch for $10. This box lunch can be directly purchased through the cafe.

How can I contact the organizer with any questions?
You may contact Ann Baron at her email of northerncoloradocommunity2016@gmail.com or cell 970-405-4208.

What's the refund policy?
We do not offer a refund since there are expenses which must be paid ahead of time for this event. We are sorry for any inconvenience. You may offer your ticket to another business person if you are not able to attend and please notify us if you are doing this.

Do I have to bring my printed ticket to the event?
We have the list of attendees therefore you do not need to bring a printed ticket. The only exception is if you have given your ticket to someone else and we have not been updated about the new attendee.

We are meeting in the "Table of Content" meeting room (TOC) conference room and please looks for signs on where the workshop meeting room is located.
Will food be included or can I bring my own?
We will have water in the meeting room. Since there is Fireside Cafe on premises no outside food or beverages are allowed. For $10 there will be a box lunch which you may purchase directly from Fireside Cafe. Please let us know if you would like a box lunch ahead of time so we can plan. Here are the options:
# 1 Rocky Mountain Chicken Salad, Small Pita Bread Rounds, Carrot Sticks, Strawberries, mini cookie and fireside bottled water
#2 Mediterranean plate, Roasted red Pepper Hummus, Kalamata Olives, Sliced Cucumbers, Small Baby peppers, Feta cheese with Tomato & Basil, Small Pita Bread Rounds , mini cookie and fireside bottled water
#3 Cranny Granny Turkey Sandwich, Famous for 14 years, Turkey, cranberry, granny smith apples, provolone cheese and cranberry aioli on a croissant, served with sea salt potato chips, mini cookie and fireside bottled water
All other items in café available for 10% off your bill , just mention Northern Colorado Community ( Coffee Drinks, Blended Lemonades, Breakfast Items, pizzas, soups and more!)
If there are any other questions not addressed in the FAQ please contact Ann Baron at northerncoloradocommunity2016@gmail.com and thank you for your interest.