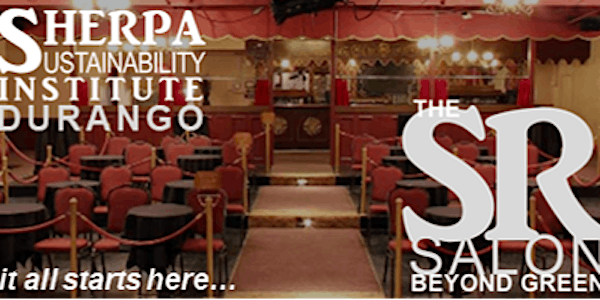 Social Responsibility 'SR Salon': Can We Create a Climate Fit for Life?
Location
Strater Hotel Theater
699 Main Avenue
Durango, CO 81301
Refund policy
Refunds up to 1 day before event
Description
May 3— Inaugural Social Responsibility 'SR Salon'* Innovation Keynote | Panel | Reception
Early bird: $20 | Starting April 25: $30
Innovation Keynote: CLIMATE TAKEBACK! How Can We Create a Climate Fit for Life?
Sherpa Sustainability Institute is thrilled to announce that Billy Ingram, Director of Lean Product Development at Interface— one of the most sustainable companies on the planet—will be our first thought leader to speak at our new Social Responsibility 'SR Salon' series. Billy Ingram will speak about Interface's innovation efforts to answer this question:
If humanity has changed the climate by mistake, can we change it with intent?
Followed by a Panel Discussion: Social Responsibility (SR), Innovation & Lean Product Development
Lean Product Development aims to create re-usable knowledge for continual improvement, using teams of experts to achieve better and faster results. We'll ask the panalists this question:
How can SR, Lean, and other methods be combined to drive innovation around the triple bottom line of social, environmental, and profitability in all types of organizations?
The Panel discussion will be facilitated by Andrea Hoffmeier, Co-Founder of Sherpa Sustainability Institute, now HQ in Durango, and co-author of the book, A Six Sigma Approach to Sustainability: Continual Improvement for Social Responsibility (https://www.linkedin.com/in/andreahoffmeier/).
Closing Remarks by Myrna Flores, Co-Founder and President of the Lean Analytics Association and world renowned innovation though-leader, speaker and educator (https://www.linkedin.com/in/myrna-flores-34981228/).
Cocktail Reception | Networking | Cash Bar
*s•r(əs-är) n. SR: Social Responsibility is defined as the responsibility of an organization for its impacts, of its decisions and activities on society and the environment through transparent and ethical behavior.
sa•lon(səˈlän) n. Salon: a gathering of people by an inspiring host, held partly to amuse one another and partly to increase the knowledge of the participants through conversation. Historically, women were the center of life in the salon and carried very important roles. They selected guests and decided the subjects of their meetings, including social, literary, or political topics of the time. They also served as mediators by directing the discussion. The salon was an informal education for women (before they were allowed entry into Universities), where they were able to exchange ideas, receive and give criticism, read their own works and hear the works and ideas of other intellectuals. Many ambitious women used the salon to pursue a form of higher education.
For more information email: events@sherpabcorp.com