[Social Networking Co-ed: Hike & Lunch] Let's Hike and Enjoy The Outdoors!
Description
Meet at the main trailhead, Pacific Crest ! gate opens at 8am.
We are back to the trails!
Escape from this insane heat, as the weather is cooling off [we are hoping so...]
Please join us for some fun hike at Vasquez Rocks ... a short 3-mile round trip cool hike! and followed by a group Lunch session afterwards (optional).
RSVP is required.
Waiver and Liability form is mandatory to be signed prior to hike, and will be available that morning.
This is a Co-ed event.
You may bring friends, coworkers...
DOWNLOAD MAP here
- or -
Request one via email: hello@NickyDare.com
---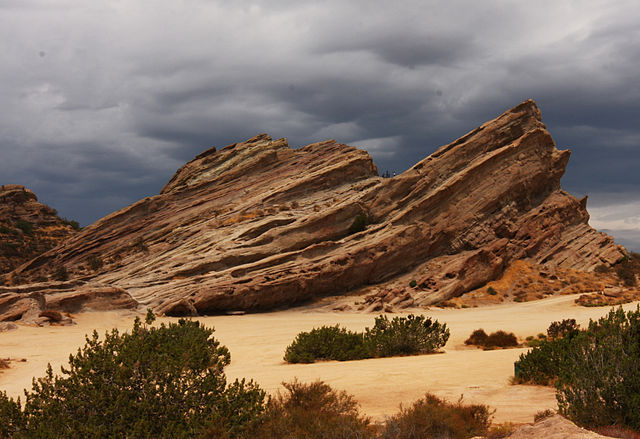 VASQUEZ ROCKS, the creek trail, Pacific Crest Trail to the Animal Corridor Tunnel and back
10700 Escondido Canyon Road, Santa Clarita, CA (edit map)
Park at the Vasquez Rocks designated parking lot space
**IMPORTANT** For SAFETY, rain falling or extreme heat, we will cancel and reschedule all hikes!
HIKE 8:30am - 11:30am
LUNCH at "Sweet Water Cafe" [optional] : 33310 Agua Dulce Canyon Rd
HIKE DETAILS:
Distance: ~ 3 miles round trip, out and back style
Gain: 250 ft., on the way back
Rating(s): Easy + but you do need to be reasonably fit though! there are hills, steps and loose gravel.
Description: We will take you on an easy nature hike through some of the most beautiful and well known areas of Vasquez Rocks. You may recognize many of the features from television and feature films (e.g. Star Trek, The Flintstones, Planet of the Apes, etc.).
We will pass the most prominent rock, just before you get to our parking spot (see details below).
We will start our hike near the Pepper Tree and hike some of the many park trails (including part of the Pacific Crest Trail) at a fairly leisurely pace.
A short history of the area, especially for Star Trek fans:
http://www.latimes.com/entertainment/tv/la-et-st-star-trek-50-vasquez-rocks-20160829-snap-story.html
And an excellent Philip Scorza video recalling living as a child in Vasquez Canyon by Letty Dyer Foote:
http://scvtv.com/2013/11/19/tales-of-vasquez-rocks-with-letty-dyer-foote/
(Above - The Native American Indian's rock. Check out the ravens lurking on the top of his head.....reminds me of Johnny Depp's crazy Tonto in his Lone Ranger flop. Did I mention that Vasquez rocks has featured in many movies... .....OMG!! another small face is popping out of the Indian's chin....)
Directions: Vasquez Rocks Natural Area Park is located near Agua Dulce Springs, just north of Santa Clarita, on the 14 freeway. The park is about midway between Santa Clarita and Palmdale.
From Valencia, take the SR-14 North to the Aqua Dulce Canyon Road exit. Exit and turn left under the 14 Fwy. Continue on this road. It will take a sharp curve to the right where it will become Escondido Canyon Road. Continue straight, through a stop sign and start looking for the Vasquez Rocks Park entrance on the right.
NOTE!! When you enter the driveway for Vasquez Rocks, do NOT go straight into the visitor's center but, make a left hand turn on to the rock chips/dirt road. Follow this road, all the way to the far side of the furthest dirt parking lot (the one surrounded by a green tubular metal fence). Look for the group here.
Meet your leader: Do not panic if the gate into the park is not open on the dot of 8:00AM. Park outside along the road temporarily, the sheriff will be along to open up. Drive all the way in (see Note above). Meet in the Vasquez Rocks parking lot (the lot that is furthest East of, and away from, the large rock spires and in the back) at 8:15AM for an 8:30AM SHARP departure. Look for a group of hikers.
Bring: A snack to munch as you go and water (2 liters recommended), also electrolytes if it is a hot day, sunscreen, hat, walking/ hiking shoes with tread - NO FLIP FLOPS please. Wear layered clothing in case it gets hot or cold. Hiking poles/walking stick would be great, if you have them.
This is definitely a hike to bring a camera on, especially if you like geology (unusually colored rock formations shaped by water and wind). We will visit the "Sweet water Café" for some food or refreshments after the hike. (optional)
Dogs: OK, but MUST BE ON LEASH and well-behaved around people with hiking poles/ other dogs and kids.
Leader: Phil V
Sweep(s): TBD