Event Information
Location
Islamic Academy of Coventry
83-87 Cambridge Street
Hillfields
Coventry
CV1 5HU
United Kingdom
An interactive workshop covering the usage of social media from an Islamic perspective
About this event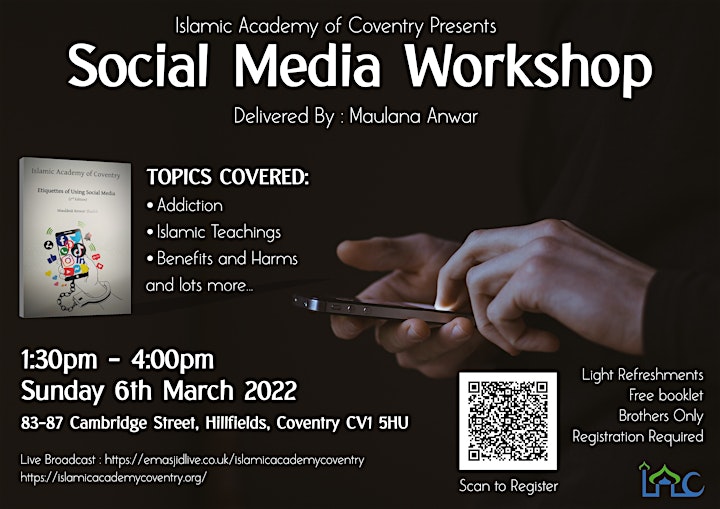 One particular field which has evolved greatly in recent years is the communication platforms we use with one another on a local, national and international level. These have raised additional challenges to contend with, partly due to the rapid advancement and ever evolving nature of these platforms.
A combination of smartphones and apps, the rise of super-fast internet connectivity, has made us reliant on these devices. Having the ability to talk, message, browse and run your business through smartphones have made the mobile phone part and parcel of our daily lives.
This workshop will address some of the challenges Muslims face and how social media can be used as a beneficial tool and staying within the confines of Islamic teachings.
Topics which will be covered
- Social Media as a Tool
- Addiction and its signs
- Impact of Social Media
- Instant Gratification
- Crime and Social Media
- Coverage
- Psychological Impact
- Islamic Teachings
- Q&A
This workshop is for brothers only.
A free booklet of Etiquettes of Social Media will be given to registrants.
Date and time
Location
Islamic Academy of Coventry
83-87 Cambridge Street
Hillfields
Coventry
CV1 5HU
United Kingdom