Social Media Workshop at Marina del Rey

Tuesday, February 5, 2013 from 9:00 AM to 4:00 PM (EST)
Event Details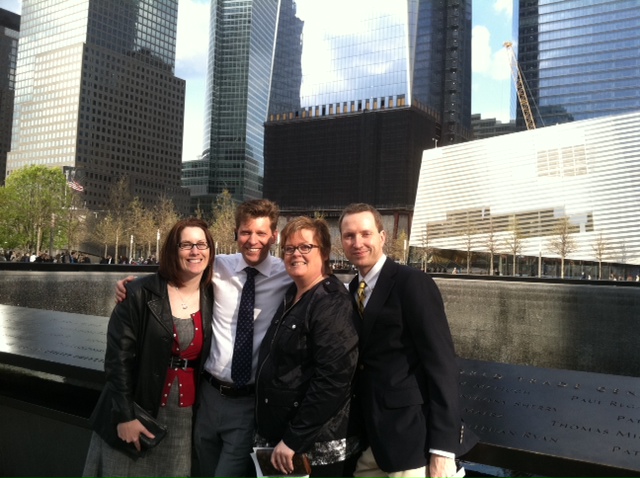 We're going to teach you how to successfully market your practice online.  
"This event is invaluable.   I finally understand  how to promote my business online and this event got me using Social Media effectively.  Best of all, the work that I'm doing  is directly inproving my business's bottom line." Jeanne Lobasso, Owner, Cobble Hill Veterinary Practice.
"This workshop was awesome!" Brett  Lawson, DVM, Cherry Pike Veterinary
"Brenda Tassava is amazing.  Her experience and knowledge is unmatched" Howard Gittelman, DVM, Owner, Animal  Medical of New City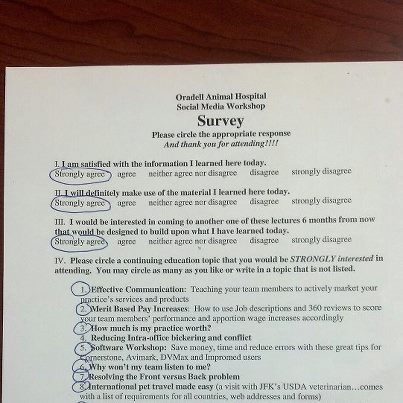 Veterinary Owners and Managers love this workshop!
 Join Bash Halow of Halow Consulting, Brenda Tassava, our industry's leading expert in social media, Brie Messier, Vincent Gimenez, and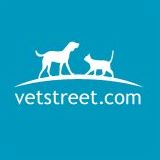 for a day-long workshop in internet marketing, social media and website optimization. 
Whether you are planning on doing the work within your practice (yes!  try it!) or whether you plan on making the right choice when hiring an internet marketing resource, this workshop promises to provide you the information and HANDS ON experience to get started.  That's right!  You won't leave here till you understand how to effectively use Facebook, Pinterest, blogging, Google +, Twitter, and Youtube to increase your practice's online presence and drive business to your door.

Brie Messier works with a small breakout group
You'll be able to measure the difference in your practice after you employ the lessons you learn with us.
You'll leave with a list of great resources and a free three- month social media plan to take back to your hospital
You'll see an increase in revenue!  New clients!  Higher invoic

es!
Beginner?  Not to worry!  Prior to the event, you'll receive weekly step-by-step 'how to's' to get you up and running on LinkedIn, Twitter, Facebook and Google +
Here's what we have in store for you on the 5th.
Agenda:
                Continental Breakfast and Lunch provided by our valued sponsors
9:00-9:30  Continental Breakfast
9:30-10:45 Key-Note Speaker Brenda Tassava provides a layman's- terms lecture on how information makes it to the top of the internet's search list and how your website functions within that search.
10:45-1230 Bringing you up to speed…with speed.  Strap yourself in, we're going to put you into small working groups and provide you a walk through of everything you need to know about the following:
    Facebook,  Google+,  Blogging.  In roundtables and with a live computer feed, you'll work with an expert in each  of these applications who'll give you a step-by-step understanding of how to set up an account, the special features of   the program, and how to optimally use each to generate the most 'hits' on your business' website 
12:30-1:30  Working lunch with our sponsors, Vetstreet, VPI, Care Credit, Veterinary Payments of America, and Halow Tassava Consulting
1:30-3pm Thirty minutes more of everything you need to know about the following topics   
Youtube, Pinterest and Facebook II.
3:00-4pm All right, enough talking, start blogging and Facebooking! Our experts will walk you through examples of their 'dream' social media sites.  They'll point out valuable qualities of each and what you can do to your online presence to give them a run for their money!
You no longer need to worry that you're not experienced enough with social media to do this work effectively for your practice.  We will get you where you need to be!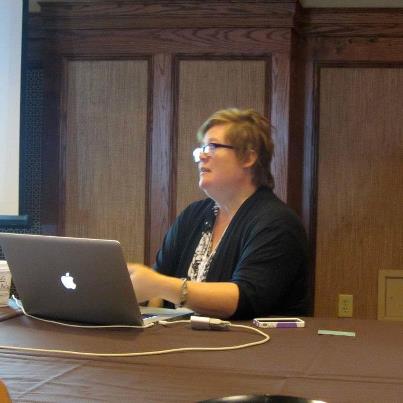 Brenda Tassava gives a small group a lesson in blogging 
Registration Fee
Members of VHMA, LA, North Orange, Orange County and Pacific Group Veterinary Hospital Manager Associations  ONLY $199.00
Click here to inquire about joining any of these supportive veterinary management organizations!
Non-members 225.00
This workshop has been approved for 6 CE hours by the California Veterinary Medical Board!
When & Where

Jamaica Bay Inn
4175 Admiralty Way
Marina del Rey, CA 90292


Tuesday, February 5, 2013 from 9:00 AM to 4:00 PM (EST)
Add to my calendar
Social Media Workshop at Marina del Rey