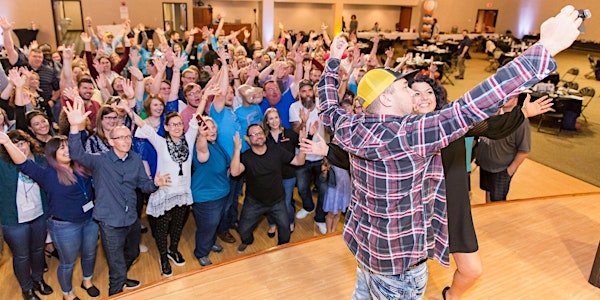 Social Media Week Lima 2019- SMWL19
When and where
Location
UNOH Event Center 1450 N Cable Rd Lima, OH 45805
Refund Policy
Refunds up to 7 days before event
Description
Get ready for the 7th annual Social Media Week Lima!
This year's theme is Craveable Content: How to Create an Irresistible Brand
Social Media Week Lima 2019, is just around the corner and you're invited!
Held in Lima, Ohio, this conference offers you a deep dive into all the latest social media trends and solutions to enhance your brand online.
Social Media Week Lima is a two-day conference, held on June 18 and June 19.
Day 1 we'll hear from sought after industry influencers on what it takes to create a craveable brand
Day 2 we'll participate in hands-on workshops and how-to sessions.
Additional perks | Breakfast and lunch is included during both days, swag bag full of awesome goodies, and meet, connect and network with fellow business leaders and marketing experts.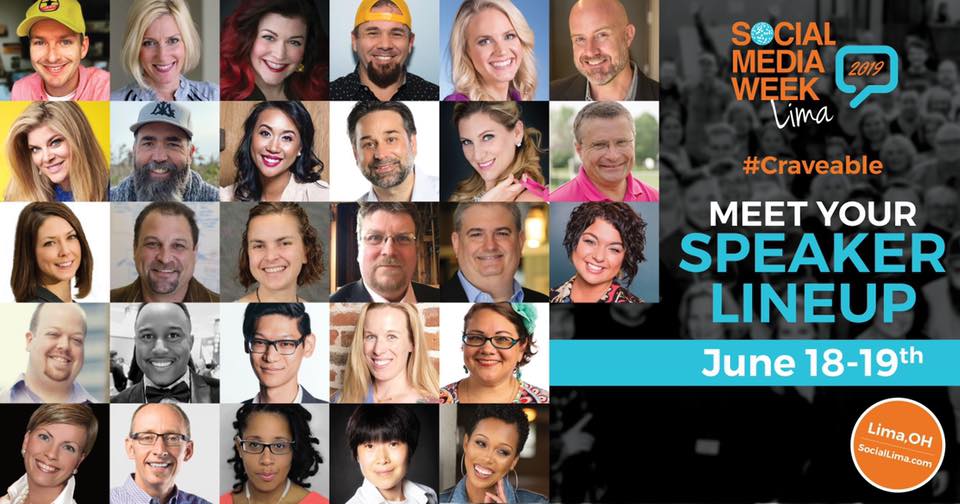 Um, yasss please! What a steal! That's two days of breakfast and lunch, a bag full of gear, and the knowledge of 26+ teachers/speakers to help you amp your online marketing game!
*Please note the agenda may change as we add to the event
Day 1
8:00 – 8:45 am
Opening – Welcome to SMWL19 – #Craveable
Jessika Phillips
8:45 – 9:30 am
Captivate on Command: How to Motivate the Masses with Only Your Words
Stephanie Liu
9:30 – 10:15 am
Live Hotseat: Create the Life You Deserve
Bryan Kramer
10:15 – 10:30 am
Break
10:30 – 11:15 am
Increasing the LIVE-span of your business
Host: Ross Brand
Panelists: Jen Watson, Judi Fox, and Daphné Leblanc
11:15 – 12:00 pm
The Craveable Quotient (CQ): How to use social and emotional intelligence to create craveable content that matters
Tiffany Lanier
12:00 – 1:00 pm
Lunch
1:00 – 1:45 pm
A Real Discussion on Creating a Craveable Brand through content
Host: Troy Sandidge
Panelists: Demian Ross and Brian Fanzo
1:45 – 2:30 pm
Your Story Matters – be honest, be vulnerable, be real
Jeff Howell
2:30 – 2:45 pm
Break
2:45 – 3:30 pm
Panel – The harsh truth about content and what to do about it
Host: Chris Strub
Panelists: Mike Allton, Christine Gritmon, and Ai Addyson-Zhang
3:30 – 4:15 pm
Relatability Is The Future Of Marketing
Brian Fanzo.
4:15 – 5:00 pm
Building a SuperPowered Personal Brand
Mia Voss
Day 2
8:15 – 9:00 am
The Age of Artificial Intelligence and Social Media
Jon Chang
9:00 – 9:45 am
Choose your own adventure: How chatbots can help your business thrive
Kelly Noble Mirabella
9:45 – 10:30 am
Statement of Worth: The essential brand value your company desperately needs and customers can't resist
Angus Nelson
10:30 – 10:45 am
Break
10:45 – 11:30 am
Facebook Groups: How To Grow Your Backyard Party
Bella Vasta
11:30 – 12:30 pm
Lunch
12:30 – 1:15 pm
How Small Businesses are Creating #Craveable Social Content that Grows ROI
Host: Mike Gingerich
1:15 – 2:30 pm
Lightning Talks: 10-Minute speed talks on things trending in social media
Ross Brand, Katie Hornor, Sara McDowell, Amanda Robinson and Mike Gingerich

2:30 – 3:30 pm
Table Talks:
Ross Brand | Alexa Flash Briefing for your business
Katie Hornor | Leaders Have Courses, and that Means You!
Terry Duperon | Digital Product Sales Strategies and Channels
Chris Strub | Twitter
Amanda Robinson | FB Ads Beyond the Boost
Sara McDowell | Power to the People! How Social Media is Changing the Face of Lobbying
Marc Bowker | E-Commerce Email
Dan Willis | Creating a #CX Centered Marketing Plan
Kelly Noble Mirabella | Choose your own adventure: How chatbots can help your business thrive
Brian Wallace | How to Get Press for Your Brand
4:00 pm
Closing remarks
Jessika Phillips
https://nowmarketinggroup.com/agenda/
CONFERENCE FEATURES
Deep dive into:
Creating effective content • Growing Leads and effective ROI • Facebook Ads • LinkedIn • Instagram • Chatbots • Live Video • Blogging • SEO • and MORE!!
Content can be one of the hardest parts of your marketing strategy
Learn how to write content that your audience will come back for again and again
Most writers can attest to the slump that is writer's block. When you hear marketing expert after marketing expert telling you to churn out social posts, blogs, videos, and other pieces of content, it can be really overwhelming. Even when you have the best intentions, starting with a blank screen and not knowing where to go is a real struggle.
We're here to help get you passed that blank screen and onto writing. But, most importantly, we're going to give you the tools you need to create content that is actually helpful, meaningful and successful.
Join us for Craveable Content: How to Create an Irresistible Brand
Our underlying belief and the philosophy we base everything on is that relationships are more powerful than marketing.
At its core, creating content that converts is about knowing who you want to build relationships with, understanding them, and talking to them.
A huge part of our conference will be focused on how you can use relationship marketing to understand your audience and build a relationship with them online and in-person. By doing so, you can build a group of people who know, like, trust, and refer you.
Our speakers will talk about some of the biggest marketing trends and technologies, how they work, and how you can incorporate them into your business.
You'll learn how to use your social media pages, email campaigns, blogs, and overall web presence to get more attention, convert more leads, and increase sales.