Social Media Week LA's 'Social 25' Party

Monday, September 24, 2012 from 7:00 PM to 10:00 PM (PDT)
Event Details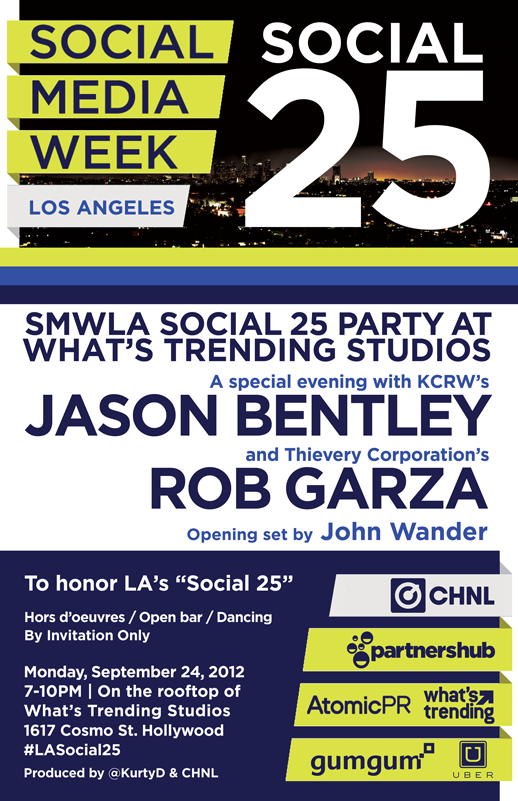 The SMWLA Social 25 recognizes the leading Los Angeles-based individuals, companies, and brands that embody the spirit of Social Media Week by helping people and organizations connect through collaboration, learning, and the sharing of ideas and information.
Please join us as we celebrate the SMWLA Social 25 at an exclusive VIP event during Opening Night, September 24, 2012 on the rooftop of What's Trending Studios in Hollywood. Enjoy a night of mingling with like-minded luminaries and the sweet sounds of KCRW's Jason Bentley and Rob Garza from Thievery Corporation.
Honoring the 2012 Social Media Week Los Angeles Social 25:
• Adam Sadowsky, SyynLabs – @asadowsky, @syynlabs
• Allen DeBevoise, Machinima - @AllenDeBevoise, @Machinima_com
• Brian Norgard, Chill - @BrianNorgard, @chilllive
• Chris Ovitz, Viddy – @Viddy, @ChrisOvitz
• Dana Settle, Greycroft Partners - @dsettle, @greycroftvc
• Eddy Lu, Grubwithus – @eddylu, @Grubwithus
• Eric Garcetti, Los Angeles City Council - @ericgarcetti
• George Strompolos, Fullscreen - @gstrompolos, @fullscreen
• Jeff Berman, NFL – @bermanjeff, @NFL
• Jesse Thomas and Leslie Bradshaw, JESS3 – @jessethomas and @lesliebradshaw, @JESS3
• JR Johnson, Trippy.com – @stuffJRsays, @usetrippy
• Kevin Smith, SModCo - @ThatKevinSmith, @smodcast
• Lisa Donovan, Maker Studios – @Lisa_Nova, @MakerStudios
• Mastin Kipp, The Daily Love - @mastinkipp, @thedailylove
• Michael Dubin, Dollar Shave Club – @Dollarshaveclub
• Mike Cioffi and Douglas De Luca, Jimmy Kimmel Live! – @cioffi and @brandolini789, @JimmyKimmelLive
• Nick Adler and Ryan Ford, Stampede Management / Cashmere Agency – @nickyads, @stampedemgmt / @fordryan, @CashmereAgency
• Rainn Wilson, SoulPancake - @rainnwilson, @soulpancake
• Ryan Lombardini, The Trevor Project - @RyLo, @TrevorProject
• Ryan Seacrest, Ryan Seacrest Productions – @RyanSeacrest, @RSP
• Sarah Penna, Big Frame - @severshed, @bfbammo
• Travis Harding, Mattel - @tjharding, @Mattel
• Troy Carter, Atom Factory - @ladygaga
• Zadi Diaz, Disney Interactive Entertainment - @zadi, @Disney
• Zooey Deschanel, Sophia Rossi, and Molly McAleer, HelloGiggles - @ZooeyDeschanel, @sofifii, and @molls, @hellogiggles
Thank you to our sponsors CHNL, What's Trending, PartnersHub, Atomic PR, Veev, Uber & GumGum.
Event produced by @KurtyD and CHNL
Photo courtesy of kriskoeller.com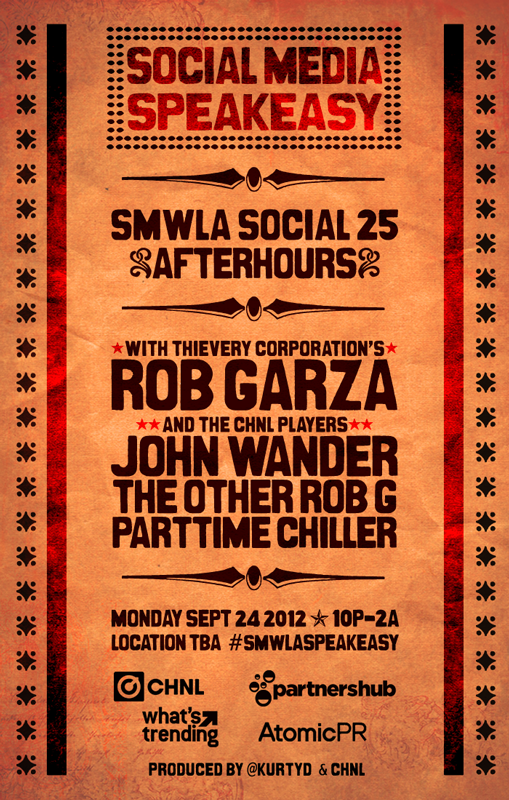 When & Where

What's Trending Studios
1617 Cosmo St
Los Angeles, CA 90028


Monday, September 24, 2012 from 7:00 PM to 10:00 PM (PDT)
Add to my calendar
Organizer
Social Media Week LA

 is part of Social Media Week, a worldwide event that takes place in fourteen cities and explores the social, cultural and economic impacts of social media. Our mission is to help people and organizations connect through collaboration and the sharing of ideas and information at free events around the world. Social Media Week Los Angeles (#SMWLA) specifically emphasizes how the city is the creative capital of the world, bringing together innovators of the Los Angeles community. 

 

Executive director Drew Baldwin is offering a unique program that explores the intersection of social technology and entertainment with a week of free panels, presentations, demos, workshops, talks, conversations, and parties. The LA event is produced by Tubefilter, an industry trade organization founded by Drew Baldwin and Joshua Cohen, responsible for the Streamy Awards, a star-studded red carpet awards ceremony honoring excellence in online video.