Social Media Swag Seminar with Pam Perry, PR Coach & certified, award-winning social media strategist

Saturday, May 14, 2011 from 11:00 AM to 3:00 PM (EDT)
Event Details
Does YOUR digital brand need a profitable power boost?
Think You Can't Make Money
Using Social Media?
Are you struggling to keep up with the social media rules and new tools?
Overwhelmed and confused about what to do first?
Can't seem get your message out to the core audience that needs it?
Not seeing any real results with social media to your bottom line?
If you answered yes to any of these questions that means you've lost your social media swagger.  Don't worry.  I've got it and I'm ready to help you get it, too!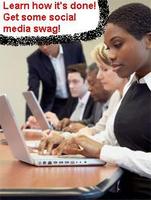 Do you feel confident in doing it?
Do you have the "Swagger" to Attract a Tribe, Build a Brand, Close the Deal and Get The Money?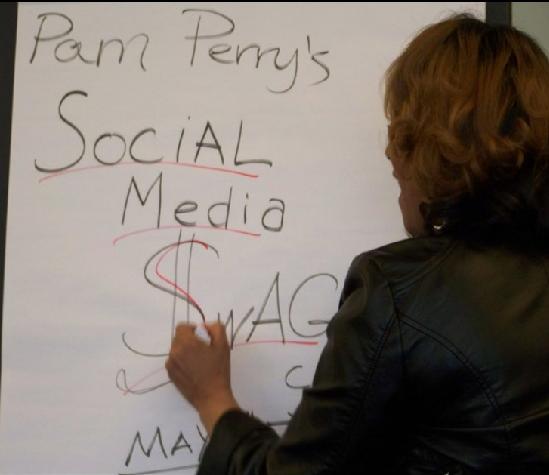 Social Media Marketing is the NEW and NOW method for generating buzz (and more business) through social networking and Web 2.0 websites.
It's not rocket science – but it does take someone to show you how to do it RIGHT.  Without the hype. Without the Techy Talk and Geek Speak. Just someone to break it down for you so you can actually GET THIS THING moving -  so YOU CAN
build your online brand to bring in business,
get some videos up that will go viral,

attract  "raving fans" on Facebook and Twitter and 
harness the secret power of Linkedin!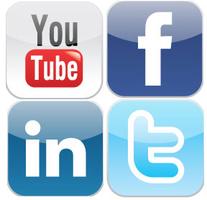 For the past 5 years I spent thousands of dollars and thousands of hours figuring out the perfect social media system that I could use that would:

Not require me to spend countless hours online
  
Build a loyal email database and social media following
 
Market my business and my brand to attract influential clients  
 
Create and market information products that sell very well on my website
 
Use email and internet marketing techniques to bring in thousands of dollars per month

And finally, get hundreds of thousands of monthly visitors to my websites and blogs who have interest in my services and products and ready to do business!
Now, I've got it! I've got this all down to a complete set of strategies that work – and I want to share this information with you so you can be confident and get your social media SWAG on!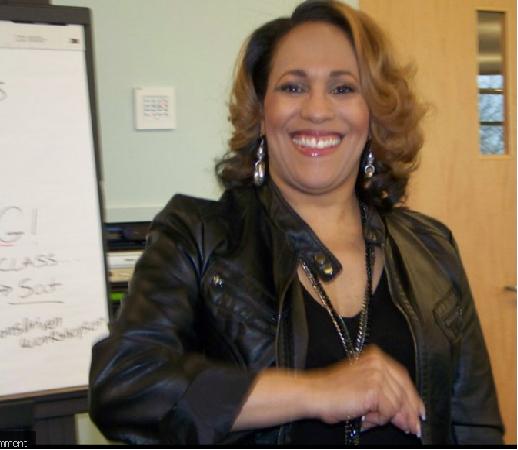 You are invited to my Social Media Swag Seminar where you can learn my time-tested and proven Social Media System that I have used for many years.
Since using Social Media Marketing, I never have to go out and advertise for business – all the Ministry Marketing Solutions clients come from the internet! I've worked with Oscar winning movies, hired by major industry events to speak and SUCCESSFULLY created social media campaigns for New York Times best-selling authors, top industry leaders, speakers and entrepreneurs.
Want to go behind the curtain and see how we do what we do?  Bring your laptop and I'll show you. Step by Step….This is a BYOL (Bring Your Own Laptop)!  You'll leave with a Blueprint of Success!

Here is an overview of what I will be working with you on
during this Saturday, May 14th Social Media Swag Seminar:
1) Creating Your Online Brand
I will work with you to help you decide which social media sites to use. Not every social media site is for everyone. This IS the most important step and half the time my clients come to a screeching halt with this one step. I will teach you my formula for branding that search engines love and your potential customers and clients get! Doing this step correctly can make or break Google ranking. I will also share my resource so you can officially secure your brand on all the key social sites.
2) Creating Your Blog (The Hub of Your Social Media Activity)
We will brainstorm a number of possible blog posts so you can hit the ground running when you return home. I will also show you how to post up pictures, audio and video on your blog – quick and easy. Learn how to create and profit from these blogs AND integrate your Twitter, Facebook, Linkedin Answers, podcasts and online videos.
3) Mapping Out Day-to-Day Social Media Plan & Calendar for the Rest of 2011
I will work with you in small groups to help you brainstorm how to manage your social media and advise you what you may need to job out.  I will show you what to look for in a vendor and give you key contacts to just about anything on the web – from editing videos to getting a blog header. You're going to get the secrets that have saved me thousands of dollars. A real blueprint.
4) Brainstorm Additional Ways to Stand Out, Get Noticed and Get More Business
And last, I will share with you how I've gained 10,000+ Twitter followers, 10,000 Facebook Fans, and thousands of Youtube views and get paid to podcast.  We will brainstorm additional ideas how you can express your digital footprint and get some social media swagger that will generate revenue.  I will walk you through the many possibilities and then answer your questions based on which activity fits your brand. I'll show you how to focus on the activity and maximize it. This way you have a plan that you can get to work on right away.  I will help you simplify and organize so you don't feel overwhelmed!
SUMMARY — What You receive at our Social Media Swag Seminar:
My "Hands-On and Hand-Holding" seminar with the exclusive Pam Perry SWAG Notebook full of checklists, resources and worksheets to get you up and going fast! Chocked-full of the latest and greatest cutting-edge tools and techniques I use daily for my clients.
Also in this notebook, I give you  my entire social media system and all the tools I use. This will help you stay focused. This notebook will be your strategic plan when you return to your office and you will use it to guide your social media marketing efforts with confidence and

SWAGGER!

Copy of the Synergy Energy eBook filled with marketing and public relations tips
Plus

30 days virtual coaching

in the Pam Perry

Private VIP Marketing Mastermind

Group where you will have access to all the audio, video and ebooks from my personal collection. This will be your support group when you have questions and I will be there as your coach to make sure you stay on track and don't get overwhelmed.
So get clicking. You are one click away from awesome.  


About Your Trainer, Pam Perry:

 Get your SWAG on!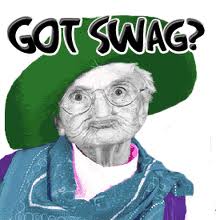 Baby Boomers WELCOMED and ENCOURAGED!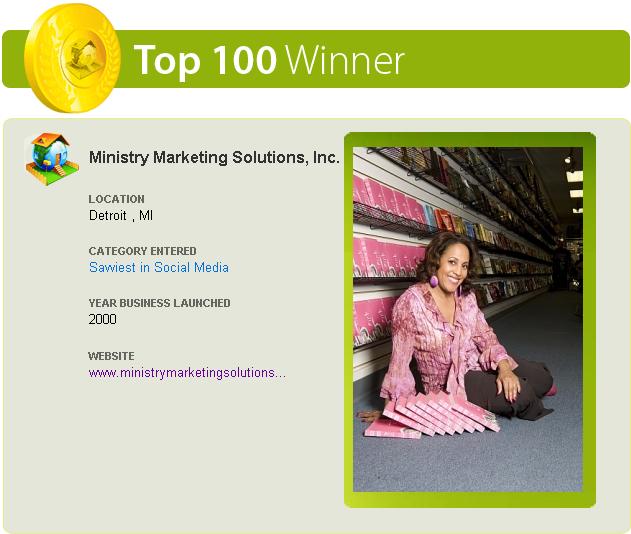 Recognized by StartUp Nation as the Savviest in Social Media with the Most Votes!
Also one of the Top 100 Tweeters in Detroit.

Have questions about Social Media Swag Seminar with Pam Perry, PR Coach & certified, award-winning social media strategist?
Contact Pam Perry PR
When & Where
Schoolcraft College (Vista Tech Center)
18600 Haggerty Road
Livonia, MI 48152


Saturday, May 14, 2011 from 11:00 AM to 3:00 PM (EDT)
Add to my calendar
Organizer
Ministry Marketing Solutions Inc., founded in 2000, is an online branding and social media agency that provides services for best-selling authors, nonprofit organizations and entrepreneurs. For more information, www.ministrymarketingsolutions.com.
- About Pam Perry -
Pam Perry, who won a national contest as the Savviest in the Social Media in 2010, was featured in an article on social media in BlackEnterprise.com and is one Detroit's top 100 Tweeters. She is a "social media evangelist" determined to convert others into "believers" in blogging, podcasting, tweeting and online branding. Her hub online is: www.PamPerryPR.com. Find out more at Pam Perry Social Media Marketing Maven Sites