Description
SD DIRECT LUNCH & LEARN
Tuesday, October 15, 2019 - Paige Novy
thesocialstreamer@gmail.com
LET'S GET #DIGITAL WITH SOCIAL MEDIA
Social media is quickly becoming one of the most important aspects of digital marketing, which provides incredible benefits that help reach millions of customers worldwide. It is one of the most stress-free and profitable digital marketing platforms that can be used to increase your business visibility.
How do you streamline your social marketing strategy? How do you decide which channelsor platformsto use? There are many different situationsdependent on your industry, target audience, and goals so there is no one answer!
Join digital media strategist, Paige Novy, as she walks you through the objective behind each platform and how to utilize these channels to your advantage. She'll share how to work with your budget, your goals, and your brand to optimize your reach and make in impact in your online community.
You'll Learn:
• To determine which platforms are best for your social strategy
• Consistency across all assets of your brand
• Utilizing and identifying your companies' theme(s)
• How to stand out online
You walk away with the framework for your social marketing success strategy and the importance of platform management and reputation.
If you are looking for new growth opportunities through digital outlets and how to better your online reputation, this is the lunch and learn for you!
Speaker Bio: Paige Novy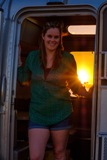 Paige is the CEO and Founder of Social Streamer- a marketing agency that
specializes in Digital Media Marketing. Sheraisies brand awareness,increases bottom lines, and optimizes custom marketing strategies. Prior to launching her own agency, Paige was the Head of Operations for two Social Media agencies and understandsall of the elements needed to develop a strong social strategy.
Paige knows the importance of a strong social presence and passionately takes on
the role of the eyes, ears, and voice for each company she consults for- all while
keeping the brands reputation top-of-mind.
She specializes in Social Media, Creation and Management of Content, Generation
of Leads, Engagement with brand communities, and Management Social Media
organic and paid campaigns and works with companies from all industries.
Her most memorable client isMPOWERD inc. the creators of the Luci Light ® where she developed and managedthe social media strategy and aligned branding and design with all marketing efforts. More recently, created over 40 individualized marketing plans for Financial Advisors and CPAs of a large Financial Firm Downtown SanDiego.
Website: www.thesocialstreamer
LinkedIn: https://www.linkedin.com/company/socialstreamer
FB & IG: @thesocialstreamer