Sales Have Ended
Ticket sales have ended
Wir freuen uns auf dich! Falls du Fragen haben solltest - wir sind zu erreichen unter: info@iamaniba.de
Sales Have Ended
Ticket sales have ended
Wir freuen uns auf dich! Falls du Fragen haben solltest - wir sind zu erreichen unter: info@iamaniba.de
Gemeinsam gehen wir prägnant durch die wichtigsten Themen zum Aufbau und erfolgreichen Weiterführung deines Unternehmen in Social Media!
About this Event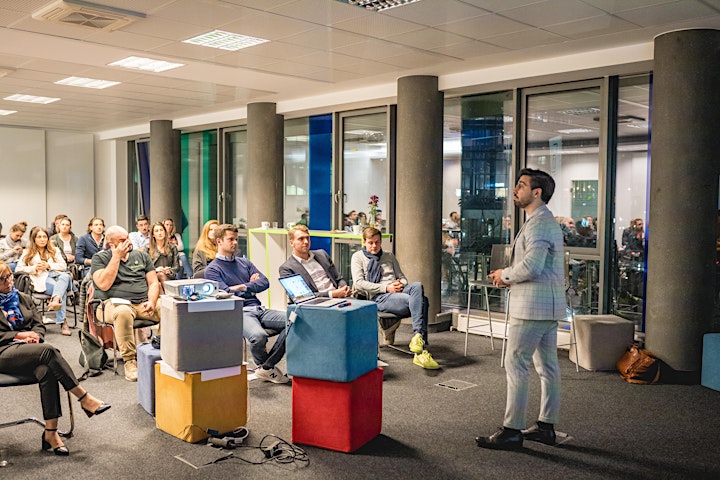 Zum Workshop:
Gemeinsam gehen wir prägnant durch die wichtigsten Themen zum Aufbau und erfolgreichen Weiterführung Deines Unternehmens über Social Media
About this Event
Es handelt sich hierbei um einen dreistündigen Workshop - auf folgende Punkte gehen wir ein:
• Wie deine konkrete Social Media Strategie aufgebaut werden soll
• Wie du digitale Mund-zu-Mund Propaganda initiierst - also wie du viral gehst
• Wie du Storytelling betreibst
• Trends und Entwicklungen
• Wie du Fotos und Videos erstellst bzw. bearbeitest ohne Design Vorkenntnisse
• Wie du deine Zielgruppe herausfindest und im Rahmen einer Social Media Werbekampagne heranziehst
• Medienpsychologische Erfolgsfaktoren
• Planung und Konzeption von Social Media Werbung
• Wie du das Engagement von Followern erhöhst
• Wie du Influencer findest, Kooperationen eingehst und Vergütungen ordnungsgemäß festlegst
Ziele des Workshops
Der Workshop vermittelt alle wesentlichen Kompetenzen für erfolgreiches Social Media Management. Die Teilnehmer bekommen die wichtigsten Impulse und Techniken für erfolgreiches Social Media Marketing und die Fähigkeit Social Media Communities zu planen, zu managen und aufzubauen.
Du hast es sicher selbst schon gemerkt, Instagram Stories sind in aller Munde und gerade das Trend Feature im Social Media. Durch ihre hohe Präsenz und ihre große Auffälligkeit sind sie das perfekte Medium, um dich und dein Unternehmen zu präsentieren und einer jüngeren Zielgruppe vorzustellen.
Dennoch ist für viele Unternehmen das Thema Instagram Stories noch absolutes Neuland. Jeden Tag werden neue Features auf Instagram freigeschaltet, jeden Tag wächst die Community um ein Vielfaches ganz nebenbei konsumiert vor allem die jüngere Generation Werbung.
Um da im Wettbewerb mithalten zu können, lohnt es sich, sich ein paar Hacks und Kniffe anzueignen. Und wie du diese genau umsetzen kannst, erfährst du in diesem Workshop.
Methoden
• Vortrag
• Fallbeispiele
• Diskussionen
• Praxisfälle
Für wen eignet sich der Workshop?
Der Workshop ist branchen- und unternehmensübergreifend an Mitarbeiter und Unternehmer gedacht, die ihren Social Media Auftritt proaktiv und professionell voranbringen wollen.
Was andere über uns sagen?
"Ich kenne niemanden, der fleißiger, ehrgeiziger und kompetenter für derart Beratung und Business ist! Daher bin ich mir sicher, ist man hier sehr gut aufgehoben"
"Anil ist ein extrem smarter Mensch mit dem nötigen Skill-set & Drive, um nachweislich das zu erreichen, was zählt: Resultate!"
"Mega Workshops, hier wird viel Wissen in kurzer Zeit und in einem top Umfeld vermittelt!"
"Feedback zur Teilnahme am Social-Media-Workshop "Strategien & Konzepte für mehr Reichweite" in Bonn. Tipps zu Strategie und Struktur, Networking, Storytelling. Highlight für mich: Bedeutung und Optimierung der Insta-Stories mit Gamification und Performance-Design. Tolles Team, sympathisch und konstruktiv. Ein Highlight!"
"Thought I'd try this company to help with some social media consultancy for a bar I organise marketing events for in Berlin. Good service, gave us a good understanding of how we can use our social channels to increase patronage. The support was great and appreciated."
Deine Resultate/Erfolgsfaktoren
• Social Media Manager Erfahrung
• Ausbildung durch hochqualifizierte Unternehmer
• Kompakte Vermittlung und Verbindung von Theorie und Praxis
• Social Media Strategie inkl. Branding und Storytelling
• Erfahrungsaustausch
• Q&A
Für Bier, Wasser und Kaffee ist gesorgt:)!
Infos zu IamAniba: www.iamaniba.de