Description
Show & Tell is back!
We have a stellar lineup, with social media leaders from the Cincinnati Reds, Cincinnati Bengals and FC Cincinnati. Learn more about Lisa, DJ and Steven below.
Similar to past events, we'll host a live Q&A so we can learn from their unique, first-hand experience. The difference with this quarter's event is that the discussion panel will happen for just an hour and after the speakers present for 15 minutes each. Mixing up the format will allow you to learn more and to network with one another throughout the event.
Everything else is the same: location, time, food and drinks included, and plenty of awesome people to connect with!
Agenda
5:30-6pm - Registration & Networking
6-6:20pm - Opening Remarks and Keynote Presentation
6:20-6:40pm - Speaker #1
6:40-7:00pm - Speaker #2
7-7:10pm - Break
7:10-7:30pm - Speaker #3
7:30-8:30pm - Q&A Panel Discussion
Limited seating
In order to keep the event intimate and maximize learning opportunities, we're limiting the ticket quantity to 100. Get in on this event early, as it will sell out. As a special offer, we're giving away custom Cincinnati-themed emoji notebooks to the first 30 attendees.
Speakers:
1. Lisa Braun (bio) - Director of Digital Media, Cincinnati Reds
2. DJ Switzer (bio) - Director of Communications, FC Cincinnati
3. Steven Hudy (bio) - Manager of New Digital Production and Social Media, Cincinnati Bengals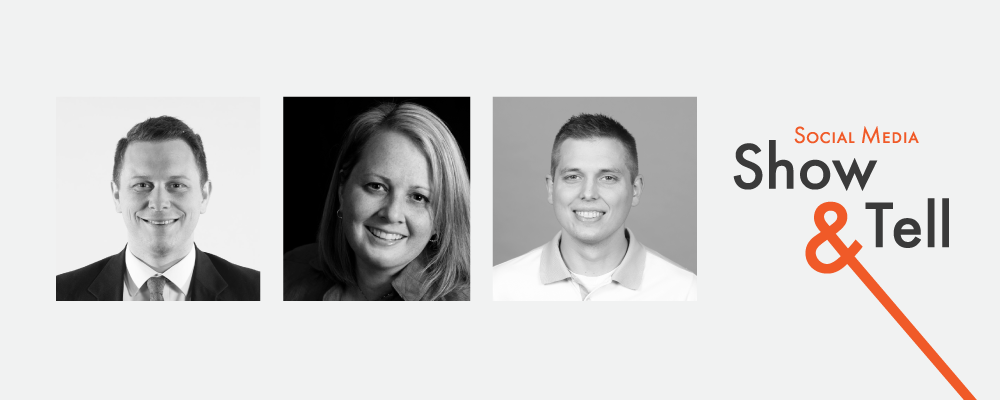 What they said:
See the recap from last quarter's event here, and see below for what attendees had to say.
"I attended the second Social Media Show & Tell expecting a standard "roundtable discussion" from which I hoped I'd learn something. It turned out to be a real meeting of minds of social media practitioners of all stripes. I enjoyed the engaging conversation and not only learned new things, but was inspired to think differently about our own social strategy. You shouldn't miss the next one." - Pete Buscani, CMO @LaRosa's
"Dooley Media's Social Media Show & Tell was an awesome event! It was inspiring to see such a big crowd excited about social media and feeding off the energy of the panel." - Luke Oppliger, Group Director WOMM @ Empower MediaMarketing
"The laid back environment was great for meeting new people. The panelists were very insightful and personable. I've already started using the tools recommended (particularly Canva). I loved attending this. Keep up the great work." - Anonymous
Why attend?
If social media is any part or all of what you do, you can't miss it. You'll learn very specific ways to take your efforts to a new level.
Light snacks and drinks included :)